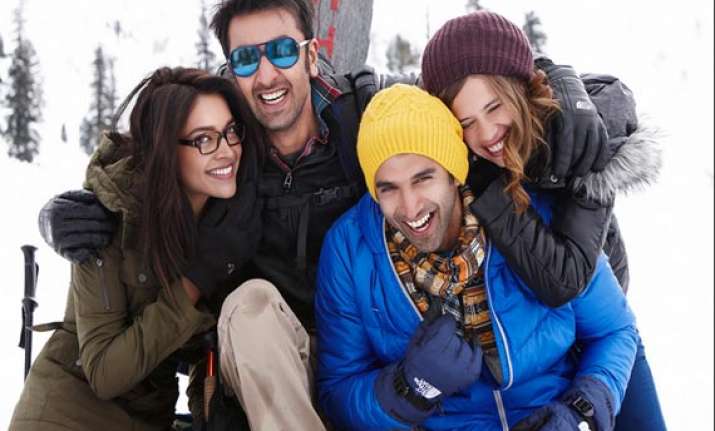 Rating: *** 1/2
The adulthood is really crazy. The schools and college days are so blithe that we never will to take our future solemnly but just want that phase to freeze and never melt. But ultimately you realize that this is just a phase and the future depends on lot more over the decisions taken today.
Ayan Mukerji had directed earlier 'Wake up Sid' which was really a wakeup call for many who were born with a silver spoon. Having no goals is life and just cashing in the parent's money was the two most prominent significance of life put forth in the flick.
The Director this time has returned with yet another crazy dramatic feature which presents numerous shades of life and undoubtedly without mashing all the ingredients clears its message at last. Though predictable and comparable, but it has its share of happiness and moral in the end.
Three best pals Bunny (
Ranbir Kapoor
), Avi (Aditya Roy Kapoor) and Aditi (Kalki Koechlin) plans an adventurous holiday trip to mesmerizing valleys of Manali which also tempts Naina (
Deepika Padukone
) to join them.
Bunny is videographer and also a travel freak. Avi has no aim is life and apart from Bunny and Aditi, his other best friend in Liquor. He plans to run a bar inspite of cutomers he is more into intoxicating world which also leads his into a big loss. Aditi is a tom boy who regrets nothing and fears less.
Naina is a shy but the only focused girl among the four. Their journey apart from being enjoyable is an attempt of how you rediscover and explore yourself.