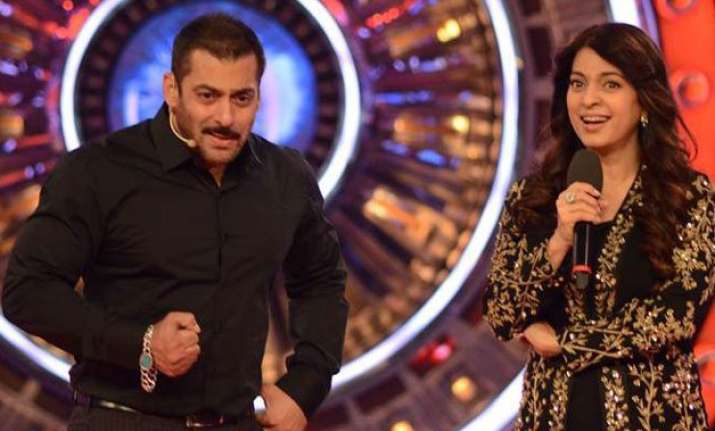 New Delhi: Bollywood superstar Salman Khan, who recently celebrated his 50th birthday, is one of the most eligible bachelors of B-town.
The 'Bajrangi Bhaijaan' actor although hasn't find a lady love in his real life, but he has romanced several leady ladies onscreen from Madhuri Dikshit to Sonam Kapoor.
Infact, all his leading ladies have been quite younger to him. However, Salman Khan has a different take when it comes to romancing actress Juhi Chawla.
Interestingly, Salman and Juhi Chawla have never been the lead pair on silver screen.  
Salman Khan, who is currently seen hosting reality show Bigg Boss 9, recently took a dig at the 'Ishq' actress saying she had refused a film with him, many years ago.
This happened when Juhi had come to Bigg Boss 9 for promoting her movie 'Chalk N Duster'. Salman revealed that he had recommended her name, but when the directors approached her, she suggested Aamir Khan's name instead.
Though Juhi tried escaping Salman's grill, but all in vain. She offered Salman that the two can work together now.
But it was Salman Khan's impromptu reply that shocked everyone.
The 'Kick' star said the he can work with Juhi, however, the actress would have to play his mother now.
Well, that was indeed the most unexpected reply for Juhi Chawla.