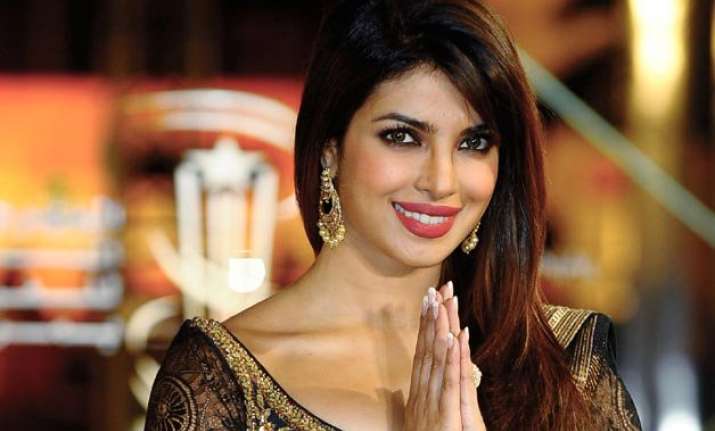 New Delhi: The tinsel town allures everyone with its glamour and style. Few, however, make it big in the industry without a Godfather in their phone's contact list. Priyanka Chopra is definitely one of them. As the actress turns 33 today, here is our story sighting why the actress is much more than a pretty face.
Not all who hail from small towns reside in a plush suburban complex of Andheri, Mumbai. Priyanka Chopra does! Born in Jamshedpur to parents who served as physicians in the Indian army, she wished to be a software engineer or a criminal psychologist.
As fate would have it, Priyanka Chopra participated in Femina Miss India contest after her mother had her registered and went on to win the Miss India World title.
The path after winning the title wasn't filled with roses, though. She debuted with a Tamil movie Thamizhan. Her performance in the movie wasn't well received with critics asserting that it lacked depth and that she showed "no promise."
With unsuccessful movies like Blackmail, Karam, Yakeen and Barsaat; Priyanka Chopra failed to work wonders at the box office as well as was unable to strike a chord with the critics or audiences.
What would have compelled many to give up their dream, wasn't enough a force to make her stop. Her breakthrough performance was when she played the role of a seductress in the 2004 movie Aitraaz which also starred Akshay Kumar and Kareena Kapoor. Her performance garnered loads of critics' compliments and earned her a  Filmfare Award for Best Performance in a Negative Role.
The actress however tasted failure in her movie career in the next years. The 2006 release Aap Ki Khaatir failed to impress the viewers and Priyanka's performance was called "mechanical". Skeletons from the past too started haunting the diva as her earlier finished movies Big brother and Chamku were released in 2007 and 2008 respectively.
After two hits, Don and Krrish, the 2007 flick Salaam-E-Ishq could have been Chopra's hat-trick but even the great ensemble cast failed to save the movie at the box office. Not only these, but high budget movies like Drona, Love Story 2050 in the year 2008 and the 2009 movie What's Your Rashee in which she played 12 different characters didn't do well commercially. Priyanka Chopra had confessed her fear for failure saying when her movies don't do well she stays in room for days.
But she pulled her up and as a result the latter part of the year 2008 brought good news for the actress. Madhur Bhandarkar's Fashion featured Priyanka Chopra in the lead role of Megha Mathur, an aspiring model for which she won the Filmfare Best Actress Award. The movie traced the journey of a small town girl in the fashion arena shedding light on the dark sides of the glitzy world. Her strong performances in movies like Don 2, Barfi and Mary Kom stunned critics and fans alike.
While actresses of her league were happy doing only films, she went a step ahead to acquaint the world with her talents. The actress embarked on her journey of being a singing sensation with her first solo album "In my city" with American rapper Will.I.Am in the year 2012. Her next track "Exotica" with pop star Pitbull added more feathers to her success cap as it got 10 million hits on YouTube in less than a month.
"Quantico" an American fiction series of the ABC network has Priyanka Chopra in the lead making her the first Indian actor to be a lead of an International TV series. The actress will be seen playing a bold FBI recruit who has haunted past and the trailer has already proved that Pee Cee doesn't shy away from going out of the league to mark her uniqueness.
She is not only a performer who steals hearts but also has strong opinions about the happenings around. Priyanka Chopra was appointed a UNICEF Goodwill Ambassador for Child Rights in 2010. A supporter of feminism, she has talked immensely about women empowerment, equal rights and girl education, child marriage and female genital mutilation.
Her never-give-up attitude and zeal to push boundaries to touch new heights is what makes Priyanka Chopra the queen of millions hearts across the globe.