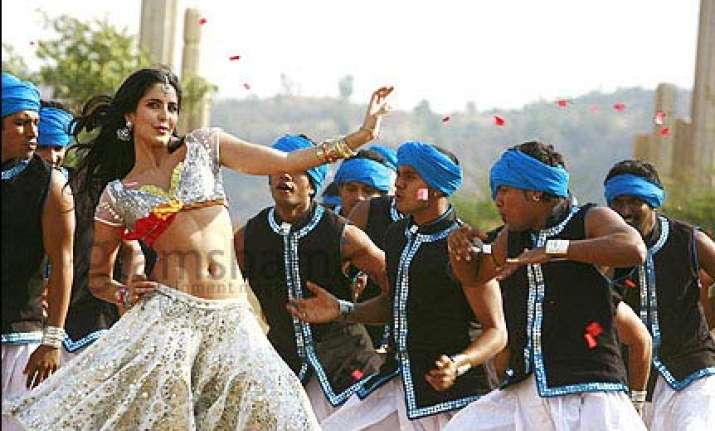 Film maker Farah Khan has banned camera phones on Tees Maar Khan sets as she doesn't want Katrina Kaif's look to be revealed, says a media report.
Farah Khan has issued a strict 'no cellphone' diktat on the sets of Tees Maar Khan. The director who's shooting the Sheila Ki Jawani song with Katrina at Film City is paranoid about photos and clips of the song leaking out.
The crew has been instructed to deposit their mobile phones at the gate before entering the sets. A guard has been hired to frisk everyone and ensure no one smuggles a mobile phone on the set.
The director has also increased security on set. She confirms, "Yes, I have asked everyone to leave their mobile phones outside the set. The only person who's allowed to have a phone on the set is me! Katrina has worked really hard for the Sheila song. Poor thing has stopped gorging on food just to get into a hot outfit. I don't want anyone to spoil the fun for my audience by leaking her look."
Farah adds, "I am on the set for the last few days and the number of people who want to see the shot keeps doubling. Even the local staff at Film City has mobbed my set in order to catch a glimpse of Kat. I have increased the number of security guards at the gate to ensure no one steals into the set. But still there are people climbing on parapets and vintage points to watch the shoot."
Priyanka Chopra plays a 65-year-old woman in Vishal Bhardwaj's Saat Khoon Maaf. In order to prevent her look from getting out, Vishal issued strict orders for all his assistants and crew to not bring their mobile phones. Everyone was frisked before entering the set. The director even hired security guards just to check no one was trying to break the rule and sneak in a cell phone.
Recently the picturisation of a song from Shah Rukh's Ra.One in London made its way to the Internet. The clip has SRK and Kareena dancing near London Bridge.