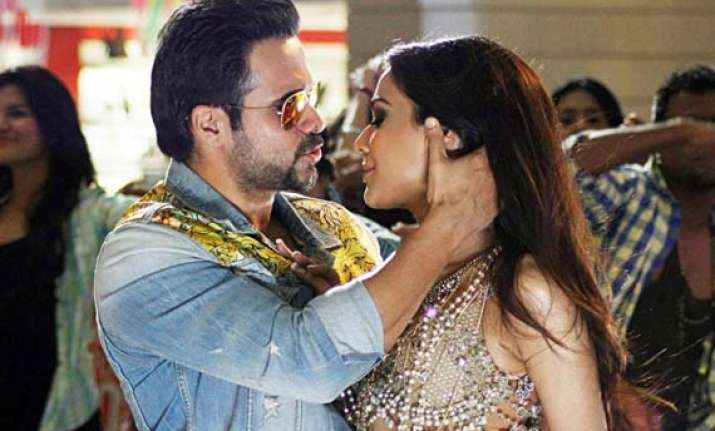 New Delhi: Emraan Hashmi's sole release this year Raja Natwarlal is going to hit this Friday on August 20th.
While the content of the flick and its characters are considered to be emerging factors, what's exciting audience is Emraan's ever so famous lip-lock with Pakistani hot actress Humaima Malik this time in this flick. Along with the mystery of con character, the flick is creating huge buzz for Emraan-Humaima's kissing chemistry.
There was a time when it was said that Emraan's kiss works in favour of the actress and the flick in which they work. However, the saying did not prove right as neither every film turn into a big grosser nor every actress became an overnight superstar. It couldn't be denied that a flick's overall content and the stars' performance play a key role in its success or failure but a little luck too matters a lot. Let's analyze some of those Bollywood flicks, which had Emraan's signature kiss in them.
Murder-
The Anurag Basu's directorial had the actor along with sex bomb Mallika Sherawat kissing innumerable times. The flick not only flocked big profits but also won numerous awards for the flick. Mallika Sherawat thereafter went on to bag some big offers including Hollywood Myth opposite Jackie Chan. She will next be seen in 'Dirty Politics' 
Aashiq Banaya Aapne-
Emraan Hashmi and Tanushree Dutta's hot chemistry and a kiss in this Aditya Datt's flick went on to become the musical hit. However, it didn't mint massive amount. For Tanushree Dutta, she kept on appearing in flicks namely 36 China Town, Risk, Good Boy Bad Boy, Raqeeb but none of them sailed well at box office nor did the actress leave any mark through them
Gangster-
Now the 'Queen' of Bollywood,
Kangana Ranaut
marked her acting debut with Anurag Basu's Gangster. The flick, which had Kangana and Emraan locking lips in one scene, was  declared a hit at box office and it won Kangana best debutant award at numerous functions.
Train-
Geeta Basra and Emraan's hot chemistry neither worked for the flick nor the actress. The music however, is something for which the flick is remembered. Geeta Basra was a big time absentee from Bollywood flicks. It's only her dating with Indian bowler Harbhajan Singh keeping her alive is gossip section other the actress looks like completely bowled out from Bollywood.
Zeher-
Udita Goswami was the leading actress along with Shamita Shetty in the flick which was once again dependent on its music like most of Emraan's other projects. Yes, the flick too had a kiss and intimate scene between Emraan and Udita but that hardly had any effect on the flick's box office collection. On Goswami's part, she too didn't have a good filmography, though she is married to its director Mohit Suri.
Jannat-
Directed by Kunal Deshmukh, the flick proved to be a hit at box office. Sonal Chauhan and Emraan had a cute chemistry however, Sonal vanished and years later she featured in 3G opposite Niel Nitin Mukhesh.