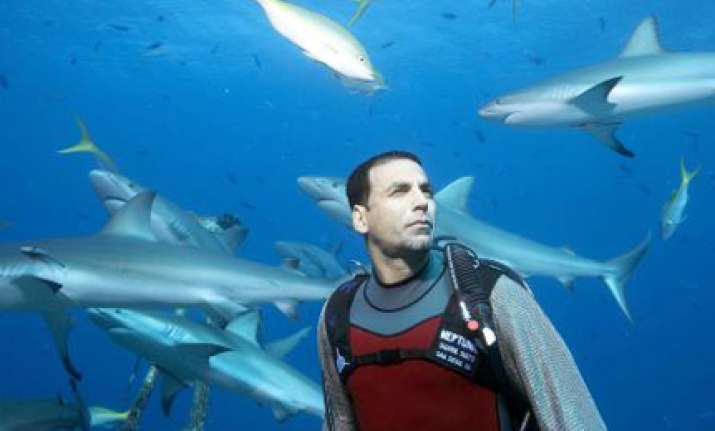 Bollywood star Akshay Kumar is happy that he is being compared with the world's famous spy James Bond for his role in 'Blue'. In this underwater film Akki acts the suave spy in a different role.        
Akshya Kumar, the Action Man, told HT:   "It's the coolest compliment ever. Every guy wants to grow up to be Bond. That's because James Bond has it all — the guns, the girls, the mean machines and the martinis. In Blue, too, I play Aarav, a character that has the cool quotient; just like Bond. It was fun playing him. It's a humbling experience when people appreciate your work to this extent. James Bond is an international hero, after all. And to be compared to him is something really special. These are compliments I'll treasure all my life'. 
Asked how he would compare the action in Blue to the action he has done in his earlier films, Akshay replied: 'There are various levels of action. There can be street-fight sort of action; there could be stylized action; there could be brutal action. What we tried to do in Blue was to go beyond all of that. It's the kind of action you've never seen in a Hindi film before. I can promise you that it has the potential to match the action of any international film. It gives you the thrills; it makes you anxious; it's what we call pulse-pounding action. We've done it on a scale that's bigger and grander than ever before'. 
'When we conceptualised this film, the idea was to give it an international look and feel. Since action is a very crucial part of it, we had top focus on it more than anything else. We see so many foreign films that have death-defying stunts. But on screen, they come across so casually. We've taken the same concept. The idea isn't to shock you; it's to entertain you in the most unique way. I believe the best way to showcase a jaw-dropping scene is by being casual about it. All the spectacular action is there but it's more effective when it comes across matter-of-factly. I guess that's what appealed most to the technicians in Hollywood'. 
Asked whether action films are now in vogue, because of  Ghajini and Wanted, this was Akshay's reply :  'Action has and will always be an integral part of our movies. In between, the trend changed — there were love stories and then, there were comedies. Also, action is a more expensive genre than the others. Even a simple stunt costs a lot these days. So as far as the audience is concerned, they were always hungry for some good action. That's why when they got it, they wanted more of it. They've seen everything else; now they'll get to see Blue. And this action is something they'll remember for a long, long time'. 
Obviously, for Akshay, Jackie Chan is his favourite hero.  'It has to be Jackie Chan, without a doubt. I've always been a great admirer of his films. And it's mainly because he's so smooth at what he does. You can never see the effort that goes into his stunts. He makes it all look so easy. And his most important contribution is that he made action popular among the families. He has a huge fan base among kids even now. Action, otherwise, is supposed to be favoured only by the men. But Jackie Chan changed that perception'. 
Asked about his toughest action scene to date, Akshay  Kumar mentioned his scene in the film Angaarey. ' For a scene in the film, I was required to jump from the terrace of one building to the other. First of all, there was a road in between the two buildings. And I had to jump from the 9th floor to the 4th floor. I remember I gave eight retakes for that shot. Every time I would run towards the other terrace and stop at the edge. And don't forget that there were no cables in those days. I had to do it on my own. I finally managed it on the ninth take. Then there was this other film too, Khiladi 420, in which I had to stand on the wing of a flying plane. That was without any cables too. It was scary but we managed it'. 
Akshay says his wife Twinkle  has given up on him as far as  doing action scene in films are concerned.  'Some of her friends ask her how she lets me do all this. And she just says, 'I know him. He'll do it right'. Don't try to instigate her now'. 
Akshay says Dharam-Veer is India's Gladiator. 'All those amazing costumes; those sword-fights; action on the horses — it was great. A film like that is unique; I don't think anyone else made anything like that again'.