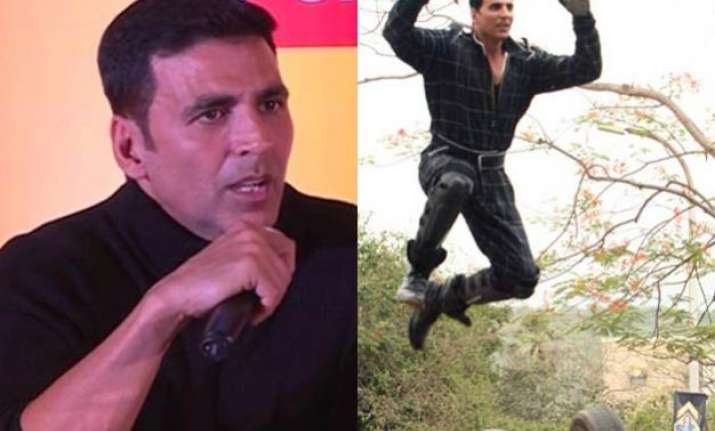 New Delhi: Akshay Kumar has time and again accepted that action is his forte. He is an expert in karate himself and his movies have no dearth of action in them. It is quite obvious that due to this penchant of him he has become close to stuntmen from the industry.
In a tweet today, Akshay informed that one of the stuntmen he knew has passed away. Khiladi Kumar further said how actors are nothing without these stuntmen and that they are like the unsung heroes of Bollywood.
He wrote, "It Pains me, coz I know the one expert that an Actor/Actress can't live without during their shoot is their #StuntBuddy We would be mourning so many Actors/Actresses if it wasn't for your unbelievable hard work & amazing talent that makes our movies look so good & help us earn so much, while keeping us safe from harm."
Though, he didn't reveal the name of the stuntmen who has died. Akshay said that the person was coming to train him at his Parkour Gym.
In his elongated tweet, Akshay also said that he believes the prestigious awards likes Oscars and Filmfares should be given to stuntmen. He pursued this thought of his by writing, "I know winning an award still isn't enough for what you all painfully go through for these million dollar projects, but it would be a little start, yet sadly our fraternities are barely even honouring you with that."
The actor who seemed clearly depressed with the demise of a stuntmen also mentioned that since he comes from the same background he respects and admires them.
He ended his  heartfelt note with, "I know in my 25 year long career nothing much has changed. But it will, and I will try & make sure of that... Till then Thank You & Take Great Care, Good Luck."
Here is what Akshay tweeted: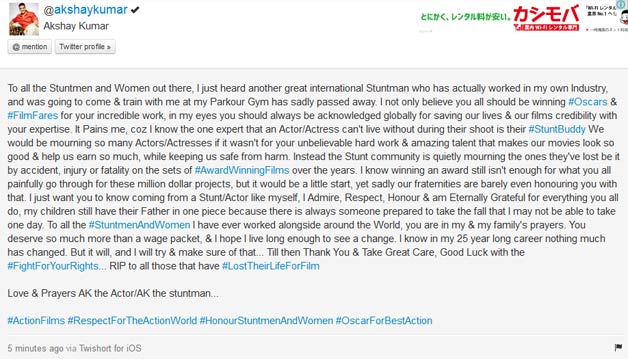 Akshay has a reputation of voicing his opinions for the right. A few months ago he out rightly exposed the hypocrisy of award functions. Now, that as an A-list star he has spoken about stuntmen, we hope their days in film industry change.
We pray that the soul of the deceased rests in peace.