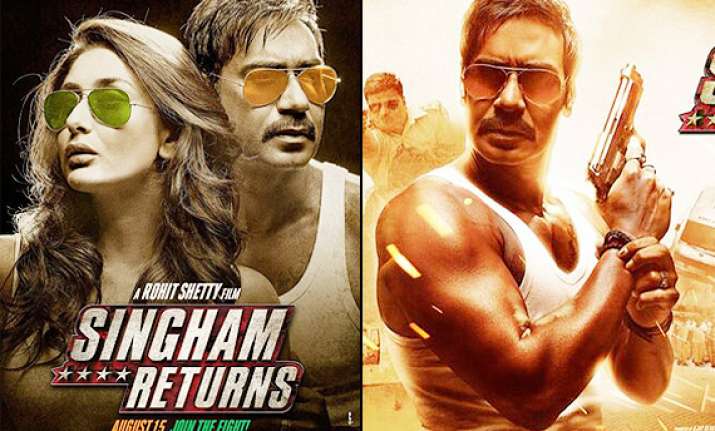 New Delhi: Singham Returns is out with its first look. And what a tremendous impact it is going to set with a league of five posters.
Ajay Devgn and Kareena Kapoor Khan starrer Singham Returns is here with the series of five posters showing the rusty-fearless Ajay Devgn in his super cop avatar.
Singham Returns, which happens to be the sequel of 2011 blockbuster hit, Singham has been built on the same lines of corruption and illegitimacy.
While the director Rohit Shetty has utilized his trademark style of delivering whole hearted action and powerful visual dynamism, Ajay Devgn playing Singham remains the core of the film.
The actor tweeted about the arrival of the first look of Singham and posted: Singham ki dahaad goonjegi aaj raat 11 baze.. Are you ready for @SinghamReturns ??? #SinghamReturns
Later, he posted: 'U askd fr @SinghamReturns first look.. tonight I will give u ek nahee paanch first looks..here u go #SinghamReturns'
Ajay seems to be shining in the posters amid the huge guns, blasting cars, policemen. In one poster, the actor is showing his rustic attitude in front of the Gateway of Indi, which indicates that Singham might begin his war against corruption in Mumbai this time.
Kareena Kapoor Khan, who has gone completely colourful donning vibrant looks for the movie also appears fierce enough in the poster.
The striking things about the poster featuring both the leading stars are those aviators that somehow flaunt the proud colours of our national flag.
Singham 2 is slated to be an Independence Day release and the first trailer of the film will be out on July 11.