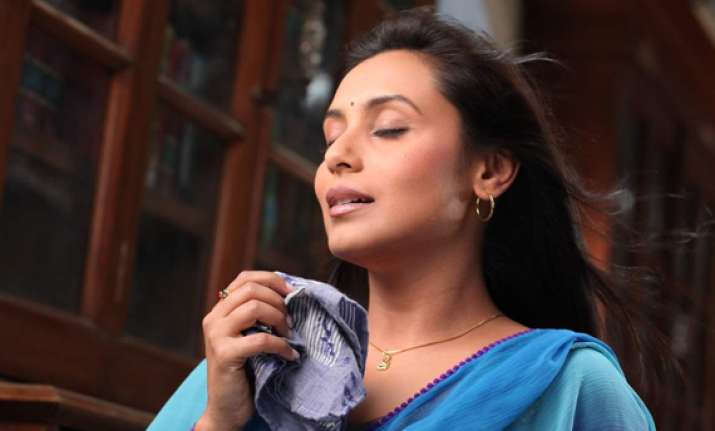 New DeIhi, Oct 12: Ever heard of a woman smitten by a male because of his body odour? If you want to suspend your beliefs, step in and watch Rani Mukherjee's latest flick Aiyyaa.
In recent times we have witnessed slapstick humour in flicks like Bol Bachchan, the epic drama "Gangs of Wasseypur", the adult comedy "Kya Super Kool Hain Hum", and these films have changed the audience's perception toward comedy flicks.
Filmgoers are now mature enough to demand more sensible content and they want to watch better comedy. Rani Mukherjee tries her best to make people giggle in "Aiyyaa", but she may not come out with flying colours.
The film is about a completely filmy, melodramatic, Marathi Mulgi (girl) Meenakshi played by Rani  who works as a librarian in a college. She is a fan of Sridevi, Madhuri Dixit and Juhi Chawla and tries to imitate their style at home.
Meenakshi's family, based in Pune,  is looking for a handsome Mulga (boy) for their dughter and this is  followed by a sequence of funny flashes as how this family tries to woo other families approaching for a suitable bride. 
Meenakshi's over-enthusiastic, melodramatic mother advertises her daughter's skills  in the matrimonials columns and overrates her. Their search for a  groom finally ends in the name of Madhav played by Subodh Bhave.