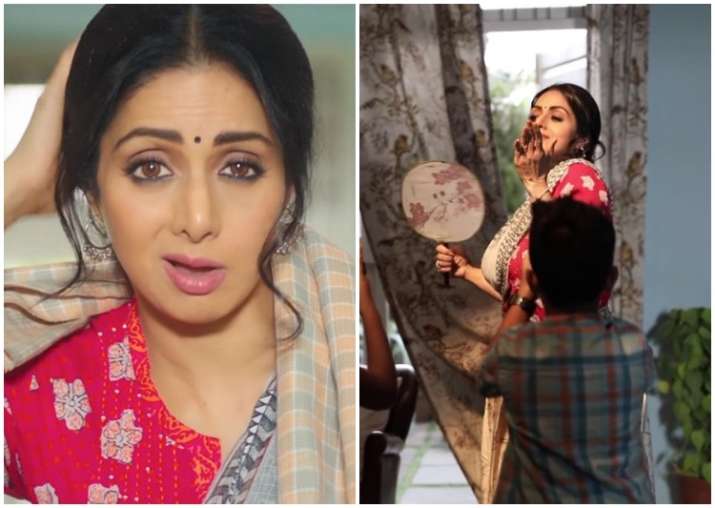 It took all of us a lot of time to come to terms with the fact that Bollywood's first female superstar, Sridevi is no more with us.  Sridevi died on Saturday night (February 24) after drowning in the bathtub of her hotel room in Dubai. 
With her untimely demise, Sridevi left a void that cannot be filled. She was unquestionably a pan-Indian star who enjoyed incredible success in Bollywood, Tollywood and Kollywood. From Amitabh Bachchan, Rajinikanth, Kamal Haasan to Anil Kapoor she could steal away the limelight from male protagonists with her stellar performances. 
Now fans are re-watching her films, ads and everything that features her. Sridevi always has surprised the fans by her performances and films and with this, she also worked in commercials also.
We have got our hands on one such TV commercial which is supposedly her last. Sridevi did this commercial for Indian brand Chings Chinese and now this commercial is getting viral on social media.
The commercial, shot for Ching's Snacky Oats, features Sridevi as the 'super-cool' mother who multitasks, raps and cartwheels, much to her children's surprise. In the video, you can see Sridevi at her jovial best. The video would remind you of Sridevi's comic undertones that we had seen in many of her films. 
Directed by Maneesh Sharma, the commercial captures the different moods of Sridevi. 
Watch the video here:
Much like Sridevi's near and dears, Dilip Sahu who worked as the line producer for the commercial too expressed shock over the actress' untimely death. "Like everyone I couldn't believe the news," he said. 
Maneesh shot the commercial - which is believed to be the Sridevi's last -in 2017. And the six days - during which he shot it - were enough for the entire team to understand that Sridevi – despite being a huge star - didn't behave like one. Instead, she made sure everyone was at ease. "Before the shoot kicked off, I ensured we were prepared for everything to make sure there was no discomfort for Srideviji. Par unhone mahaul sets pe family wala banaya. She behaved like an ordinary person. Have learnt a lot from her – most importantly the need to be punctual in life, and the fact that there is no substitute to hardwork," he added.