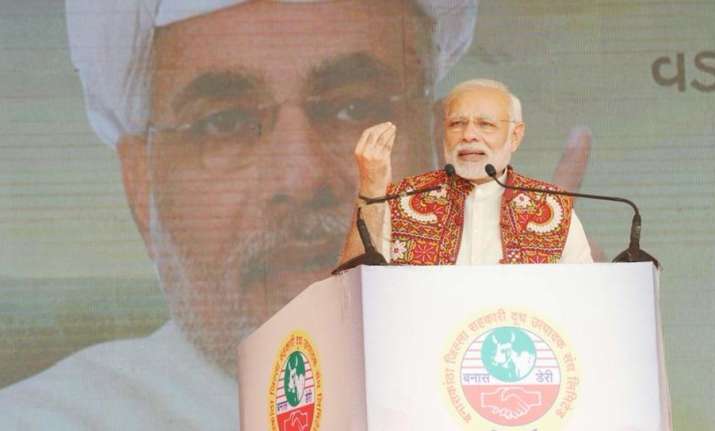 A Bihar-based filmmaker has made a full-length feature film 'Modi Ka Gaon' on Prime Minister Narendra Modi's development agenda for the country and his vision for transforming India.
Film producer and co-director Suresh Jha said the 2 hours and 15 minutes long feature film "Modi Ka Gaon" has completed shooting and is undergoing post-production work. The movie is expected to hit theatres within a couple of months.
However, Jha has said that is not a biopic. He also plans a mega-premier for the same and wishes to bring the PM to do the honours.
Mumbai businessman and Modi-lookalike Vikas Mahante is essaying the role of Modi. Television actors Chandramani M. and Zeba A. will play the other important roles in the medium budget movie.
The movie starts with Zeba's character being washed away in a massive flood in Bihar. The girl is later rescued by an NGO and sent to the USA for studies.
Jha told IANS that while abroad, the girl learns about the PM's vision. She understands how he wishes to transform India and hopes to return to her motherland.
He added that the film has been extensively shot on locales in Patna, Darbhanga and Mumbai, detailing Modi's passion for making all rural and urban centres as 'Smart Villages' or 'Smart Cities'.
Mahante said he enacts the role of Modi as the Prime Minister in the movie and talks about his initiatives in various directions since he came to power in 2014.
"He introduced the single-window system, does not keep any files pending on his table, moves fast, the way he works and interacts which makes him a world leader," Mahante, a Modi fan said.
In fact, Mahante's uncanny resemblance to Modi has made him a crowd puller in his own right and earned him the sobriquet 'Modi from Mumbai'.
He is often surrounded by people and tourists wanting to click selfies with him but he simply says: "I am a big fan of Modi and love the Swachha Bharat Abhiyan."
"Modi Ka Gaon" will have music direction by Manojanand Choudhary with seven songs, and the all-India release will begin from Uttar Pradesh, said Jha.
The movie is co-directed by Tushar A. Goel.
(With IANS Inputs)