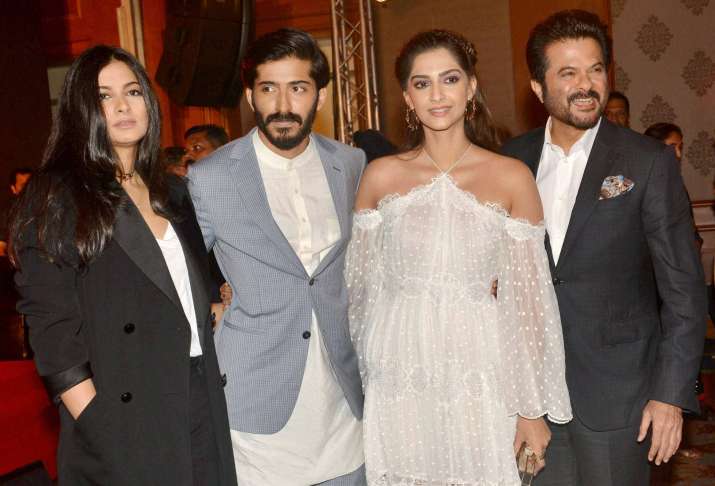 Everyone has seen the 'jhakkas' side of actor Anil Kapoor where in he emanates a lot of energy. However, yesterday people got to see the emotional side of him when he broke down at the music launch of 'Mirzya'. 'Mirzya' stars Anil's son Harshvardhan Kapoor in the lead and the former delivered an emotional speech speaking about his expectations from the latter. It was when he introduced Harshvardhan that he almost broke into tears.
Anil, started speaking about his father producer Surinder Kapoor and the struggles he faced to grab a foothold in the film industry.
"My father came here few years back and he saw success, he saw disappointments but that gave us strength, so I would like to thank my father, my mother and my brother," Anil Kapoor said.
"It's a very joyous moment for all of us, my son is here. I want to say - beta ho toh aisa but woh meri baat nahi sunta - he just doesn't listen to me at all," Mr Kapoor added.
He further said,
"I know people are very happy that a star's kid is here but I want to say that whatever he has done, he has done on his own. He is gifted but don't expect anything like me from him and that's what his strength is. Rakeysh Omprakash Mehra spotted him and groomed him and his entire team has made him Mirzya today."
Speaking about the lineage to which Harshvardhan belongs, Anil said that his entire family has put in their everything into the film industry.
He said,
"Our entire family has given blood, sweat for this business we have never compromised on anything... we gave everything to this industry. Whatever love and affection that you all have given me for so many years, I want you all to give it to my son."
The Kapoor family now count several successes among them apart from Anil Kapoor - producer Boney Kapoor, his wife Sridevi, and Anil Kapoor's daughters Sonam and Rhea who act and produce.
Harshvardhan Kapoor, 25, is the youngest of Anil and Sunita Kapoor's three children.
Directed by Rakeysh Omprakash Mehra, Mirzya pairs Harshvardhan Kapoor with newcomer Saiyami Kher.
The film, written by Gulzar, is a take on the tragic love story of Mirza-Sahiban. Mirzya is slated to release on October 7.
(With IANS Inputs)