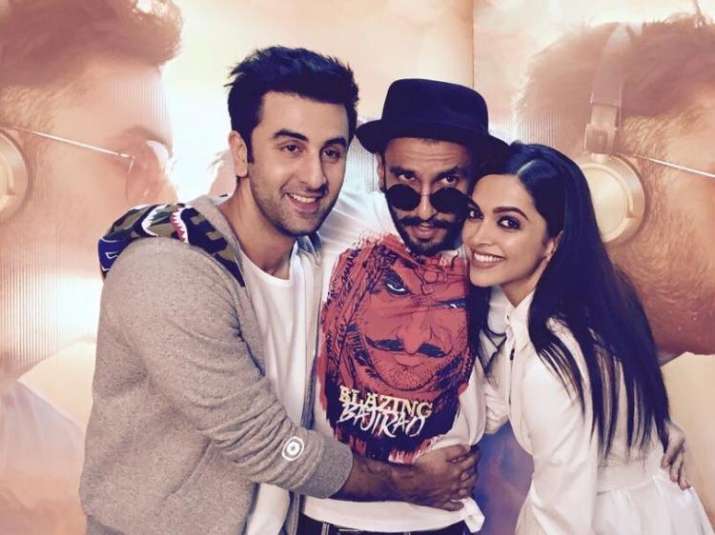 One is an actor she has dated and another is the one she is currently in love with. So, it is rarely possible for actress Deepika Padukone to miss questions about Ranbir Kapoor (her ex-flame) and Ranveer Singh. In one way or another, Deepika is constantly asked to pick one between the two and it seems the lady too has got used to it.
Deepika, at a new chat show, was asked to tell who would win in a dance-off between Ranveer Singh and Ranbir Kapoor. A source from the sets told a leading daily that at first Deepika was reluctant to answer the question sensing trouble. But after waiting for almost 45 seconds, she ate a piece of cake (which was earlier offered to her) and jolted her head in Ranveer's signature style.
Hence, Deepika answered the question with Ranveer's style; without using many words.
This wasn't it. The Mastani of Bollywood was asked if Bajirao Ranveer swept off her feet or no. To this DP blushed, nodded and made a heart with her fingers.
She said, "He's all heart!"
Wow! It is worth a mention that Deepika has become quite vocal about her feelings for Ranveer, unlike earlier when she was guarded.
Ranveer and Deepika will reportedly be seen together in filmmaker Sanjay Leeela Bhansali's 'Padmavati'. However, the fans of the stars will miss out the sizzling romance of the real life couple as they will be on different sides of the table. Deepika will play Rajputana Queen Padmavati who is married to Raja Ratan Singh (Shahid Kapoor) and Ranveer will essay the role of Muslim Emperor Alauddin Khilji. The way Padmavati lives her life and fights to protect herself from the mean motives of Khilji forms the spine of the story.