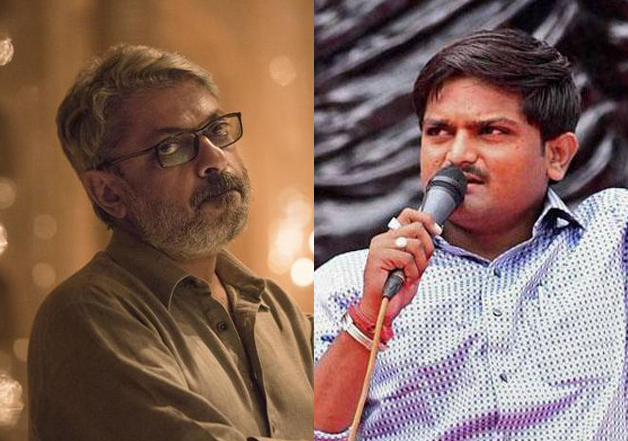 It seems filmmaker Sanjay Leela Bhansali's 'Padmavati' has grown a habit of making it to the news because of the troubles it is facing. If the recent jerks in the road to 'Padmavati' were not enough, Patidar Anamat Andolan Samiti (PAAS) leader Hardik Patel has asked SLB to give assurance that the movie will depict history correctly before starting shooting.
The movie is based on the life of Rani Padmavati and will chronicle her ups and downs. Rani Padmavati was married to Maharaja Ratan Singh and Emperor Alauddin Khilji lost his heart on her too. How the brave princess' overcame the ordeals of her life forms the spine of the movie.
But seems Hardik is not convinced that Sanjay Leela Bhansali will portray history in the right manner. Patel told a leading daily that members of the Rajasthan-based Rajput Sena contacted him to tell that Bhansali has not studied history and his portrayal may tarnish image of Rani Padmavati. Hence, Patel wants Bhansali to stop production of the movie and hold talks with Rajput leaders first.
Hardik Patel also threatened that if Bhansali is unable to give assurance to Rajput Sena members then they will hold wide protests against the movie. He reportedly added that they will not allow the movie to release in Rajasthan.
"No director has the right to damage history for entertainment," Patel was quoted by a daily.
This is not the first time that 'Padmavati' has ran into troubled waters. Before the star cast of the movie – Deepika Padukone, Shahid Kapoor, Ranveer Singh; were reportedly signed there were a lot of speculations about the casting. Next it was rumoured that Ranveer wants to have a look at the script to see if his role is as meaty as Shahid or no. Then, reports suggested that Ranveer wanted three different posters to introduce the characters.
With this new impending problem, we wonder if this ambitious project will give SLB more sleepless nights.