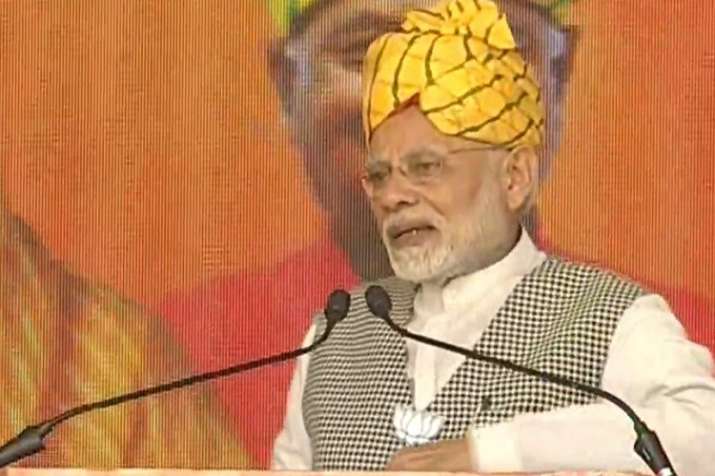 Campaigning for upcoming assembly elections in Rajasthan has gathered steam over the past one week. Major political parties have fielded in party bigwigs to field in candidates. Prime Minister Narendra Modi who hit the campaign trail in Rajasthan earlier this week, also held two rallies in Nagaur and Bharatpur.
PM Modi launched a blistering attack on Congress over 'dynastic politics'. He said that the Congress party is deeply entrenched in 'dynasty politics' and will not ever think out the future and betterment of the nation. He also lashed the Congress party for corruption and questioning his government's tactics on surgical strikes against Pakistan.
PM Modi had come down heavily on Congress party during his election rally in the poll-bound state on Monday. He had attacked the Rahul Gandhi-led party over various fronts including caste politics, corruption and even invoked the deadly 26/11 Mumbai terror attacks and slammed Congress who was in power during that time for criticising his government for surgical strikes against Pakistan.
HERE ARE THE HIGHLIGHTS OF PM MODI'S RALLY IN BHARATPUR
03:40 pm: "Earlier, all Congress veterans came from Uttar Pradesh. But, once UP overthrew the Congress, it has never been able to make inroads in the state. Same is the case with Bihar, Tamil Nadu, Chhattisgarh, Madhya Pradesh. And, from whichever state the Congress has exited, that state has only been on the path of growth and progress," PM Modi in Bharatpur.
03:38 pm: "Had the first Prime Minister of India been Vallabhbhai Patel, the son of a farmer, the issue of farm distress would never have struck our nation!" PM Modi in Bharatpur
03:37 pm: "Swaminathan Commission had given the report on MSP 10 years back, however, the remote control government, run by 'Madame' [Sonia Gandhi] never paid heed to it. Had MSP = 1.5 times the cost of produce been given 10 years back, none of the farmers would be debt-ridden. The BJP government came and resolved the issue," PM Modi in Bharatpur. 
03:34 pm: "The Congress party, which has only churned out leaders from their families, who are deeply entrenched in Dynasty politics, will never think about the future of the country and the betterment of the army. The families of the army have been asking for One Rank One Pension (OROP) for 40 years. But, the Congress government never paid heed to those requests. But, the BJP government gave Rs. 11,000 crore from the national treasury to the families of the Jawans " PM Modi in Bharatpur 
03:33 pm: "When India was facing cross-border terrorism and continuous militancy in Kashmir, wasn't it necessary to enter their territory and neutralise these threats. Is there anyone who opposes the Surgical Strike? And, then the Congress party, which is just strategising on how to get the throne in Delhi, has the audacity to ask for proof of the Surgical Strike!" PM Modi in Bharatpur.
03:22 pm: "India is making a mark on the map of the world due to the foreign policy adopted by the NDA government – be it the US, Russia, the Middle East, SAARC counties," PM Modi in Bharatpur. 
03:20 pm: "So many scams – chopper scam, coal scam, 2G spectrum scam – have stopped after BJP was voted to power in 2014", PM Modi in Bharatpur. 
03:18 pm: "Earlier, during the UPA rule, there have been so many bomb blasts --  be it Mumbai locals, or Ajmer Sharif, or a temple in Varanasi, or 26/11. But, after 2014, such incidents have reduced significantly. And this is all because of your vote!": PM Modi in Bharatpur. 
03:16 pm: "Bharatpur is the other name for courage and bravery. The Iron Fort of this land still stands tall. Bharatpur is the strength of Rajasthan. The Britishers were defeated 13 times in Bharatpur. Never has it happened that the bravery of this land has not impacted the development of the state. However, the Naamdaar party humiliates the martyrs of this land. Elections are a festival of democracy. Everybody participates in this festival. In Chhattisgarh, when people were voting, there was an attack by Maoists. In that situation, a brave soldier from Bharatpur was martyred. And the Naamdaar  [Congress] party says that Maoists, Naxals are revolutionaries! Will the people of Bharatpur ever forget him? : PM Modi in Bharatpur. 
HERE ARE HIGHLIGHTS OF PM MODI'S RALLY IN NAGAUR
12:00 pm: I am asking you for votes based on my work, I am asking you to vote for development. I am not seeking votes for my family or the well-being of my future generations: PM Modi
11:57 am: Water big problem for Rajasthan, Raje govt provided irrigation facilities in 1.5 lakh hectare area: PM
11:55 am: Those whose four generations have had no connect with public cannot understand your pain: PM Modi
11:53 am: We are not seeking votes for our grandsons or granddaughters but for your welfare and to help fulfil your dreams: PM in Nagaur.
11:52 am: Our only mantra is 'sabka saath, sabka vikas', inspired by social reformist Jyotiba Phule and B R Ambedkar: PM
11:50 am: 'Kamdar' is in fight against 'naamdar' here; I am like you people, have not been born with a golden spoon: PM Modi in Rajasthan rally. 
11:49 am: I have lived my life the way you have lived your life. Your parents have never ruled nor have mine: PM Modi
11:39 am: The prime minister has begun his address.
Earlier on Tuesday, the BJP rolled out its Rajasthan poll manifesto on Tuesday, promising 30,000 new government jobs every year, 50 lakh employment opportunities over the next five years in the private sector and an allowance for the educated jobless.
It also held out a possibility to farmers of doubling their income, helped by a new Rs 250-crore fund to encourage rural start-ups.
Rajasthan Assembly Elections will be held on December 7 and the results will be declared on December 11.