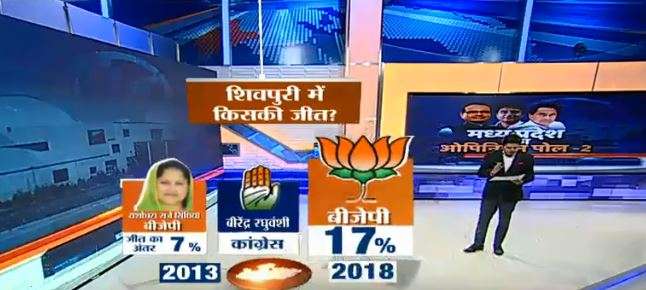 To know the pulse of the poll-bound Madhya Pradesh, India TV conduced an opinion poll with the help of CNX. It shows that despite being in power for the last 15 years, the Bharatiya Janata Party (BJP) is again all set to win the upcoming assembly elections.
India TV-CNX Opinion Poll shows that although the saffron party has lost some vote base in the state, it will still easily win a majority. It shows that Shivraj Singh Chouhan is set to become CM for the record fourth time.
Voting in Madhya Pradesh is scheduled to take place on November 28. Results will be declared on December 11.
Here are important findings from the India TV-CNX Opinion Poll-Part 2 (Survey on VIP seats):
In Vidisha, BJP is all set to increase its percentage to 27 from 13, last time.
In Budhni (home seat of CM Shivraj Singh), BJP will win with a margin of 35 per cent. Last time (in 2013) margin was 47 per cent.
In Murena, BSP may turn the table and win by a margin of 8 percent.
In Damoh, there could be a tough fight between the BJP and the Congress.
In Churhat, there could be a tough fight between the BJP and the Congress. BJP may get 2 per cent more votes this time in Churhat.
In Bhopal (South-West), Congress is likely to win.
56 per cent Brahims are likely to vote for the BJP in 2018 assembly polls.
59 per cent Rajputs are likely to vote for the BJP in 2018 assembly polls.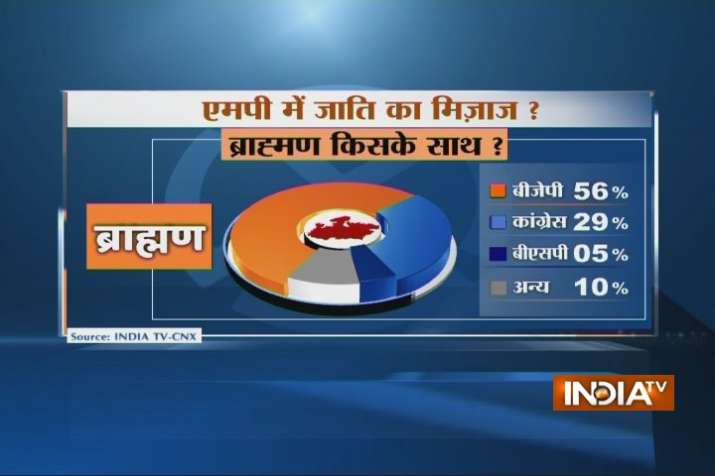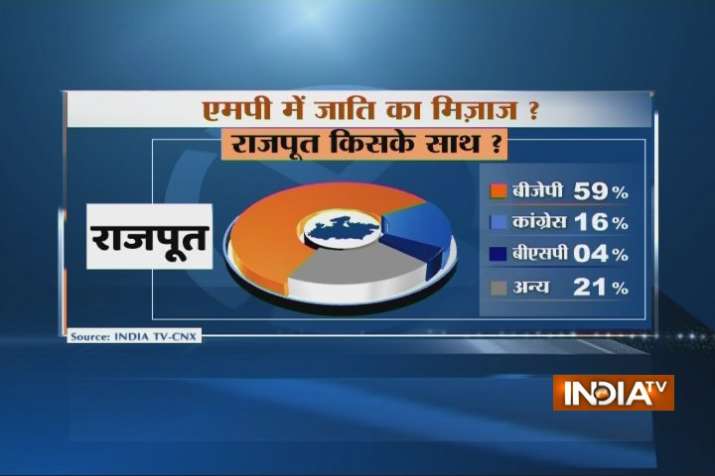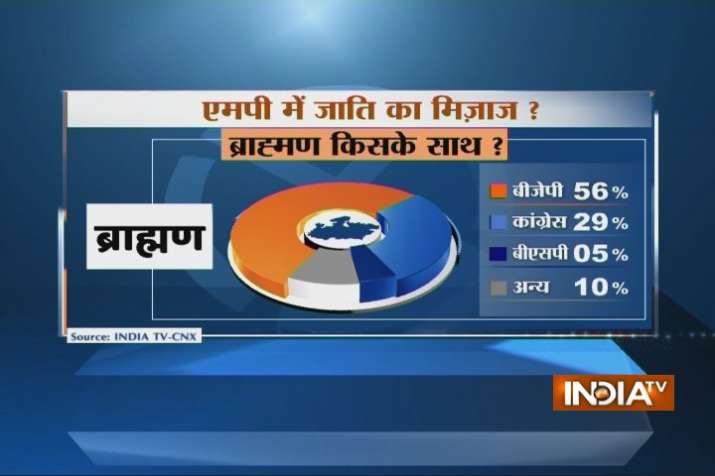 Here are the top takeaways from India TV-CNX Opinion Poll-Part 1:
Region-wise prediction
Giving region wise seat predictions, the pre-poll survey shows that Chambal region having 34 seats,  BJP may win 15, Congress 12, BSP four, Others three seats. In Malwa-Nimar region, having 72 seats, BJP may win 45, Congress 24 and Others three seats. 
In Baghelkhand region having 52 seats, BJP may win 25, Congress may win 21, BSP four and Others two seats. In Bhopal region, having 22 seats, BJP may win 12 and the Congress may win 10 seats. In the Mahakoshal region having 50 seats, BJP may win 31 seats, and the Congress 18, leaving one seat to Others. 
Vote share:
Vote share wise, BJP may get 42.5 per cent, Congress may get 37.19 per cent, Mayawati's BSP may get 7.7 per cent, and others may get 12.61 per cent votes. In the 2013 Assembly polls, BJP had got 44.88 per cent and the Congress had got 36.38 per cent votes. This represents a 2.38 per cent downward swing in vote share for BJP, the pre-poll survey showed. 
WATCH: IndiaTV-CNX Opinion Poll - Shivraj set to retain power in Madhya Pradesh
CM face
In the pre-poll survey, 40.35 per cent respondents said they wanted Shivraj Singh Chouhan as chief minister, while 22.19 per cent favoured Congress leader Jyotiraditya Scindia, 18.08 per cent favoured another Congress leader Kamal Nath. 
Performance of Shivraj as CM
To the question how would you rate Shivraj Singh Chouhan's performance as CM, 30.42 per cent respondents said Very Good, 10.8 per cent said Good, 22.30 per cent said Poor, 14.34 per cent said Very Poor, 16.14 per cent said Average, and 6 per cent said Can't Say. 
Congress' CM face
Congress supporters in the survey were asked which leader they would prefer as Chief Minister, if the party comes to power. 42.62 per cent favoured Jyotiraditya Scindia, while 35.91 pc favoured Kamal Nath. Former CM Digvijaya Singh stood a distant third with only 10.05 per cent. 
Biggest issue
Asked what will be the biggest issue in the upcoming Assembly polls, 29.11 per cent said Unemployment, 27.42 per cent said Development, 11.91 per cent said Corruption, 10.45 per cent said Fuel Price Hike. Only 1.3 per cent respondents considered Rafale Deal as a poll issue.