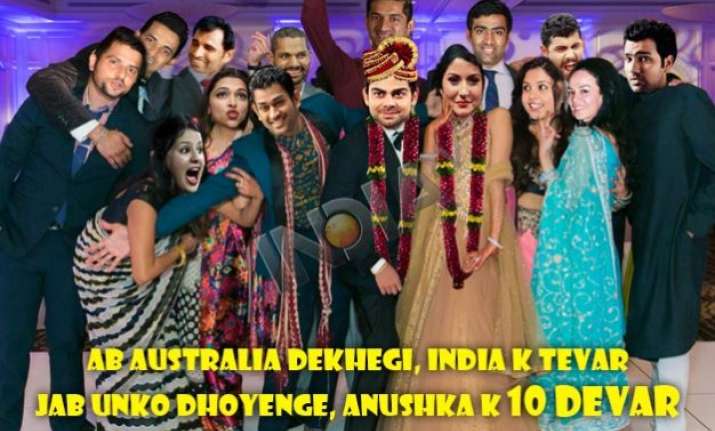 #AnushkaKe10Devar, the craziest trend for #IndvsAus Semi Final!
Team India led by captain cool
MS Dhoni
is all set to clash with the host country Australia in the World Cup semifinal tomorrow. But before the eleven players could actually take on the opponent, people on social media have already started the battle.
The latest fad being about stylish cricketer Virat Kohli and his girlfriend Anushka Sharma has literally taken the social media by storm.
With the message "Ab Australia dekhegi India ke tevar, Jab unko dhoyenge Anushka Sharma ke 10 devar," Indian fans have killed two birds with a single stone.
The phrase on one hand warns the Kangaroos of penultimate action from Team India while on the other hand take a sarcastic note on infamous love relationship between Virat and Anushka.
Interestingly, Kohli had recently appreciated his girlfriend Anushka for her super performance in NH10. And in the past also, the cricketer has expressed his love for the tinsel town girl by blowing flying kisses on the field during the match.
On the other hand, Anushka has been seen time and again at the crowd stands cheering Team India and especially Virat Kohli. She has reportedly flown to Sydney to show his support to the Indian Team against Australia.
Read Here:  Wow! Anushka Sharma in Sydney to cheer for Virat Kohli
These lovely gestures by the two love birds give ample chance to the cricket and bollwyood fans to come up with something like this. And now with fever of Cricket World cup going high-over heels for the Indian fans, we can see the series of hilarious messages every now and then.  
At the moment, let's wish for Team India's victory and rest leave on Virat Kohli and Anushka Sharma's 10 Devars!
So are you up to watch the Mahamukabla?