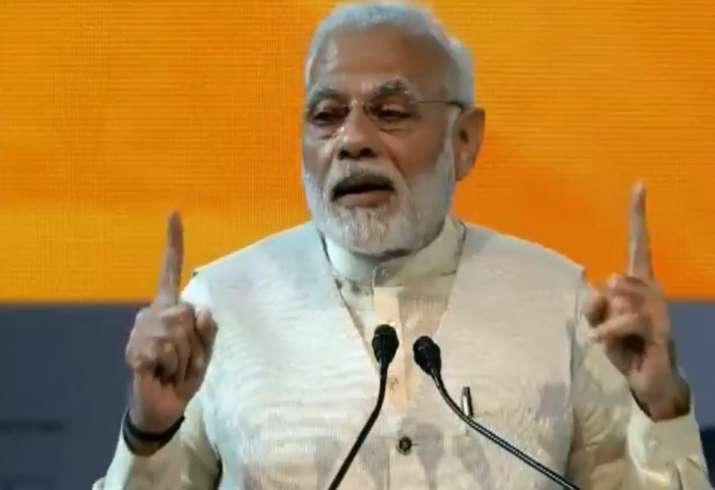 Prime Minister Narendra Modi pitched for a strong Indian Economy during his inaugural address at the Global Investors' Summit-Magnetic Maharashtra on Sunday. 
Addressing an audience of over 150 CEOs and business heads, PM Modi said that the nation is heading in the direction of an efficient and transparent system. 
"We are heading in a direction where State is policy driven, Governance performance driven, Government accountable and Democracy participative," the prime minister said. 
PM Modi said that a nation's progress depends on holistic vision, which is inclusive and comprehensive. "We believe potential, policy, planning and performance leads to progress," he added. 
The prime minister expressed confidence in the future growth of Maharashtra's economy and said that he is sure that state will achieve the objective of being first trillion dollar economy state in India. 
"In last three years, the Maharashtra government has taken unprecedented steps to strengthen the environment of investment. Maharashtra's development symbolizes the growing power of #India that we are able to set such big goals," PM Modi said. 
In the ranking of Frost & Sullivan, Maharashtra was declared the number one state in overall development, he added. 
After the inaugural ceremony, PM Modi interacted with corporate chiefs during high tea along with Chief Minister Devendra Fadnavis.
With the tagline #MadeForBusiness, the conclave is billed as one of the biggest events of its kind after the Prime Minister's 'Make In India' initiative was launched in February 2016 in Mumbai.
At this conclave, Maharashtra intends to sign nearly 5,000 MoUs, with an investment of Rs 10 lakh crore (close of $156 billion) that is expected to generate employment for 35 lakh people.
Besides the business conclave, an exhibition will be held till February 23 in which flagship projects of the state government will be showcased.
These include the Mumbai Metro, Mumbai-Nagpur Super Communication Expressway, Mumbai Coastal Road, Mumbai Trans-Harbour Link and the Navi Mumbai International Airport, the foundation stone for which will be laid by Modi on Sunday.
Fadnavis has said that 'Magnetic Maharashtra' has been conceptualised on four main pillars -- Employment, Sustainability, Infrastructure, and Future Industries.
With the summit, the state hopes to strengthen Maharashtra's position as 'gateway' for all industrial development in India wherein the best minds, industries and government machineries converge to co-create.
Fadnavis said his government is focusing on building 'future-ready state' that features consistently among top world destinations for industrial innovation and smart manufacturing.
To support new-age young entrepreneurs, the summit will host a competition 'Magnetic Maharashtra Start-ups Under 30', with prizes of Rs 50 lakh, Rs 30 lakh and Rs 20 lakh for top three innovative start-ups.
Presently, Maharashtra contributes 15 per cent to the gross domestic product that is estimated to grow at 9.4 per cent in the current fiscal, according to officials organising the summit.
Manufacturing contributes 21.43 per cent to the state's Gross State Domestic Product, and Maharashtra has attracted 45.24 per cent of the total foreign direct investment received by India in the first half of the fiscal.
Though Maharashtra is already acknowledged as the finance and entertainment capital of India, with 'Magnetic Maharashtra', the government hopes to catapult it on the path to make it the trade and manufacturing capital as well.
Besides top Indian ministers and officials, Representatives of foreign governments like Karin Roding, Sweden's State Secretary to the Minister, and Bardish Chagger, Canada's Minister of Small Business and Tourism, Waterloo, NITI Aayog CEO Amitabh Kant are also participating.
The event is being organised jointly by the Maharashtra Industrial Development Corporation and association with the Confederation of Indian Industry.
The exhibition centre is showcasing automobiles/auto components, defence, food processing, IT/ITES, electronics, heavy engineering, pharmaceuticals and other sectors where scope is available in the state with opportunities in Mumbai, Pune, Aurangabad, Nashik and Nagpur.
Watch video: PM Modi's Speech at inauguration of Magnetic Maharashtra Convergence 2018