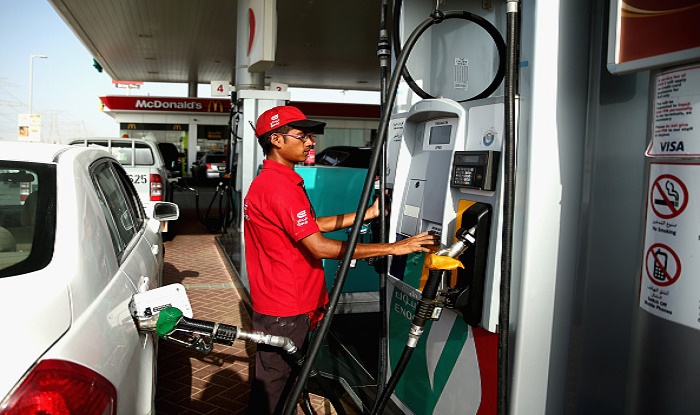 Petrol and diesel prices continued their upward trend on Tuesday reaching a new high across states in the country. In Mumbai, petrol touched Rs 84.70 per litre while diesel was available at a steep price of  Rs 72.48 per litre. 
In the national capital Delhi, the price of petrol was at Rs 76.87 per litre, while the cost of diesel went up to Rs 68.08 per litre. 
Similary, petrol and diesel were being sold at Rs 82.47 and Rs 71.66 respectively in Madhya Pradesh capital Bhopal.
The continuous hike in the price of the two major petroleum products has adversely affected the monthly budget of common people. People have appealed the Government to take immediate steps to control the spiralling prices of petrol and diesel. 
Ajay Bansal, President, Petrol Pump Dealers' Association, said that less supply of crude oil from OPEC countries is one of the major reasons behind the petrol, diesel price hike.
"Fuel prices are directly linked to crude oil. OPEC countries have reduced supplies. We don't have any say to bring down price., We can only reduce VAT of state taxes & central taxes, that is only way to reduce the price," Bansal said.
However, there has been no word from the concerned authorities over how it is going to tackle the situation.
Last week, Economic Affairs Secretary Subhash Chandra Garg refused to say if the government will cut excise duty on auto fuel to ease the burden on consumers. 
The government is watching the situation developing from oil prices hitting USD 80 a barrel -- the highest since November 2014, and adequate steps will be taken, is all he said said without elaborating. 
Prices of petrol & diesel touch Rs 84.70/litre & Rs 72.48/litre in #Mumbai respectively; locals say, 'petrol & diesel prices are increasing every week. Prices here are much higher than other states. How are we supposed to survive in this situation' pic.twitter.com/nnKdpugYfA

— ANI (@ANI) May 22, 2018
Asked if the government would cut excise duty on petrol and diesel, he had stated that he has nothing to say on that front. "Just watch." 
The BJP-led government had raised excise duty nine times - totalling Rs 11.77 per litre on petrol and Rs 13.47 on diesel - between November 2014 and January 2016 to shore up finances as global oil prices fell, but then cut the tax just once in October last year by Rs 2 a litre. 
Watch: Petrol, diesel prices continue to rise