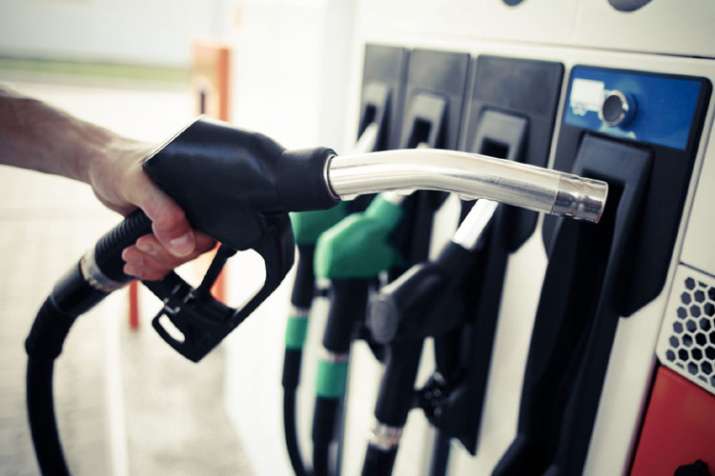 Fuel prices continued the downward trend as prices were slashed on Sunday as well. While petrol prices were cut by 30-40 paise, diesel prices, on the other hand, witnessed a cut of up to 45 paise across major cities across the country. After Sunday's price cut, petrol in national capital Delhi was priced at Rs 72.23 and diesel was retailing at Rs 67.02.
In Mumbai, petrol prices on Sunday were slashed down to Rs 77.80 per litre from Rs 78.09 on Saturday. Diesel prices in the economic capital were cut by 45 paise to Rs 70.15 per litre as against Rs 70.50 yesterday.
In Chennai, petrol was retailing at Rs 74.94 per litre on Sunday as against Rs 75.26 on Saturday. Diesel prices in the city went below Rs 71 as rates were cut by 35 paise to Rs 70.77 as against Rs 71.12 on Saturday. In Kolkata petrol is retailing at Rs 74.25 on Sunday . Diesel prices in Kolkata went down by 33 paise to Rs 68.75 per litre. 
In Noida, petrol prices went down by 22 paise to Rs 71.68 compared to Rs 71.90 on Saturday. Diesel price in Noida went below Rs 66 as prices were cut by 27 paise on Sunday. It was retailing at Rs 65.98 per litre on Sunday.
Petrol prices have reached below Rs 74-mark for the first time in the last eight months, whereas diesel is now at its cheapest in the last three months. Petrol and diesel rates have been slashed down by nearly Rs 10 and Rs 7 respectively in the last six weeks. 
Petrol price had touched a record high of Rs 84 per litre in Delhi and Rs 91.34 in Mumbai on October 4. 
On October 4, the government decided to cut excise duty on petrol and diesel by Rs 1.50 per litre each and asked state-owned fuel retailers to subsidise prices by another Re 1 a litre by reducing their margins.
Many states including Maharashtra matched that with a reduction in local sales tax or VAT.
Subsequent to this, the petrol price came down to Rs 81.50 per litre in Delhi and diesel to Rs 72.95 a litre on October 5. In Mumbai rates fell to Rs 86.97 per litre for petrol and Rs 77.45 in case of diesel.
As the international oil prices continued to rise, price of petrol and diesel in Delhi increased to Rs 82.83 and Rs 75.69 on October 17. In Mumbai, rates touched Rs 88.29 a litre for petrol and Rs 79.35 for diesel.
But since then, international oil prices have been falling and rupee has also appreciated, resulting in decline in retail rates.