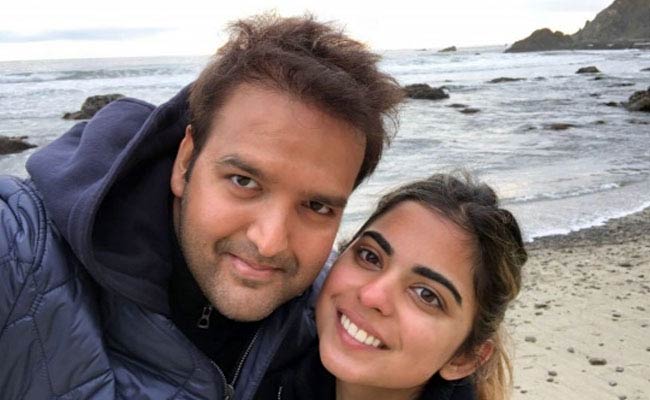 Wedding bells are yet again ringing in the Ambani family as Reliance Industries (RIL) chairman and managing director Mukesh Ambani's daughter Isha Ambani is all set to marry Anand Piramal in December, this year. The two reportedly got engaged recently after the Piramal scion proposed to Isha at a temple in Mahabaleshwar. The couple celebrated the occasion with their family and close ones. Isha's twin brother Akash is also slated to get hitched to Shloka Mehta, the daughter of diamantaire Russel Mehta and Mona Mehta, later this year. Anand and Isha, who have been long-time friends as both the families know each other for over four decades, have finally decided to solemnize their relationship. Meanwhile, curiosity is also building up about the duo, here is an insight:
Who is Isha Ambani?
1. Isha Ambani, the daughter of Reliance Industries (RIL) chairman and managing director Mukesh Ambani and Nita Ambani, was born on October 23 in 1991
2. She holds a Bachelor's Degree in Psychology and South Asian Studies from Yale University and will be completing her Master in Business Administration programme from the Graduate School of Business, Stanford by June.
3. Isha is on the Boards of Reliance Jio and Reliance Retail and is widely credited for instilling a culture of youthful dynamism in the business.
4. Isha is a director on the board of Reliance Jio Infocomm and Reliance Retail Ventures
5. Earlier, Isha had also served as a Business Analyst at McKinsey and Company in New York, US
6. Isha's twin brother Akash recently got engaged to Shloka Mehta, who is the daughter of diamantaire Russell Mehta. He heads Rosy Blue Diamonds, one of the country's leading diamond companies.
7. Anand and Isha have been long-time friends and both the families have known each other for over four decades.
Who is Anand Piramal?
1. Anand Piramal is the son of corporate magnates Ajay Piramal and Swati Piramal
2. Anand holds a Bachelor's Degree in Economics from University of Pennsylvania and a Masters in Business Administration degree from Harvard Business School.
3. Anand Piramal founded two startups, a healthcare startup, Piramal eSwasthya and Piramal Realty, a real estate startup. Both are now part of the $4 billion family-run conglomerate, Parimal Enterprises.
4. Anand was previously the youngest President of the Indian Merchant Chamber - Youth Wing.
5. Anand Piramal played a pivotal role in the acquisition of prime land parcels across Mumbai, building of a great team and the designing of world-class developments.
6. In 2015, he also raised $434 million from Goldman Sachs and Warburg Pincus for the growth of the company. This is one of the largest private equity investments in real estate in India ever.
7. In 2018, Anand was conferred with the Hurun Real Estate Unicorn of the Year 2017 by Hurun India and Young Business Leader award by Hello! Magazine. 
WATCH FULL VIDEO: