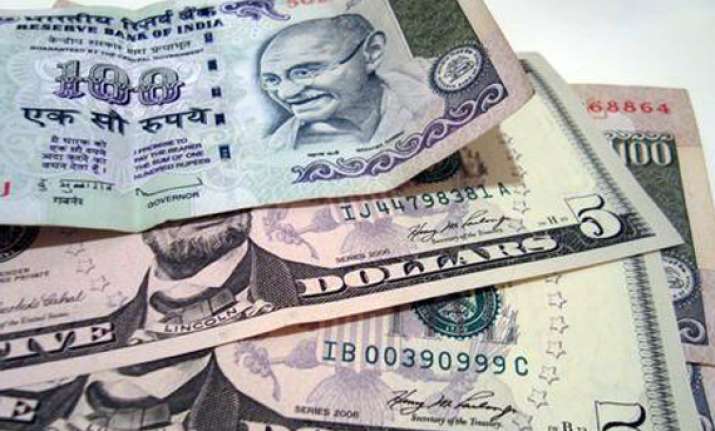 New Delhi, Dec 16: Continuing its volatile path, the rupee is likely to breach the 55-mark again before this year-end against the dollar due to demand for the US currency from banks, oil importers and withdrawals by FIIs, according to experts.
Also, an expected status-quo on rate cut by the Reserve Bank in its mid-quarter monetary policy review on Tuesday could keep the rupee under pressure in the next fortnight, they added.
"Month-end dollar demand from oil importers and some banks will keep the rupee volatile till 2012-end. It is likely to move in the range of 54-55.5 but where it ends the year, depends on euro's movement against the dollar," Dhanlaxmi Bank Executive VP (Treasury) Srinivasa Raghavan said.
He added that fund withdrawals by foreign institutional investors (FIIs) around December 15 due to their year-end is also likely to put pressure on the local currency.
FIIs have pumped in a massive amount of over USD 20 billion (Rs.1.09 lakh crore) into the equities this year, but a high current account deficit of 4.5 per cent of the GDP has prevented these inflows from buoying the rupee sentiment, India Forex Advisors Founder & CEO Abhishek Goenka said.
He remained bullish on the dollar and forecast the range for rupee in the last fortnight of 2012 at 54.10-55.
"There will be a weaker bias for the Indian currency," Mr Goenka added.
Last month, rupee had emerged as the worst performing currency across the globe on a monthly basis. The local unit had closed at its life-time low of 57.12 against the US dollar on June 22 this year. In February, rupee had strengthened to as high as 49.
It ended lower by 2 paise at 54.48 on Friday. According to Sebi data, FIIs invested $391.23 million into domestic equities on that day.
On RBI's mid-quarter monetary policy on December 18, experts said RBI could reconsider its hawkish monetary stance vis-a-vis the rate cut.
"The market was not expecting any rate cut or may be a 25 basis points (0.25 per cent) CRR cut till now. But the government's projection over the economy with firm IIP and inflation numbers in the last 7-10 days might put RBI in a lurk over going for a token rate cut of 25 bps," Mr Raghavan said.
Industrial production bounced back to a 16-month high of 8.2 per cent in October, as against contraction of 0.7 per cent in September, raising hopes of economic recovery in the coming months.
"I am very encouraged by the indications of the green shoots in economy in terms of production. IIP figures are very encouraging," Finance Minister P Chidambaram had said.
WPI Inflation dropped to a 10-month low of 7.24 per cent in November.