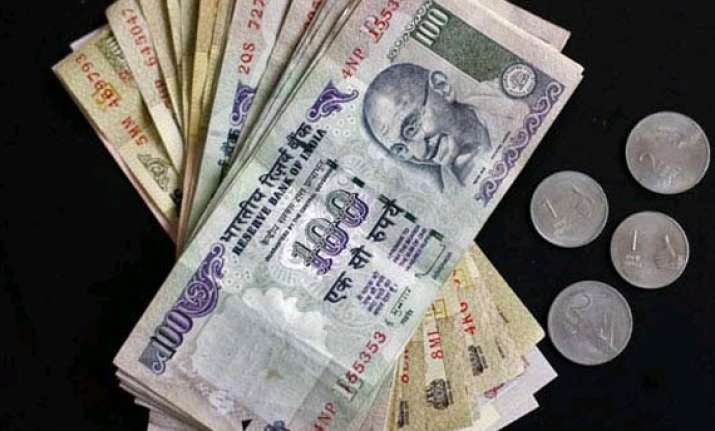 Mumbai: In a truncated week, the Indian rupee continued to fall against the American currency for the 3rd consecutive week on persistent dollar demand from banks and importers amid weak USD overseas.
The forex market was closed on April 14 for Dr Baba Saheb Ambedkar Jayanti and on April 18 for Good Friday.
The rupee opened lower at 60.34 per dollar as against the last weekend's level of 60.17 at the Interbank Foreign Exchange (FOREX) market.
It dropped further to 60.50 per dollar on good dollar buying from banks and fall in local equities due to rise in inflation and fall in factory output.
Capital outflows at initial stages also weighed on the rupee.
However, it recovered afterwards at the fag-end in line with sharp rebound in domestic stocks and renewed buying by foreign funds to 60.20 before settling the week at 60.29, still showing a loss of 12 paise or 0.20 percent from its last weekend's level.
It has lost 38 paise or 0.63 percent in the three weeks.
The Indian benchmark sensex, this week, closed almost flat on alternate bouts of buying and selling while FIIs withdrew shares worth USD 25.71 mln on first two days of trading sessions of the week, as per Sebi data.
Pramit Brahmbhatt, Veracity Group CEO, said,"For the week rupee continued to trade range bound to slightly weak and looks that it will decide its direction after the Lok Sabha Elections.
"Local equities ended this week near previous week's close. Overseas investors sold Indian shares at the start of the week which has forced rupee to trade weak.
"But towards the end it recovered after the US industrial production increased more than forecast in March which boosted global equities and helped local equities to recover", he said.
The trading range for the Spot rupee is expected to be within 59.75 to 60.75, he added.
Forward dollar premiums continued to rule weak due to persistent receipts by exporters.
The benchmark six-month forward dollar premium payable in September dropped further to 220-221.5 paise from last weekend's close of 230.5-232.5 paise and far-forward contracts maturing in March 2015 also dipped to 460-462 paise from 472.5-474.5 paise.
The RBI fixed the reference rate for the USD at 60.3805 and for the euro at 83.5737 from 60.2670 and 83.7385, respectively.
The rupee tumbled further against the pound sterling to end at 101.37 from last weekend's close of 100.62 and also remained weak against euro to finish at 83.56 from 83.49.
However, it recovered against the Japanese currency to close at 59.04 per 100 yen from preceding weekend's close of 59.35.