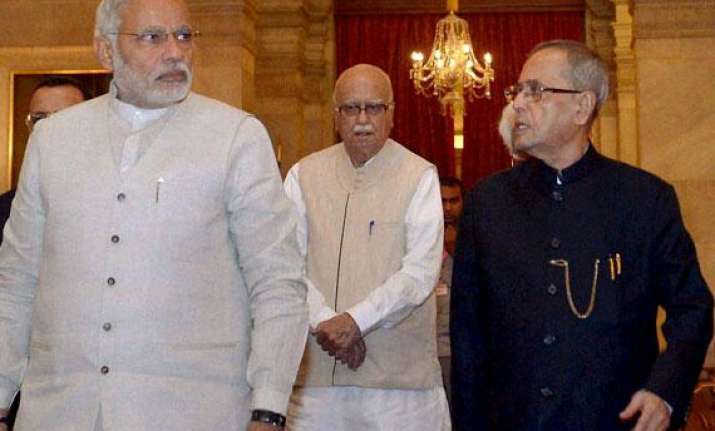 New Delhi: Curtailing food inflation will be Prime Minister Narendra Modi's top priority as his government pursues broad economic reforms focused on job creation, reviving growth, encouraging FDI and introducing a non-adversarial tax regime.
Unveiling the Modi government's agenda for governance, President Pranab Mukherjee in an address to the joint sitting of Parliament said it will take action against hoarding and black marketing and make all efforts to bring back black money stashed abroad.
Also, bringing in Goods and Services Tax (GST), speeding up project approvals and coal sector reforms top the agenda.
Noting that the economy is passing through an extremely difficult phase, he said: "We will work together to usher our economy into high growth path, rein in inflation, reignite the investment cycle, accelerate job creation and restore the confidence of domestic as well as international community in our economy."
Referring to the high food inflation, Mukherjee said the new government will give "top most priority" to contain it.
The government, he added, will take effective steps to prevent hoarding and black marketing and reform the public distribution system.
He further said the government is alert to the possibility of a subnormal monsoon this year and is in the process of preparing contingency plan to deal with the situation.
Referring to the taxation system, Mukherjee said the government will endeavour to "create a policy environment which is predictable, transparent and fair.
"It will embark on rationalisation and simplification of the tax regime to make it non-adversarial and conducive to investment, enterprise and growth".
He said the government will move ahead with the roll out of GST while addressing the concerns of the states, and undertake more reforms to enhance the ease of doing business.
Mukherjee said the Modi government will engage with foreign countries to bring back the ill-gotten money stashed abroad.
The President said the government is determined to rid the country of the scourge of corruption and the menace of black money.
"As a first step in this direction, the government has already constituted a SIT to unearth black money stashed abroad. This will be followed up vigorously by proactively engaging with foreign governments," he said.
Mukherjee said that Foreign Direct Investment (FDI) will be encouraged in sectors which "help create jobs and assets".
In order to create jobs, he said, the government will promote labour-intensive manufacturing and endeavour to expand employment opportunities in tourism and agro-based industries.
Giving more details of the agenda, Mukherjee said effort will be made to increase public and private investment in the farm infrastructure and convert farming into a profitable venture through scientific practices and agri-technology.
The government "will adopt a national land use policy which will facilitate scientific identification of non-cultivable land and its strategic development", he added.
Mukherjee said India needs to transform itself into a globally competitive manufacturing hub powered by skill, scale and speed.
To this end, the government will set up world class investment and industrial regions, particularly along the Dedicated Freight Corridors and industrial corridors spanning the country, he said.
On the power front, Mukherjee said the government will come out with a comprehensive National Energy Policy.
The aim of the government will be to "substantially augment" electricity generation capacity through a judicious mix of conventional and non-conventional sources, he added.
The government will also work towards expanding the National Solar Mission.
He further said the government will raise investment in agriculture, both public and private, especially in agri-infrastructure. Steps will also be taken to convert farming into a profitable venture through scientific practices and agri-technology.