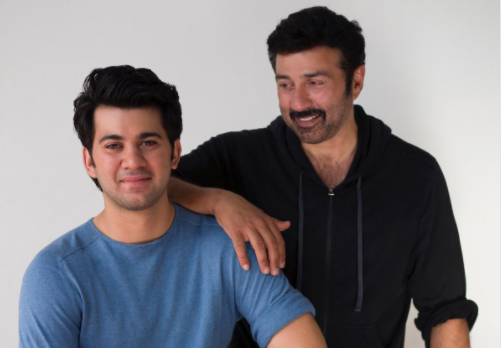 Sunny Deol, popular for his 'dhai kilo ka hath' in Bollywood, finally steps into a director shoes to launch his son Karan through Pal Pal Dil Ke Paas movie. The actor even introduced Karan to the film fraternity on social media. 
Sunny shared the photo of his son, announcing he has started shooting for his Bollywood debut. 
"Started #palpaldilkepaas .. Karan's first day at shoot.. can't get enough.. my boy has grown big #love #actor #life," Sunny wrote alongside the picture. 
Bobby Deol and Rishi Kapoor also gave their best wishes to the young boy. 
"Finally the day is here! Karan's first day at shooting #palpaldilkepaas, Overwhelmed!! Bhaiya donning the director's hat..#love #blessings," Bobby wrote. 
While, Kapoor posted, "Best of luck to Dharmendra ji's grandson and Sunny Deol's son Karan Deol on his first day of his debut film Pal Pal Dil Ke Paas You go boy!" 
Directed by Sunny, Pal Pal Dil Ke Paas is a love story that will be shot extensively in Manali. 
Few days back Sunny also tweeted his photo with brother and actor Bobby, writing "On location!! #brothers #strength #manali #happiness #fulfillment #moments #family #palpaldilkepaas #ppdkp #film #creative #lovemyjob." 
(With PTI Inputs)