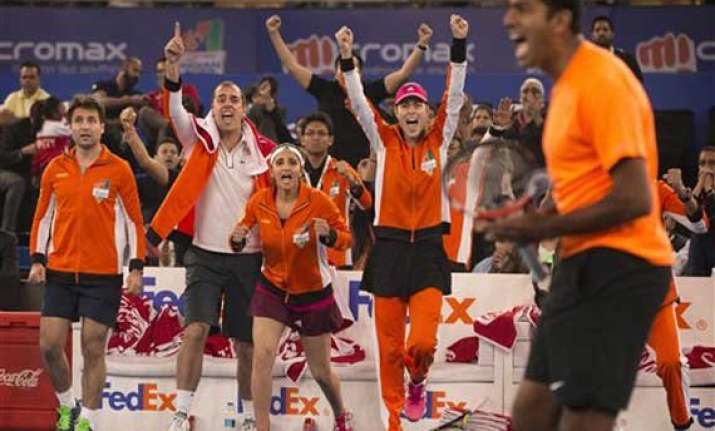 New Delhi: The India leg of the International Premier Tennis League (IPTL) got a promising response from the fans on the opening day when Indian Aces edged out Manila Mavericks 26-25 in a late night thriller.
The UAE Royals thumped Singapore Slammers 29-16 in a one-sided affair before Indian Aces came from behind to beat Manila Mavericks in a super shoot-out.
 
The sizeable crowd at the Indian Gandhi Indoor Stadium got the first-hand taste of the fast-paced format made for creating its own space on the busy tennis calendar.
A much bigger treat is in store for the fans tomorrow when record 17-time Grand Slam champion Roger Federer and 14-major winner Pete Sampras make their much awaited India debut.
The night tie began with home heroes Sania Mirza and Rohan Bopanna taking on Kirsten Flipkens and Daniel Nestor in the mixed doubles. The seasoned Indians were expected to give their team a 1-0 lead but they ended up losing a close match against the Mavericks 5-6.
In the past, champions singles, Indian Aces were put further on the back foot when retired Frenchman Cedric Pioline went down to Australia's Mark Philppousis 4-6.
Bopanna and Gael Monfils pulled one back for Aces, defeating Treat Huey and Jo-Wilfried Tsonga 6-5 in an intense men's doubles match.
It was the turn of men's singles next with an exciting battle on cards between world number 18 Monfils and 12th-ranked Tsonga.
The face-off between France teammate got crown really into the match with Monfils celebrating in his signature style every time he won a point. Eventually Tsonga won 6-4 to give Mavericks more breathing space.
With score in favour of the away team at 19-23, it was all down to Ana Ivanovic to rescue Aces. The world No 5 did not disappoint, winning the set 6-3 against Flipkens to take the match into a super shoot-out with scores tied at 25-25.