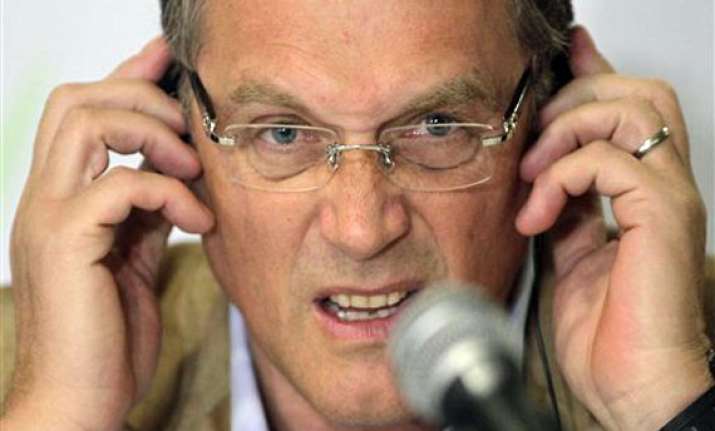 Brasilia, Brazil: FIFA Secretary General Jerome Valcke is confident the public demonstrations expected in Brazil during the World Cup will not affect the tournament.
Protesters have been threatening widespread demonstrations in June and July, using the World Cup to attract attention to their demands for social improvements.   
"We are expecting a quiet World Cup and we are expecting that whoever wants to be at the World Cup will have the right to do so," Valcke said on Monday in Brasilia.   
Last year, Brazilians frustrated with woeful public services despite a high tax burden launched massive anti-governments protests, including during the Confederations Cup.   
More protests are certain, especially because many Brazilians are upset by the billions being poured into this year's tournament and the Rio de Janeiro Olympics in 2016.   
"We are sure that the World Cup is too big an event for any country around the world not to support its organization," Valcke said. "I'm not saying to support FIFA, that's not the point, (but) to support the organization of these games in a country in 12 host cities."   
Although there were demonstrations around nearly every match during the Confederations Cup, no matches were delayed and the safety of players and fans inside stadiums was not directly affected.   
Recent protests have turned violent mostly because of the anarchist movement called Black Bloc, which has already scheduled street demonstrations during the World Cup.   
"Again, you can have pacific demonstrations, it's a right in any democracy around the world," Valcke said. "But in non-pacific demonstrations, when people are just trying to create problems, just trying to fight the authorities, there is only way to bring it down. The police need to make sure that these people will be under control."   
Brasilia was one of the host cities which endured violent protests during the Confederations Cup.   
Valcke visited the capital's stadium as part of his latest inspection tour. Later on Monday he went to the southern city of Porto Alegre, where the president of the Brazilian club in charge of the Beira-Rio stadium said there was a risk the venue can't be used in the World Cup because of a dispute over who will pay for the temporary facilities required by FIFA outside the venues.   
Valcke met with local officials and said they made a commitment to find a solution by Thursday.   
"FIFA and the LOC would like to reiterate that this is not a question of Porto Alegre being or not being part of the 2014 FIFA World Cup," FIFA said in a statement. "The stadium is ready to host normal football matches. The challenge is the transformation of the arena to be able to host FIFA World Cup matches. All parties are committed and working hard to find a solution for the issue of the complementary structures."   
On Tuesday, FIFA will announce whether Curitiba in southern Brazil will stay in the tournament. Football's governing body gave an ultimatum to local officials, and they have one day left to show its delayed stadium will be ready in time.   
In addition to Curitiba and Porto Alegre, three other host cities have stadiums under construction even though Brazil promised to have all 12 venues ready by the end of last year.