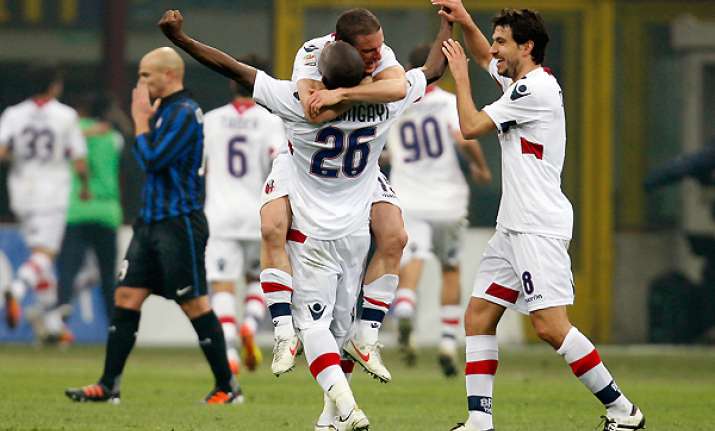 Rome, Mar 8: Juventus missed the chance to draw level with AC Milan on Wednesday, posting its 13th draw of the Serie A season with a 1-1 result against Bologna.

Bologna's 35-year-old captain Marco Di Vaio put the hosts ahead in the 17th minute and Mirko Vucinic equalized for Juve in the 58th.

The match was postponed from last month due to a snowstorm and now Milan leads Juve by two points with both clubs having played the same number of matches.

Making matters worse for Juve was that defender Leonardo Bonucci picked up his second yellow card in the 84th, leaving the Turin side without its three top center backs for a visit to Genoa on Sunday.

Juventus' first-year coach Antonio Conte was also sent off, for protests in the 72nd.

Juventus remains the only undefeated club in the Italian league, but it also has the most draws — 13 — and has won just one of its last six matches.

Juve also drew 1-1 with Chievo Verona last weekend.

"I don't have anything to criticize the boys for," Conte said. "Also against Chievo we played our maximum and today we played a solid match against a squad that was well placed on the pitch."

Elsewhere Wednesday, Parma drew 2-2 with Fiorentina and 10-man Cesena drew 0-0 with Catania.

In Parma, Stefano Okaka put the hosts ahead in the 28th before Matija Nastasic and Alessio Cerci struck back for Fiorentina midway through the second half, and Sebastian Giovinco equalized with a penalty in the 87th.

Fiorentina moved into a tie for 11th, 22 points back, while Parma is 16th, still only five points clear of the relegation zone.

Cesena was reduced to 10 men in the 21st when Czech defender Daniel Pudil was sent off for insulting the referee. Three minutes later, Cesena coach Mario Beretta was also ejected, for protests.

Catania is eighth, 19 points behind, while Cesena remained last.

In Bologna, Juventus was without its two most trusted defenders, with Giorgio Chiellini and Andrea Barzagli each out injured, setting up an unusual pairing of Bonucci and Martin Caceres in front of goalkeeper Gianluigi Buffon.

Still, Juventus started well and a free kick from Andrea Pirlo nearly deflected in off Bologna's wall in the 12th.

However, Di Vaio then beat Juve's offside trap and collected a through ball from Gaston Ramirez before slotting a shot past Buffon for his ninth score of the season.

Juventus didn't reorganize itself until midway through the second half, when Vucinic beat the offside trap and found the target with a lob shot from beyond the area. Having transferred from Roma, Vucinic had a strong start to the season but had struggled lately and this was just his fourth goal of the campaign.

In the 64th, Stephan Lichtsteiner and Claudio Marchisio had successive chances denied by Bologna's in-form goalkeeper Francois Gillet.

Then, after Conte was sent off for protesting a perceived missed foul on Lichtsteiner, Bonucci picked up his second yellow for a foul on Ramirez.

"We'll see what solutions we can find," Conte said, looking ahead to the Genoa game. "We're not putting our heads down, we're going to prepare and try to win just like we tried to today."

In Parma, Fiorentina was without injured standout Stevan Jovetic and Parma took advantage when Giovinco set up Okaka alone in front of the goal for an early lead. Goalkeeper Artur Boruc blocked Okaka's first attempt, but Okaka found the target on his second effort.

Fiorentina didn't have a shot on goal until Nastasic headed in a free kick from Juan Vargas on the hour mark and then Cerci put the visitors in front 11 minutes later with an angled shot inside the area following a pass from Manuel Pasqual.

Giovinco earned his penalty and couldn't be distracted despite taunting from Fiorentina's Valon Behrami, who should have been given a second yellow card in the closing minutes before the referee inexplicably changed his mind.

The final minutes in Cesena were also heated, with Catania's Sergio Almiron getting a red card for attempting to headbutt Gianluca Comotto.