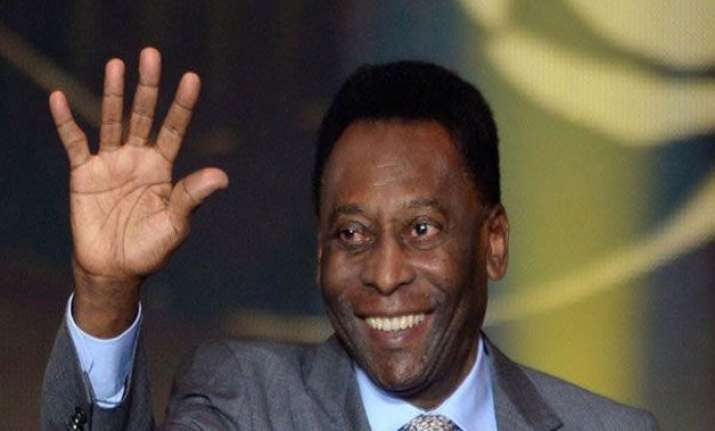 Kolkata: King of football Pele today had an advice for defending Indian Super League champions Atletico de Kolkata who're known for their attacking game.
At a media interaction organised by ATK, the team's co-owner Harsh Neotia asked him what is his advice would be for the Kolkata franchise and the three-time World Cup winner replied: "Always respect your opponents and to the people, you may be the best but you can always learn something."
"Football is the biggest family in the world and only in football you see this kind of love," Pele, who is known around the world for his humility, said in his message during his tour to India where he would spend three days in Kolkata before flying to Delhi for the Subroto Cup final.
"I always played with a good heart. One more time I say thank you very much. I love you."ATK co-owners Sourav Ganguly, Sanjiv Goenka, Utsav Parekh and Neotia presented the 74-year-old an autographed jersey and an overwhelmed Pele said: "Thank you very much for this reception. I thank all of you from my heart and accept my thanks from all my fellow Brazilians."
Pele has returned to the city 38 years after he had enthralled the crowd with New York Cosmos in a 2-2 draw against Mohun Bagan in an exhibition match at Eden Gardens.
"I see a new generation here… I thank God because I've received this kind of love because of the God's grace."Pele will be the guest of honour at ATK's first home match tomorrow against Kerala Blasters FC and in the morning the team will host the Brazilian over a lunch.Ganguly regretted that they would not be able to watch Pele in action.
"Hope we could see a bit of action but age catches up with everyone. It's a sporting mad city be it cricket or football. It will not change. I am sure you have fond memories of the reception 38 years ago," Ganguly told Pele.
"I could not see you live in action. I've seen you only in videos but it's an unbelievable sight to watch your skills on the field."Cricket has not gone into Brazil but I've been through the life of a sportsman. To see so much of appeal, speak volumes of your achievement. For all of us, it's the respect that matters and will live forever.
"When I was young, I saw a movie about Pele and now I'm getting to see the giant close. It's so special. I've been an avid football fan and watched him play."
Goenka said, "This is a historic visit. All of us welcome the living legend individually."
Remembering the 1977 visit, Neotia said he had seen him with his father whose travel agency was associated with tour.
"My father was so excited to see him and I realised how great a player he was."For Parekh it was like a dream come true to sit next to Pele. 
"I see my dream coming into reality. I always dreamt of meeting you and today I'm sitting next to you. My dream is more than realised."