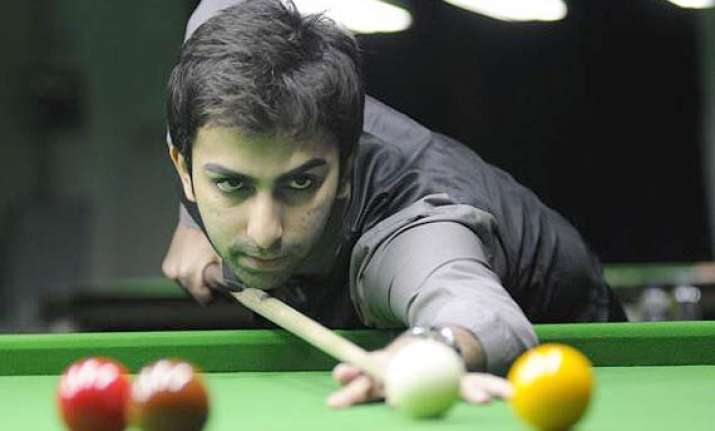 Mumbai:  Ace cueist Pankaj Advani does not see an Indian player winning at the world professional snooker circuit in the near future even though he and compatriot Aditya Mehta are currently ranked in top 64.
"It is a good sign (with two players in top 64). It is still a long way to go before we enter the top 32 or the top
16. I personally don't see an Indian winning any event in theprofessional circuit in the near future," Advani told PTI      
The Bangalore-based cueist, who is participating in the CCI Classic tournament in progress here, felt he and Mehta could be the stepping stones for future generation of Indian players to go and create snooker history in the pro circuit.     
"May be both of us paved the way for youngsters and may be they would take over after 10-15 years and actually go and win a professional event," Advani said.     
"But currently I don't see any of us actually winning a major event although it would be a great news for Indian snooker if we did. But I think we have got to be realistic about our chances and just enjoy the fact that we have broken into the top-64, which is not a joke," the 28-year old added.     
Advani said only if India have a professional set up, one can expect players winning at the professional circuit.     
"Aditya and I haven't received the complete funding to go the UK. The tour structure is such that you have got to be in England for over six months.     
"Once all that changes and once we have a professional set up over here and the game goes global, then you will see more opportunities for youngsters and everyone will be on a level playing field. Now, there is a clear cut advantage for the UK based players," he explained.     
Advani, who is ranked 56 in the pro-circuit, said that it is a struggle for all foreigners in the circuit.      
"There are a lot of events coming up. There is the World Team Championship for which I have qualified to play which is in Egypt in June. That is the next one and the World Billiards is later this year which I would like to play. Besides there are some snooker events, so a lot to look forward to," Advani said.     
Advani has plans to work on his fitness, physical as well as mental, when asked about his preparation for the upcoming world championship.     
"Mental and physical fitness is something I am going to work on. Because at the highest level, everyone has the skill but what separates the best from the rest is that extra toughness in terms of mental approach and in terms of physical fitness, that makes a huge difference. So I am going to work on these two areas."     
Advani would try to balance both the cue sports this year after neglecting billiards last year.     
"I am enjoying playing billiards all over again. My identity and my accomplishments have come from billiards, so I will never forget that part. I would like to play more billiards unlike the previous year where I completely neglected billiards.     
"Somehow I will have to find a way to balance both billiards and snooker. It may mean missing a few events in snooker but I am willing to do it," he said.     
He felt that youngsters like Jaiveer Dhingra and Aditya Agarwal were promising and could take over the billiards scenein three to five years.     
"There is Jaiveer Dhingra as well as Aditya Agarwal who are good billiards players. It's nice to see proper billiards players emerge, because a lot of youngsters play snooker and it is nice to see two Bombay boys improving their billiards game and competing with all of us at the top level. Give themthree to five years and I am sure they will be taking over the billiards scene," he said.     
Advani further said he would like to coach in future and would probably start an academy.     
"I would love to coach some day and I would like to impart my knowledge to youngsters and hopefully even think of starting an academy someday," he said.