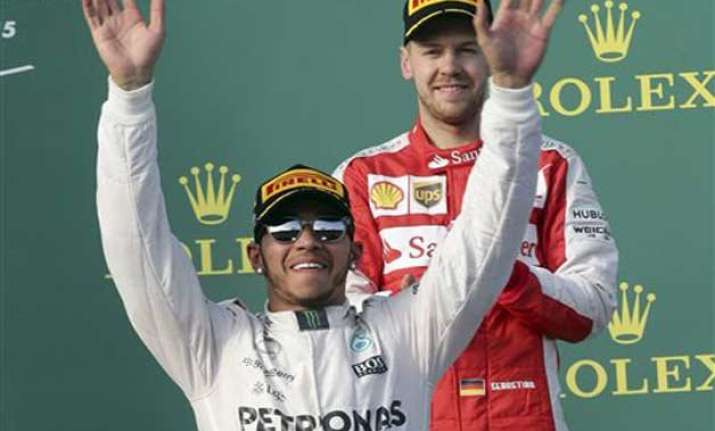 Melbourne, Australia: Lewis Hamilton beat teammate Nico Rosberg in a one-two finish for Mercedes at the Australian Grand Prix on Sunday, as the team extended it 2014 dominance into the opening race of the new Formula One season.
Hamilton led from start to finish and beat Rosberg by 1.3 seconds at the Albert Park circuit, with Sebastian Vettel finishing third in his first race for Ferrari.
"My team has done an awesome job and it is an incredible feeling to continue winning," Hamilton said.
"Nico was very quick throughout the race. It was really trying to manage the fuel and the tires, not knowing the limit in terms of how far they can go.
"Once you get a one or two-second gap, you manage that — there is no need to eke out more. When Nico turned up the heat I was able to react."
Rosberg once again finished runner-up, which was a position he occupied far too often last year, but was both gracious and tenacious when referring to his teammate.
"Lewis drove like a world champion today, but I was driving to the max every lap and I will be doing my best to give this guy a big run for his money," Rosberg said.
With few people expecting anything but a one-two finish for Mercedes, the real race in Melbourne was for best of the rest, and Vettel was delighted with taking that crown.
"It's not a victory, but for us it feels like a victory after a horrible season last year," Vettel said. "There's a lot of work ahead to beat these two and Mercedes, but I'm sure we will."
A series of pre-race incidents meant only 15 cars started the race, and only 11 finished, with Jenson Button last in the uncompetitive McLaren-Honda, and the only driver not to receive championship points.
Williams driver Felipe Massa finished fourth and Felipe Nasr was fifth for Sauber, providing some welcome good news for that team after a week of legal battles and a 2014 season without a single championship point. Nasr's fifth was the best finish by a driver on debut since Hamilton finished third in this race in 2007.
Local favorite Daniel Ricciardo was sixth in a disappointing race for Red Bull, which clearly has not solved the issues with its Renault engine. The Australian spent much of the race trying and failing to pass the Sauber in front of him, which was an alarming decline for a team that until recently was the sport's pre-eminent power.
Force India drivers Nico Hulkenberg and Sergio Perez were seventh and tenth in a good finish by a team which made a very late start to its season preparations.
Sauber's Marcus Ericsson was eighth — the first championship points for a Swede in 26 years — and Toro Rosso's Carlos Sainz Jr. finished an encouraging ninth on debut.
Williams driver Valtteri Bottas was ruled out of the race by a back injury suffered in qualifying, while the McLaren of Kevin Magnussen and the Red Bull of Daniil Kvyat both suffered engine failures on the installation lap and did not start.
It was a dismal day for Lotus, with Pastor Maldonado crashing out at the first bend after being clipped from behind, and Romain Grosjean retiring after just one lap.
Toro Rosso's 17-year-old rookie Max Verstappen retired with engine trouble just after mid-race, and Ferrari's Kimi Raikkonen stopped after he was released from a pit-stop with his left rear tire not properly fitted.