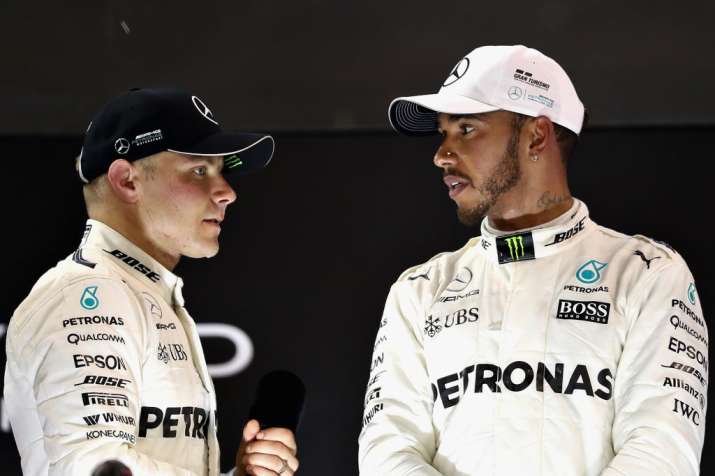 Four-time world champion Lewis Hamilton has said that he is all set to face new and much-improved Valtteri Bottas in 2018 as he believes his Mercedes teammate has adapted well to the life in the team. Last year, Bottas had signed a one-year deal to replace suddenly-retired Nico Rosberg as Hamilton's new teammate at Mercedes for the ongoing season.
The 28-year-old later extended his stay at Mercedes after a new one-year deal was agreed by the team.
Describing Bottas as an "amazing" teammate, Hamilton backed the former to put up a more sustained challenge next season.
"Valtteri's been an amazing team-mate this year. It's not easy at all to go to a team for the first year, particularly as you already had plans to be somewhere else at the beginning of the year," said Bottas, as media reports suggest.
Bottas clinched the first three victories of his Formula One career - Russia Grand Prix, Austria Grand Prix and Abu Dhabi Grand Prix-after joining Mercedes from Williams.
He further went on to finish at the third spot in the drivers' world championship standings with 304 points.
Hamilton emphasised that a driver usually takes a long time to get used to the new team, but Bottas is very strong-minded who managed to finish his first season with Mercedes so strong.
"You then have a very short period of time to get used to a new team, learn the new systems, learn the tools which you'll use during the year.It takes a long time to learn how to manipulate the car to help extract your performance, so he hit the ground pretty fast at the beginning of the year," Hamilton said.
"There are drivers who have sustained a little bit then fallen back and never recovered from that mental fight that you have. He's very strong-minded and he came back and finished up strong so I anticipate he's going to be stronger next year, so I'm going to make sure I'm on my toes," he added.
Since joining Mercedes, Bottas has also secured nine podiums finishes, thus equaling the number of podiums he secured in his entire career before this season.
(With ANI Inputs)