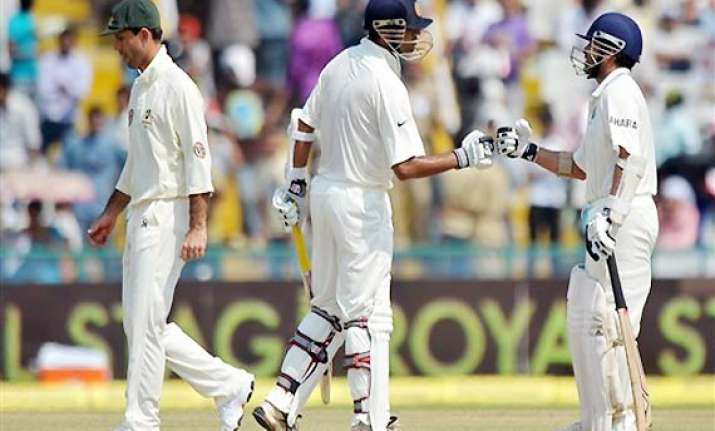 Colombo, Aug 6: Australian batsman Ricky Ponting believes that claims of batsmen fading in their mid-to-late 30s are overrated, and said that 38-year-old Indian batsmen Sachin Tendulkar and Rahul Dravid are inspirations for every cricketer.  

Tendulkar scored 1562 runs at an average of 78 with seven centuries last year, while Dravid has scored back-to-back centuries in the ongoing Test series against England.

"There's inspiration for everyone, not just someone who's 36. It's inspirational to know that if you keep doing the things that have served you well in the past then it doesn't matter how old you are - you can keep being a very good international player," The Daily Telegraph quoted Ponting, as saying.

"Those guys are all top-order batsmen. There's all this talk about your reflexes going and your eyesight going. I think that's all been a bit overplayed. I don't think it has got anything to do with that," he added.

The 36-year-old further reiterated that despite an ageing body and falling batting average, he has no thoughts of retirement.

"I've talked to people in the past about it. They think it's the hunger and the commitment to keep doing all the hard work that goes first. That certainly hasn't gone from me. The last two years I've trained harder than I've ever trained before," Ponting said.

"I'm in pretty good shape again. I'll give it the best shot I can to follow in the footsteps of those blokes and have a really good 12 months," he added.

The former Australia captain feels that the year-end home series against India will not only be a keen contest but would also be a lot different as compared to when the Indian team plays any other opponent.

"I think they're a lot different when they play us and (Mahendra Singh) Dhoni himself has made that pretty clear. He says he's a walker against everybody except Australia. We'll wait and see how they go out here," Ponting said.

Ponting also believes that the contest against India, which is always one of the biggest and most volatile clashes, will be no different this time around as well.

"It will be a good contest. Every contest we've had against them for 10 years has been a good contest, whether it was Twenty20, One-day or a Test match, it's been great cricket," said Ponting.

Australia are currently touring Sri Lanka and it will be followed by a tour of South Africa and two Tests against New Zealand before the Indian series starts in Melbourne on Boxing Day.

Praising Dhoni's gesture to recall Ian Bell during the second Test at Trent Bridge, when the Englishman walked off believing it was tea and was then run out, Ponting said he was impressed with Indian captain's decision.

"From outside, Dhoni has always been pretty willing to play the right way. The right outcome has been met (with Bell's recall), which is what you want to see in the game. That's a good sign for international cricket," Ponting said.

"Four years ago, there was a different captain and he had a fair bit to say about different things. I thought he was way out of line with some of the things that he said," he added.

Last time India toured Australia in 2007-08, Anil Kumble was the captain of the Test team and after the 'Sydneygate', he had famously said that "one team had play the game in right spirit.'

Ponting, who was replaced as captain after Australia's quarterfinal exit at the World Cup, has been included as a specialist batsman in the Test squad for the tour of Sri Lanka.