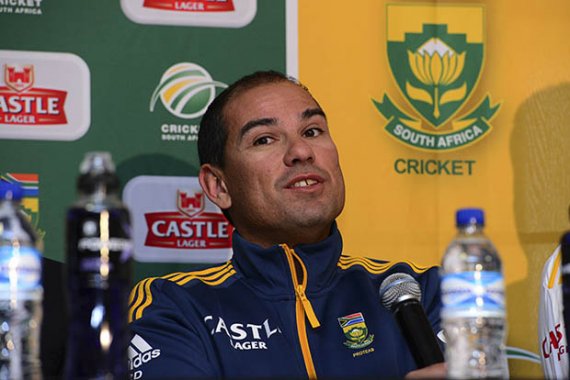 Sydney: South Africa hope a win against Australia in a Twenty20 series getting under way this week will set them on the path for a successful summer, coach Russell Domingo said Friday.
The Proteas are in Australia for three T20 matches before a five-match one-day series in mid-November ahead of the World Cup in Australia and New Zealand in February and March.
Domingo said the Proteas were determined to create a winning habit early on tour.
"It's all about momentum," Domingo told reporters.
"If we can get some good results under our belts in the T20 campaign, we can take a lot of confidence into the one-day series."
Domingo said winning the T20 series was particularly important because the Proteas considered Australia tough opponents to stop once they got on a roll.
"Australia are always a great team, a great team when they're ahead, difficult to catch," he said.
"So whatever momentum we can get from the T20 series to carry into the one-day series I think is going to be very important.
"But also a couple of fringe players in the one-day side haven't had a lot of game time, guys like Kyle Abbott, Wayne Parnell, Ryan McLaren.
"It's important to get some game time before the one-day series starts."
Skipper JP Duminy said he was excited about captaining the Proteas for the first time after breaking into international prominence in Australia back in 2008.
Back then debutant Duminy led South Africa to an historic Test series win on the back of a maiden century of 166 in the Boxing Day Test at the Melbourne Cricket Ground.
Duminy finished with an average of 61.5 as the Proteas won a series in Australia for the first time and also ended Australia's 16-year unbeaten streak at home.
"I've got some great memories playing over here in Australia," Duminy said.
"It will be hard to match that. It was really a purple patch for me."
Duminy challenged his young T20 squad to force selectors into a rethink ahead of the one-day series and 2015 World Cup.
"There's quite a few new faces around so it's definitely a great opportunity for guys to put up their hands for the World Cup," he said.
"Yes, it's a shorter format, but these sort of performances can definitely give players a chance.