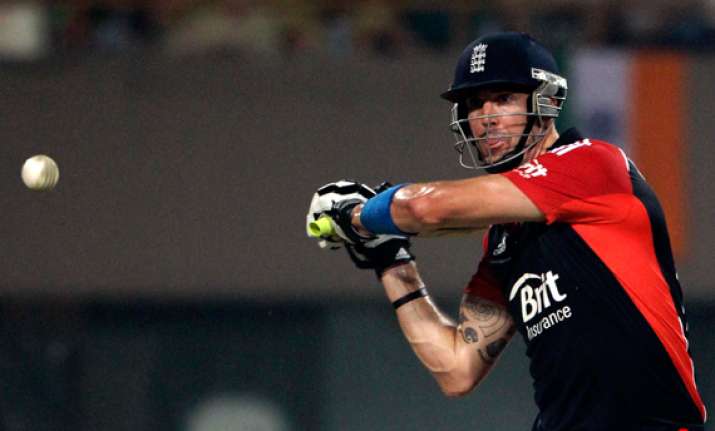 Kolkata, Oct 31: England batsman Kevin Pietersen has been officially reprimanded for showing "excessive and obvious disappointment" after being given out by the umpire during his side's six-wicket victory over India in their one-off Twenty20 match.

"Kevin Pietersen has been officially reprimanded for a Level 1 breach of the ICC Code of Conduct during his side's six-wicket victory over India in the only Twenty20 International (T20I) of the series in Kolkata on Saturday," the ICC said in a statement. 

Pietersen was found to have breached Article 2.1.3 of the code which relates to "showing dissent at an umpire's decision during an international match".

The charge was laid by on-field umpires Sudhir Asnani and S Ravi, third umpire Vineet Kulkarni and fourth umpire K Srinath.

The offence occurred following Pietersen's dismissal, when he was given out lbw off India's Suresh Raina.

Pietersen pleaded guilty to the charge and as such, under the provisions of the code, the matter was determined by Roshan Mahanama of the Emirates Elite Panel of ICC Match Referees and so there was no requirement for a full hearing.

"As an experienced cricketer, Kevin should know that when the umpire raises his finger, a player should leave the crease without showing his emotions no matter what he may think of the decision," Mahanama said.

"In this case, Kevin displayed excessive and obvious disappointment at the decision which sent the wrong signals to all those watching the match at the ground and on television, and as such, merited some form of action."

All Level 1 breaches carry a minimum penalty of an official reprimand and/or a maximum penalty of 50 per cent of a player's match fee.