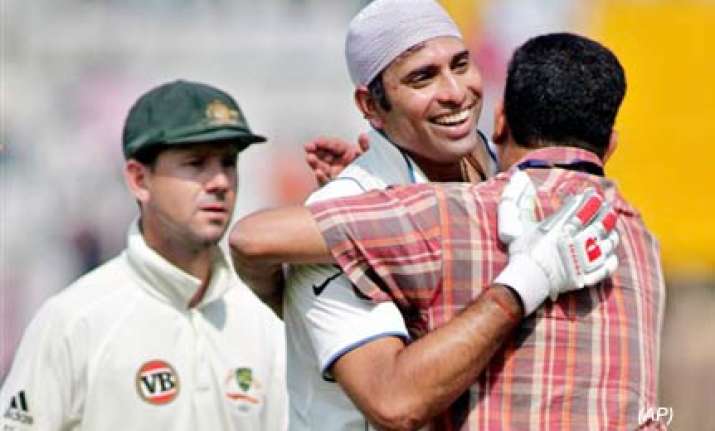 Mohali, Oct 5: Australian captain Ricky Ponting today admitted that his side's worst fears that V V S Laxman could spoil their chances came out to be true and said it would be a difficult job for them to bounce back in the series after the heartbreaking loss in the opening Test here.
"VVS (Laxman) was our biggest worry, that's the way he has turned out to be," Ponting told reporters after the match which they lost by one wicket.
"No doubt the dressing room is very quiet at the moment. But we have to bounce back. There is no hiding the fact that it is going to be a difficult task and first session of the next (Bangalore) Test would be crucial," Ponting said.
Ponting said that Laxman, who hit an unbeaten 79-ball 73 to guide India to a memorable win, showed that he is a class player.
The visiting skipper said he did not repent giving his nod for allowing a runner for Laxman who was suffering from a back spasm. Laxman batted at number 10 in India's first innings and came out at seven in the second.
Ponting said he had told his bowlers not to take things easy against Laxman as he was like a "wounded player" who had earlier batted down the order.
He informed that pacer Dough Bollinger, who did not bowl after lunch with over 50 runs still required by the Indians, had suffered an abdominal strain and "it was really disappointing to lose him at that stage".
Ponting, who made knocks of 71 and 4 in the match, admitted that the narrow loss would hurt his team but his side would look forward and move on.
"It is important for us not to go too much into the negative side of not winning the game. We should look at the positives which we have achieved," he said.
"All said and done, we played a very good first Test against the number one (ranking) team," he said and added that he felt proud the way some of the inexperienced players in the side had stuck to their task. PTI