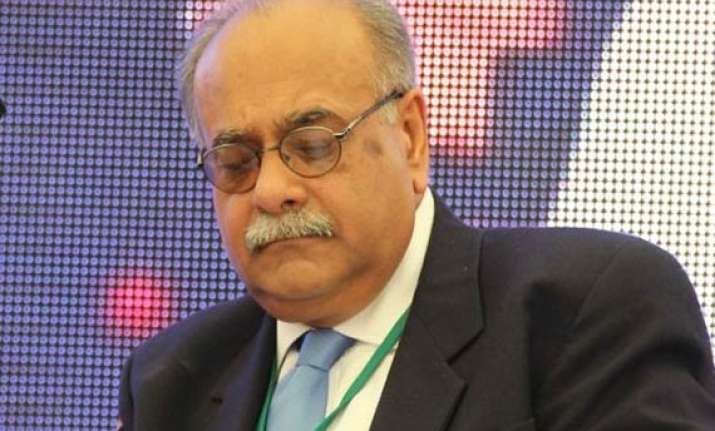 Karachi: Najam Sethi has been elected as the new chairman of the Pakistan Cricket Board (PCB) by the new management committee, which was announced by the government earlier in the day.
Eight out of 11 members of the managing committee voted in favour of Sethi during a hurriedly called meeting just hours after the government had issued a notification, dismissing Zaka Ashraf as the chairman of the PCB and dissolving the Governing board with immediate effect.
Shakil Shaikh, a member of the management committee, told a media conference at the Gaddafi stadium that the Prime Minister in his capacity as Patron-in-Chief of the PCB had acted within his powers.
"Zaka Ashraf has been removed as the constitution has been suspended and we have selected Najam Sethi as the new chairman. The managing committee will meet on Tuesday to further discuss and review the decisions taken by Ashraf," he said.
A defiant Ashraf, however, told a press conference that he still remained the chairman and that he would be consulting his legal advisors for further line of action.
"This action of the government is unconstitutional and my lawyers will look at it. But what is sad is that martial law has been imposed in Pakistan cricket by a democratic government," he said.
Ironically, Ashraf and Sethi have held the Chairman's post in the PCB since 2011 when the Pakistan Peoples Party was in power.
President Asif Zardari had appointed Ashraf as chairman of the PCB, but a single bench of the Islamabad High Court dismissed him from the post in May 2013 after declaring his election process as malafide and polluted.
After this decision, the government, which had changed by then after the general elections with the Pakistan Muslim League taking charge, appointed Sethi as the acting chairman.
But Sethi was restrained by the court from exercising his full powers throughout his tenure and Ashraf was again reinstated as Chairman last month by the IHC.
Ashraf's dismissal came just hours after he returned from Singapore after attending the ICC meeting where Pakistan abstained from voting on the governance and other changes in the world body pushed by India, Australia and England cricket boards.
"The Prime Minister decided to act because as Patron-in-Chief he couldn't watch cricket being destroyed in this country," Shaikh said.
Shaikh said that Ashraf had left Pakistan isolated in world cricket with his mishandling on the "Big Three" issue.
But Ashraf said that Pakistan's standing and image in world cricket would further be weakened after the decision taken by the government.
"Such decisions will only favour India, which wants to isolate us. We took a principled stand on the "Big Three" issue. Now our position will be further weakened in the ICC and world cricket," Ashraf said.