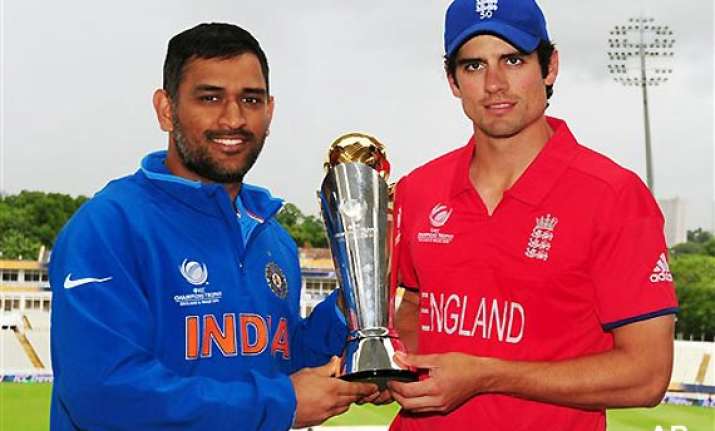 Birmingham, Jun 22: England captain Alastair Cook reckons that India will start as favourites in the final of the ICC Champions Trophy tomorrow but said his team will be raring to set the record straight by winning their first world ODI title in all these years.
"India are a very strong side. They are unbeaten and playing very good cricket. They are batting well at the top of the order and getting early wickets. They will go in as favourites," skipper Cook told the mediapersons ahead of Sunday's high-profile final against India.
"they're unbeaten aren't they, and played some very good cricket.  We're happy with that.  But our record against India last time we played them in England is a good record. So we can certainly take a lot from that", he said.
England have a poor record in ODI tournaments and Cook said he was aware of this piece of history. England have not won a major ODI title, losing three World Cup finals and the 2004 Champions Trophy final against the West Indies at home.
"I keep getting asked this question in every press conference but yes, I am aware of our record and very keen to set it right this time," he said.
Cook is leading England for the first time in an ICC event and was extremely keen to win the last edition of Champions Trophy.
"It's a big final for us. The boys are raring to go and ready to play. It's going to be a one-off day and we will give it all," said the 28-year-old Essex batsman.
Cook is clearly banking on his fast bowlers and want the troika of James Anderson, Stuart Broad and Steven Finn to do the job against the Indians.
"They have the skills and can get the early wickets to put pressure on the middle-order. We have our plans," he said.
The English camp is taking a lot of heart from the fact that their home record against the Indians have been very good having beaten them 5-0 when the two teams played bilateral series on English soil during the summer of 2011.
"We have a good record at home but it's going to be a one-off day and the better team will win. We have played each other quite often in the last one and half years and there are no hidden secrets," Cook said, adding, "winning the toss can be an advantage but can mean nothing at the end of the day."