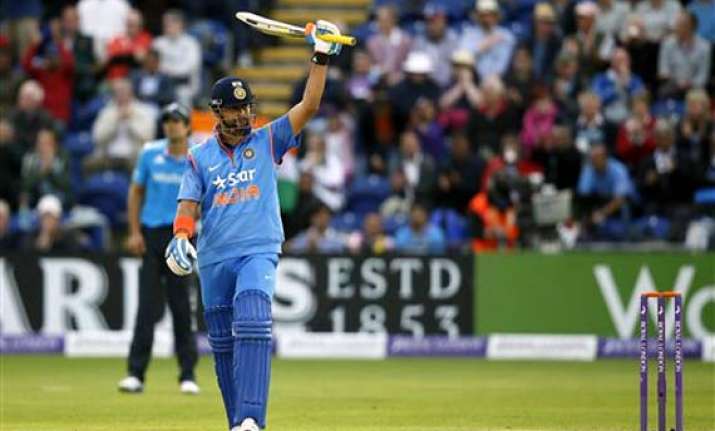 Cardiff: Indian batting legend Sunil Gavaskar lavished parises on Suresh Raina's match-winning knock in the second ODI against England and rated the left-hander's hundred as one of the best ODI innings overseas.
"You have got to rate it as one of the best innings. You can't call it the top innings overseas. It's got to be Kapil Dev's 175 against Zimbabwe in the Prudential Cup in 1983, when India were 5 down for 17 on a pitch that was a lot more greener than any of the present pitches. So Raina's will be one of the top innings that was played by an Indian in overseas consitions," Gavaskar said in an exclusive chat with a reputed TV news channel.
Raina, who registered his fourth ODI ton and his first outside the sub-continent, stroked a belligerent 75-ball 100 to help the visitors trounce England by 133-runs (D/L method). And Gavaskar said Raina's maturity floored him. "Again the way he adjusted his batting, the way he adjusted his bat speed, showed his maturity and it's very refreshing to see that in a batsman," said the former India skipper.
Gavaskar said that Raina has always given his 100 per cent to the team.
"Raina has always played cricket with an energy which is always so rare in Indian cricket. He is all the time there whether it is batting, bowling or fielding. He is one of those guys who give everything.
"And more importantly he has developed a sense of assessing the situation that the team finds itself in. Adjusting his batting accordingly. That is what he exactly did. He played himself in at the start and when it was required he opened his shoulders. Struck some powerful shots to get to his hundred in 74 balls. Fantastic batting," said Gavaskar.
Raina, 27, was not part of India's 1-3 Test debacle against England and Gavaskar opines that having a player, who has not been part of a losing squad is a big plus.
"I have always believed that when a team has lost very badly you need some players who haven't had that trauma of those losses. The trauma of sitting in a dejected and desolate dressing room," said Gavaskar.
Chasing a revised target of 295 in 47 overs, the Alastair Cook-led side was bundled out for 161 in 38.1 overs. The Indian bowlers for once looked good with
Ravindra Jadeja
bagging four wickets while Mohammad Shami and Ravichandran Ashwin picked two apiece. Gavaskar was all praise for the spinners.
"I think there was little bit of turn which certainly helped the spinners, Jadeja in particular was getting the ball to turn a bit. He doesn't give the ball too much air and it's not easy to go down the pitch and attack him, especially when the ball is turning. When the ball is not turning he can get predictable and when the ball is turning he is a difficult man to get after.
"Ashwin bowled quite well. He bowled at a slower speed, whenever he has tried to bowl quicker he is easier to bat. Both of them bowled well but more importantly the pressure told on the English batsman as India had got 300 plus runs. If India had not got so many runs, the pressure would not have been on England. They couldn't afford too many dot balls and were required to hit more often," said the cricketer-turned commentator.