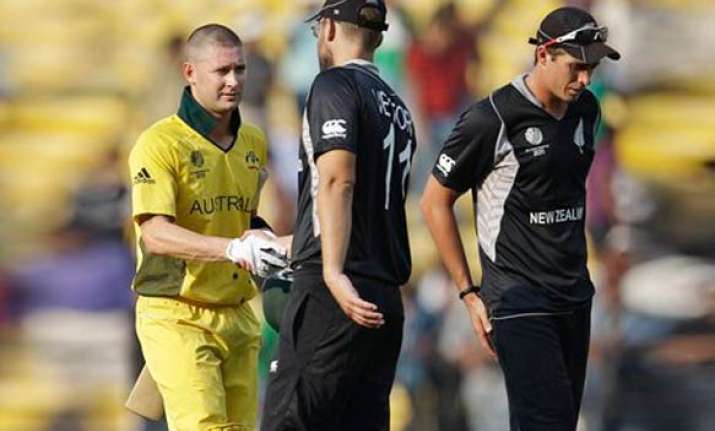 Nagpur, Feb 25: Defending champions Australia dished out a clinical display to outplay Trans-Tasman rivals New Zealand and notch up a comprehensive seven-wicket victory with 16 overs to spare, in a group A game of the World Cup here today.
Ricky Ponting's boys raised their game and proved to be a far superior side in each and every department. This was Ponting's 24th consecutive victory as Australian captain in World Cups.
With a modest target of 207 to chase, Australian openers Shane Watson (62, 61 balls, 6x4, 1x6) and Brad Haddin (55, 50 balls, 8x4) sent the Kiwi bowlers on a leatherhunt during an opening partnership of 131 in only 18 overs.
This was after the Aussie pacers, led by Mitchell Johnson and Shaun Tait, produced a hostile spell of fast bowling to decimate the opposition in only 45.1 overs at the Vidarbha Cricket Association ground.
Both Tait (3/35 in 7 overs) and Johnson (4/33 in 9.1 overs) bowled with pace and accuracy which made lives difficult for the opposition batsmen.
The New Zealand team, still disturbed due to the tragedy back home, never looked like competing in the first place. Their bowlers, especially Hamish Bennett, sprayed all over the place as Watson and Haddin took them to cleaners.
Haddin's innings was a contrast to his painstaking 29 against Zimbabwe on Monday as he blasted his way to a half century in only 39 balls. This was the wicket-keeper batsman's 12th half century in 78th ODI.
Watson, who started off slowly after getting reprieve due to Umpires Review (
Tim Southee
was the bowler), got into the act and literally toyed with slower bowlers like Daniel Vettori and Nathan McCullum.
Watson produced some typical slogs with great effect on the way to his 21st fifty.
By the time, Haddin holed out in the deep off Hamish Bennett, and Watson played on, the writing was on the wall for New Zealand. Ponting (12) again failed to deliver but victory was just a formality then.
Earlier, Nathan McCullum stood tall amidst the ruins with a fighting half century. Courtesy Nathan's (52, 76 balls, 3x4) rearguard action, New Zealand were able to cross the 200-run mark after Aussie bowlers blew away the top-six within 17 overs with 73 on board.
He shared 48 runs for the seventh wicket with Jamie How (22) and 54 with Vettori (44, 43 balls, 5x4).
After overnight rain, Ponting elected to field as conditions were bit overcast. Ideally, he would have liked his speedsters to extract all the help available from the strip.
Tait and Johnson were ably complemented by Watson (1/9 from three overs) and Brett Lee (1/29 from 8 overs).
The quartet ensured that Ponting's decision to bowl first was vindicated. All of them pitched the ball fuller, got a bit of movement and were also helped by some lousy shots by Black Caps batsmen.
If Tait bowled fast and straight, Johnson got the ball to swing away at a brisk pace. Although Jesse Ryder pulled a couple of short ones from Johnson, none of the top-order batsmen applied themselves on a pitch which eased out with time. Both Nathan and Vettori later showed that it wasn't difficult to play shots once the batsmen got their eye in.
In the morning, the first to go was Brendon McCullum (16, 12 balls, 3x4). The Kiwi opener used Tait's pace to get two boundaries with upper cuts.
But it was Tait's pace that eventually made the difference, when McCullum slashed hard off a delivery that had extra yard of pace. It ballooned up and was easily caught by Jason Krejza at thirdman.
Martin Guptill
, who struggled for his 10 from 25 balls, was a bit unlucky though. Watson found a spot outside off-stump where the deliveries didn't take off after pitching.
Watson hit the spot and the ball kept low as it whizzed past the toe of Guptill's bat to hit the off-stump.
Ryder  (25, 31 balls, 4x6) started off well as he took four boundaries off Johnson. Three of them were sweetly timed pull shots that bisected the fine leg and square leg fielders.
In the 14th over, Johnson delivered a telling blow as he first got Jesse Ryder and then James Franklin for a naught to reduce the Kiwis to 66 for four.
Ryder, who plays with minimal footwork, got one that pitched on the off-stump before moving away. The burly New Zealander poked at the delivery to offer a simple catch to Haddin behind stumps.
Franklin, who came in at number five, flashed at a wide delivery to be caught by Haddin.
Tait, who was brought for his second spell from the pavilion end, was buoyed by Johnson's success. He first got Scott Styris (0) to edge a fast and straight delivery outside off-stump. The fastest among Aussie quartet then bowled an inswinging yorker to end Taylor's (7) misery.
By the 17th over, New Zealand were tottering at 73 for six with more than half of the side back in the pavilion.
McCullum and Jamie How (22, 47 balls, 1x4), who replaced Jacob Oram, averted any further collapse for the next 12 overs adding 48 runs in the process.
Finally, it was leg-spinner Steven Smith who bowled a straighter one that thudded into How's pads. The batsman appealed for a review which went against him. Interestingly, all the Umpires' Review  decision went against the Kiwis today. PTI