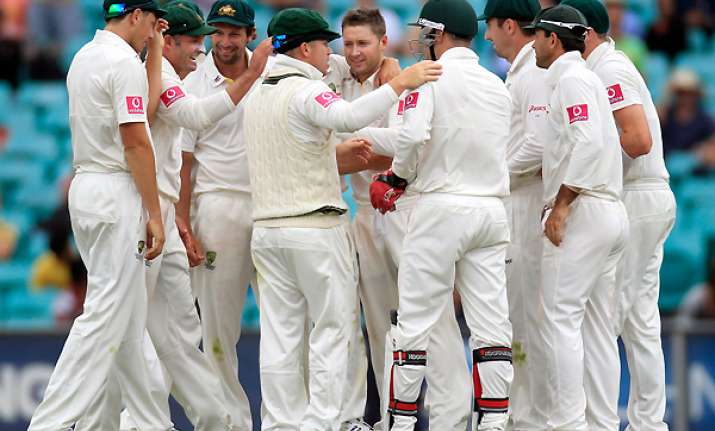 Adelaide, Jan 23: Australia captain Michael Clarke is ready for the biggest test of the summer to complete a 4-0 clean sweep in subcontinent-like conditions for the fourth and final test against India starting Tuesday.

Offspinner Nathan Lyon has been included at the expense of left-arm swing bowler Mitch Starc in the only change to the Australian side that won in Perth by an innings and 23 runs inside three days.

Australia clinically and ruthlessly outplayed India in the first three test but Clarke believes things will be different at the Adelaide Oval.

"We have to be at our best to beat them," Clarke said Monday. "I say it is as close to Indian conditions your going to get in Australia.

"As a batting unit we've been working in the nets against reverse swing and a fair bit of spin. Our preparation has been spot on."

Clarke believes patience will be the key to winning the test match with forecast temperatures of around 36 degrees Celsius (97 degrees Fahrenheit) throughout the duration of the game.

"It is going to be a tough challenge. India will be very keen to finish the series on a high," he said. "We have five really tough days of test cricket. It's a great test for us as a team in what's going to be tough conditions to take 20 wickets and get some momentum to grab hold of it."

Winning the test series 4-0 will set up Australia's chances of regaining the No.1 test ranking.

"I want us to be the best team in the world," Clarke said. "I want to let every player inside that change room to know that right now we should be very proud that we've beaten a such a good team in the series. We haven't achieved what we want to achieve ... until we get back to the top of that table I don't think I will be satisfied."

India named two spin bowlers — offspinner Ravichandran Ashwin and left-arm spinner Pragyan Ojha — in its 12-man squad for the test.

The visitors will be without captain Mahendra Singh Dhoni, suspended after the third test at Perth because of his team's slow over rate, and opening batsman Virender Sehwag will lead the side. The 27-year Wriddhiman Saha will keep wickets in Dhoni's absence.

India is facing the prospect of its seventh straight overseas defeat.

"We've lost the series ... there is pride in team India, and we'll play for pride and ourselves, and do well," said Sehwag. "Adelaide is our favorite ground because the wicket is good to bat on. We have good memories here and the dressing room atmosphere is positive and we're looking forward to this test match."

India's much vaunted batting lineup — boasting stars like Sachin Tendulkar, Rahul Dravid, V.V.S Laxman, and Sehwag — have failed miserably against the pace attack of Australia.

"That's the best bowling attack ... against other attacks you get a couple of balls to hit boundaries early. They haven't given that opportunity here. I think (it's) one of the best bowling attacks."

Tendulkar, 37, will be looking to score his 100th international 100 probably in his last test on Australian soil, at a venue where he scored 153 in the first innings three years ago.

Lineups:

Australia: Ed Cowan, David Warner, Shaun Marsh, Ricky Ponting, Michael Clarke (captain), Mike Hussey, Brad Haddin, Peter Siddle, Ryan Harris, Ben Hilfenhaus, Nathan Lyon.

India: (from) Virender Sehwag (captain), Gautham Gambhir, Rahul Dravid, Sachin Tendulkar, V.V.S. Laxman, Virat Khli, Ravichandran Ashwin, Wriddhiman Saha, Zaheer Khan, Ishant Sharma, Pragyan Ojha, and Umesh Yadav.

Umpires: Aleem Dar, Pakistan, and Kumara Dharmasena, Sri Lanka.

TV Umpire: Paul Wilson, Australia. Match Referee: Ranjan Madugalle, Sri Lanka.