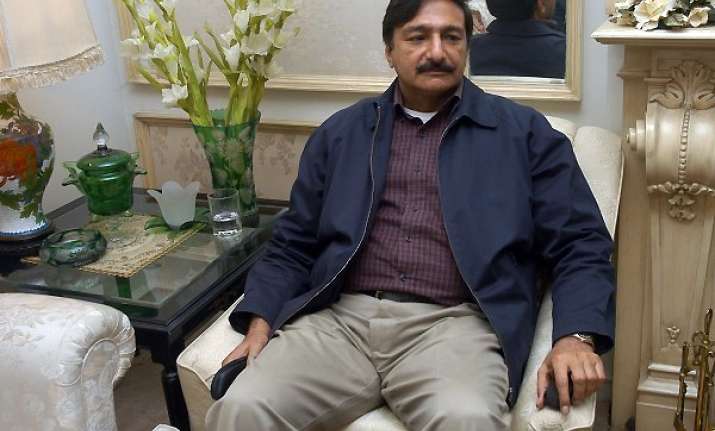 Islamabad, Oct 13: Banker Zaka Ashraf was appointed as the new chairman of the Pakistan Cricket Board by Pakistan President Asif Ali Zardari on Thursday.

Ashraf will continue as chairman of PCB "until further order," the president's spokesman Farhatullah Babar said. The 59-year-old Ashraf will resign as president of Zarai Taraqiati Bank Limited, Pakistan's top agricultural bank.

Ashraf replaces Ijaz Butt, whose controversy filled three-year tenure ended last week.

The president of Pakistan, who is also patron of the cricket board, enjoys the sole constitutional power to appoint the PCB chairman.

Earlier this year, the International Cricket Council recommended that the PCB introduce elections in order to remove government interference in the sport's administration by June 2013.

But the PCB appears to have rejected the proposals—at least for the time being—and Pakistan cricket continues to be run on an ad-hoc basis. It is believed that perhaps because of the ICC's proposed deadline for reform, Ashraf has been appointed for an unspecified time period.

Ashraf, who is also one of Pakistan's top sugar businessman, described his new posting as a "big challenge."

"But I have always accepted challenges in my life," he said.

Foreign teams have not traveled to play in Pakistan since gunmen attacked the Sri Lanka team's bus at Lahore in March 2009 -- just five months after Butt took over as chairman.

Since then Pakistan has been forced to organize its home series in the United Arab Emirates. It also played a 'home' series against Australia in England last year.

Spot-fixing, player disputes and the appointment of a new head coach are the key areas that need Ashraf's immediate attention.

Three Pakistan players were found guilty of spot-fixing for bowling deliberate no-balls in a test match against England last year and were later banned by the ICC for a minimum of five years each. A separate criminal case against Salman Butt, Mohammad Amir and Mohammad Asif is currently being heard by a London court.

"My biggest challenge will be to restore Pakistan's pride in international cricket," Ashraf said.

Outgoing chairman Ijaz Butt told private television channel NewsOne that the spot-fixing scandal was his biggest regret.

"If you say regrets than the spot-fixing scandal that led to the ban on three of our top players was very disappointing and hurts (me) even now," he said.