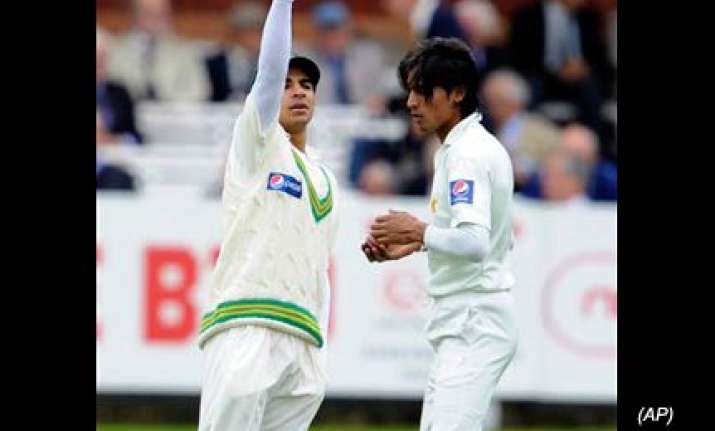 Karachi: Pakistan cricket has once again rocked by fixing scandal with team management in England confirming that some players were under investigation by Scotland Yard for having taken bribes for spot-fixing in the ongoing Lords test.
"Scotland Yard detectives had visited the team hotel where they had taken statements of captain Salman Butt, fast bowlers Muhammad Asif and Muhammad Aamir, and wicketkeeper Kamran Akmal," Pakistan team manager, Yawar Saeed told PTI from London. The "News of the World" tabloid from London has named these four players and three others of being involved in a spot-fixing racket.  
The tabloid alleged that a Pakistani man Mazhar Majeed, who is now under arrest, had paid bribes to the players to bowl no-balls and wides in the series and Lords test.  The tabloid claims it has video evidence confirming involvement of the players which it had shared with Scotland Yard triggering off the investigations into the fixing racket.
"The police have also spoken to me and we are trying to cooperate with them in every way possible and we are giving them what information they want," Yawar said.  He, however, denied that police raided the rooms of the players and recovered money and seized their laptops and phones.  
But sources said the Scotland Yard detectives gathered some evidence from the hotel after raiding the player's room.  Confirming that he had contacted Pakistan High Commission in London for assitance, Yawar said "the high commissioner is also in touch with the Scotland Yard in this issue.  
We are cooperating with them."  Yawar said the detectives had told him they had arrested one person in connection with their inquiry into spot fixing and he had made some disclosures.   
Pakistani TV channels reported that the Pakistani players had been sounded off about the inquiry when the third day's play ended at Lords yesterday and Scotland Yard detectives also visited their dressing room.  
"That is why the players left early for the hotel without anyone attending the mandatory post day's play conference," a source said.  This is not the first time that Kamran Akmal's name has come up in a match fixing allegation.  After the Australian tour early this year, former Pakistan coach Intikhab Alam and assistant coach Aaqib Javed (who is still with the team) had expressed suspicions about Kamran's involvement with bookies after assessing his performance in the Sydney test.  
Interestingly the "Jang" newspaper correspondent had given a story during the Leeds test against Australia last month about the presence of the two brothers, Mazhar and Tariq Majeed hanging around the Pakistan dressing room and mingling with the players while posing as their agents.   
Pakistan had reduced England to 47 for five and then 102 for seven on the second day of the fourth test at Lords but then allowed Trott and Stuart Broad to score centuries and share a new record eight wicket partnership of 332 runs.  Pakistan was bowled out for 74 yesterday and made to follow-on were they reduced to 46 for four at stumps facing certain defeat and a big series loss.
Iqbal Muhammad Ali who heads the National Assembly standing committee on sports that the PCB and its Chairman, Ijaz Butt was to blame for the humiliation Pakistan cricket was facing.
 "We and the Senate sports committee had warned that if some players were suspected of having ties with bookies they should be dropped from the team and disciplined.
But no one paid heed. If these players are now guilty we will want to see them behind bars because this conduct is unacceptable," Ali said.  Mazhar and his brother were secretly filmed by the "News of the World" tabloid discussing bribes to Pakistani players and correctly predicting when which bowler would bowl a no-ball or wide. PTI