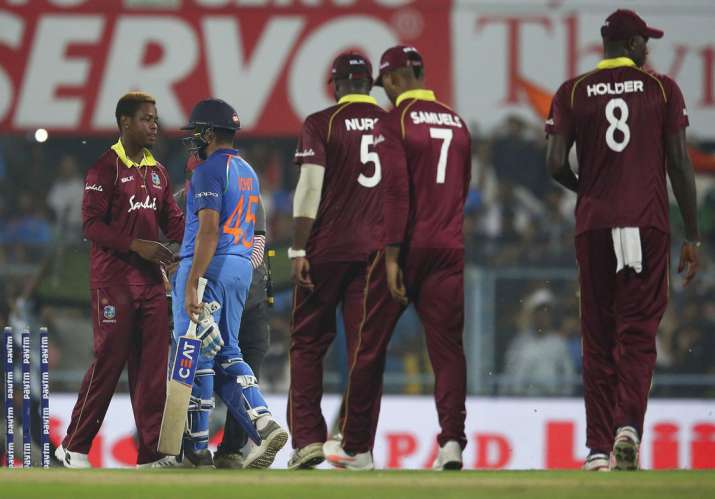 A month into one of their most arduous tours in recent years, West Indies fielding coach Nic Pothas Wednesday said the visiting team is in India not just to compete, but also learn from their fancied opponents.
"They're a great team to learn from. We don't just play against India, we learn from them too. These are great opportunities when you come and play against teams of this quality," Pothas said on the eve of the fifth and final ODI against India here.
Asked if they have any special plans to counter Indian captain Virat Kohli and Rohit Sharma, Pothas said the focus is not just on the in-form duo.
"Look, if I had special plans, which I do, I'm certainly not going to put them out in the media. But having said that, they're world-class cricketers. You can't go without mentioning guys like Shikhar Dhawan. Rayudu is in form. Lots of fantastic players - that's what you get with such a strong team.
Trailing 1-2 in the series, he said the young West Indies team is getting better all the time.
"It is a very young team. Not just from an international point of view but a volume of 50-over cricket point of view. I think like anything, when you play at this level, whatever sport it might be, it's always going to come down to execution over a long period of time.
"Our guys are learning all the time and they're having to learn at international level, which is never easy. But they're getting better all the time and importantly they're open to that learning. We're very positive," he said at the pre-match press conference.
Pothas said it was important for the team to execute plans over longer periods if they are to beat teams like India and England.
"We've seen that we can execute for short periods of time. The challenge is always going to be to execute over a 100 overs. If you're going to beat India or England or Australia, Pakistan, you've got to execute for a 100 overs." 
After being outclassed in the fourth ODI at Mumbai, they are ready to challenge the host in the series decider, the fielding coach said.
"We probably didn't execute our plans as well as we had in the previous game. But that's the nature of playing against a very strong team. It's fast becoming mental now rather than physical." 
Pothas, a former South African international himself, said the present West Indies team was a good fielding unit.
"We put in a lot of detail of what to do in any of our skills. These guys, the last time I checked, they're human beings not robots. So we're going to make errors under pressure. That's the nature of the game.
"The thing is to have selective amnesia and come back stronger. I thought we fielded pretty well in the last game." 
Pothas said a tour of India provides one a chance to judge oneself.
"It's a possibility. Travelling to India is always a wonderful tour. It's a great tour to judge yourself as a player and as a coach. It's a great place to let yourself know where exactly you're at with your cricket," he said.
Pothas lavished praise on skipper Jason Holder and said he was one who led by example.