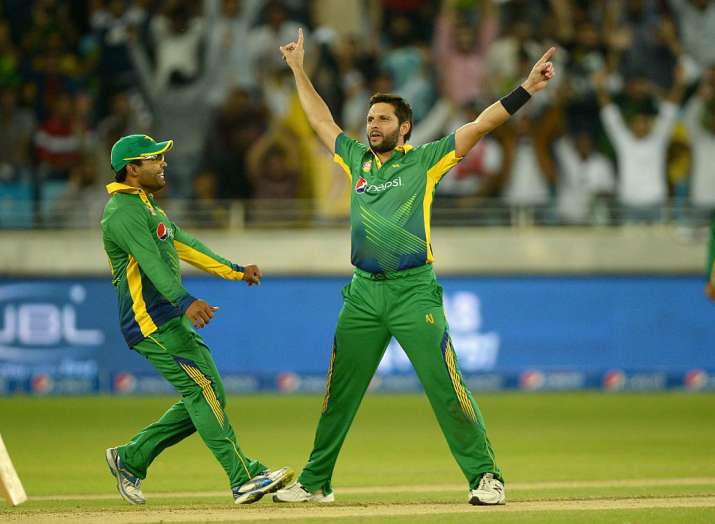 In a T20 league, cricketers expect the shots to be lofted at any given time and the fielders are expected to be at their very best and it is former Pakistan skipper Shahid Afridi who has just defied all odds by taking a mind-blowing catch during the Pakistan Super League 2018 fixture between Karachi Kings and Quetta Gladiators. The 37-year old pulled off a jaw-dropping catch which left the cricket fans and audience members astonished.
It was batsman Umar Amin from Quetta Gladiators who smashed Muhammad Irfan's fierce delivery with a powerful shot which was travelling at lightning speed towards the long-on boundary where Afridi was present. The fans at the stadium expected the shot to go all the way over the boundary line, unfortunately for Amin, Afridi jumped and caught the shot with his right hand; knowing gravity would not keep his posture steady, he threw the ball up, stepped outside the field and ran back inside to take the catch successfully. Take a look.
Brilliant from Shahid Afridi...pic.twitter.com/mWHHF2Ql0k

— Vinayakk (@vinayakkm) February 23, 2018
The Quetta Gladiators and Karachi Kings fixture had the fans present on their seats at all times as the latter team defeated the former team for the first ever time in PSL history. 
Karachi had set up a target of 150 for the Gladiators to chase and the Afridi led team won the match by 19 runs.
Twitter has erupted and cannot stop praising the former Pakistan all-rounder. Take a look.
The super catch moments by our very own Lala @SAfridiOfficial ❤#supercatch #KarachiKings #ShahidAfridi #KKvsQG #DeDhanaDhan #KKwon pic.twitter.com/HkRIMmhtpr

— Karachi Kings (@KarachiKingsARY) February 23, 2018
What a catch by Shahid Afridi. He may not be a pinch hitter anymore but, still has something to attract the crowd through his style, smile and charm.

— Mazhar Abbas (@MazharAbbasGEO) February 24, 2018
Not sure about Karachi Kings but Shahid Afridi surely has wings on him. pic.twitter.com/WE6efCOeut

— Umair (@Umairhunk2) February 23, 2018