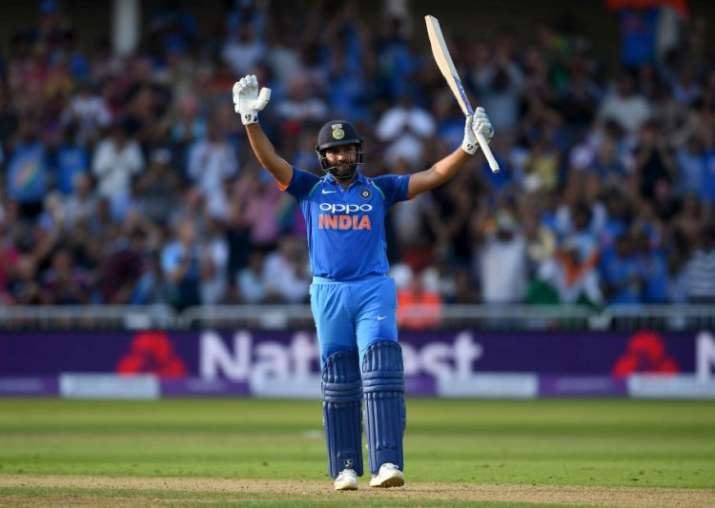 India vs England 1st ODI Highlights From Nottingham
The Indians start the ODI series in the same way they finished the T20Is - a win in emphatic fashion. With a stiff target of 269 to chase, Rohit and Dhawan got India off to the best possible starts. Did not lose wickets early and that was the key which set up the whole case. Dhawan departed rather cheaply, but skipper Kohli carried on the mantle with Rohit and more or less took India home. He completed another fifty, while the opener cruised to a ton, and in the process the duo combined to add 167 runs between them. Rahul walked in later after his captain's departure and by then, it was just a mere formality really. England needed early wickets to get something out of this which they didn't. Even in the middle overs their spinners, unlike the ones in the Indian camp, failed to deliver. Probably goes to show the gap in quality between the two sides in this respect, as the track was a touch slower and doing something for the spinners. A couple of wickets fell, but not when they should have. The hosts were outclassed and outplayed, much like in the first innings, where they were choked by the Kuldeep-Chahal partnership which resulted in them not getting the desired total on the board. The chinaman's 6-fer derailed them and the game was half-won there itself. (
SCORECARD
)
Highlights, India vs England, 1st ODI in Trent Bridge, Nottingham:
23.57 IST: India (269/2) beat England (268) by 8 wickets to take 1-0 lead in three-match series. Rohit 137*, Kohli 75. Moeen Ali to Lokesh Rahul, 1 run. And there it is! The inevitable has happened as INDIA WIN BY 8 WICKETS! Rahul notches up the win with a swipe through the mid-wicket region. Single taken and that's enough. Handshakes all around, a good win for the visitors.
India win the first ODI by 8 wickets.

Scorecard/Clips: https://t.co/kILgxFUOXf#ENGvIND pic.twitter.com/QAkQwsZUjk

— England Cricket (@englandcricket) July 12, 2018
23.54 IST: Joe Root to Rohit Sharma, 5 Wides. Root darts it well down leg, Rohit leaves it alone. Buttler tries to collect it by moving to his left but the ball doesn't bounce at all and goes right through. Boundary results.
23.53 IST: Joe Root on to bowl.
23.50 IST: FOUR! That had 'Hit me' written all over it. Rohit obliged as was dropped short. Went back and muscled it over mid-wicket, beating the two men stationed out in the deep.
23.42 IST: FOUR! Into the gap. One of his favourite shots. A bit too much flight on this from Rashid, lands it well outside off too. Rohit has a chance to free his arms, he does and lofts it over the covers for a boundary. IND need 24 runs to win.
23.32 IST: FOUR! Short ball, Rohit shifts his weight onto his back foot in a jiffy and muscles the heave over mid-wicket. In the gap, it's across the boundary rope after a couple of bounces. Super shot. IND 235/2 in 34.5 overs.
23.25 IST: KL Rahul walks into the middle next.
23.24 IST: OUT! Adil Rashid removes Kohli for 75. Got 'em! Superb bowling from Adil Rashid. Nicely tosses this up on off, deceives Virat Kohli in the flight which should say all about how good this delivery is. The Indian skipper goes for the push away from his body, gets beaten past the outside edge and loses his balance in the process. Buttler whips the bails off and that's that. The square leg umpire wants to check it upstairs, but Kohli knows he's gone and starts walking. Replays confirm the same. A wicket has fallen, but it's come maybe too little too late. 167-run stand comes to an end. India 226/2 in 33 overs vs England (268) in Nottingham.
23.20 IST: SIX! Rohit is in HITMAN AVATAR NOW! Seems to have no trouble clearing the fence, more so after he's crossed the three-figure mark. This time Rohit Sharma makes use of the feet, skates out and launches it over long off. Maximum. IND 224/1 in 32 overs.
23.18 IST: Rohit Sharma hits his 18th ODI century off 82 balls. SIX! Century for Rohit Sharma! Just another day in the life for the Hitman. Scintillating batting display on show here. Brings up his 18th in this format, that too in some style. Just picks this up and lofts it over long on. Unreal stuff from the opener. India 215/1 in 30.4 overs vs England (268) in Nottingham.
23.12 IST: FOUR! Exquisite! Beautiful to watch. Full ball, Kohli just leans into it and it's all about the timing, this. Drives it through the covers and finds the fence with ease.
23.09 IST: Rohit Sharma dropped! But that was a difficult chance in his defense. Rohit has some room to work with and so he flashes hard. Can't keep it down, it flies towards Roy at point. He dives full stretch to his right, sticks his hand out and gets to it, but just can't hold on to it. Terrific effort.
23.06 IST: FOUR! Not quite the perfect connection he'd have liked, but it's still good enough to earn him a boundary. Short and a bit straight, Rohit goes back and lofts it over mid-off. The bottom hand comes off while doing so, but he's still got a lot of power behind it. It rolls away to the rope, beating the attempt of the fielder trying to keep it in.
23.05 IST: SIX! Rohit has decided enough is enough and he's gone after it! Superb shot. Doesn't think twice about giving the charge. Gets close to the pitch and slogs it high and handsome over the mid-wicket boundary for a biggie. IND 190/1 in 27.2 overs.
23.00 IST: FOUR! Just toying with the English bowlers now, Rohit. Clever batting from him on this occasion. Waits for the length ball to come to him, before opening the face and running it past the diving keeper to the third man fence for a boundary.
22.59 IST: FOUR! This man can play with both the hands. First with the bottom hand and now with the upper hand. Ali bowls a faster ball outside, Kohli waits for it and guides it through third man for a boundary. These two are toying with the bowling line up of the hosts.
22.57 IST: FOUR! Another losener from Wood and he is punished once again by the blazing willow of Sharma. He bangs this one down the track targeting the ribs of the batsman. Rohit swivels and middles the ball as it races to the square leg fence. He starts to limp right after playing the pull. For that reason, physio is in the middle. Shoudln't be too much worry this.
22.54 IST: FOUR! Cheeky! Rohit gets into the act now. Wood bangs it in aorund off, Sharma gets under the ball and guides it uppishly to the third man fence.
22.52 IST: FOUR! Bang! Indian skip looks so comfortable out in the middle. He drives the full ball through covers for a boundary and gets to his 47th half-century of his career. What a player he is for India.
22.51 IST: Mark Wood is into the attack.
22.46 IST: FOUR! 150 up for India and Rohit smashes that. Just a few metres away from a big one but Rohit has been in fine form. IND 151/1 in 23 overs
22.45 IST: FOUR! A fine sweep shot by Rohit to go all the way for a boundary. Another flighted ball on middle, Rohit sweeps it uppishly to the square leg fence. IND 145/1 in 22.2 overs
22.42 IST: FOUR! Rohit Sharma scores his 35th ODI fifty and adds four runs to the board. Well played by the opener. A century in the making?. IND 138/1 in 21.4 overs
22.38 IST: Bairstow makes an amazing save which looked like four runs. IND 132/1 in 20.3 overs
22.37 IST: Three runs off Stokes' over including a wide. Kohli and Rohit lead the way for the Men in Blue. IND 128/1 in 20 overs
22.26 IST: FOUR! Bottom hand exhibition from the Indian skipper and he holds the pose for the paparazzi. A half volley outside off, he presents the full face of the bat and pierces the gap between mid off and covers. He owns the bragging right while chasing down the targets. IND 120/1 in 17.5 overs
22.19 IST: FOUR! Kohli finds the gap on Plunkett's delivery who was having a good over so far. IND 110/1 in 16 overs
22.16 IST: FOUR! Rohit Sharma hits Rashid for a boundary. Swept nicely by Rohit. As easy as you like. He is not allowing any over of the leggie go by without a boundary atleast. A tossed up ball in line of the stumps, Sharma gets down on his knee and gets the desired connection the sweep to send the ball racing to the square leg boundary. IND 104/1 in 15 overs
22.15 IST: 100 up for India. Dhawan's 40 was highly helpful for the Men in Blue to get off to a bright start. Rohit and Kohli continue the proceedings. IND 100/1 in 14.4 overs
22.09 IST: FOUR! On the backfoot and Kohli finds a way. Rashid is not pleased as it sails away for a boundary with no one there. Kohli cuts it and finds the gap ever so easily. A boundary results through the backward point region to end a good Rashid over. IND 93/1 in 13 overs
22.07 IST: Adil Rashid is brought into the attack. Do you think he can give the opponents a taste of their own medicine?
22.00 IST: FOUR! Marvellous shot by Rohit on Stokes' delivery. Through the covers and a textbook drive. IND 80/1 in 10.3 overs
21.53 IST: FOUR! He gets on his toes and punches it. A touch short and wide from Wood, Rohit cuts it through cover-point for a boundary. IND 72/1 in 8.3 overs
21.52 IST: FOUR! Rohit makes it look so easy. Exemplary shot by the vice-captain. IND 69/1 in 8.2 overs
21.51 IST: FOUR! Virat Kohli announces himself with a boundary to get him off the mark. Glorious shot by the skipper. A half volley around off, he leans into it and creams it through covers to open his account. IND 64/1 in 8.1 overs
21.49 IST: OUT! Moeen Ali removes Shikhar Dhawan for 40. In the air... and gone! Dhawan has thrown his wicket away. You can't just keep on going in the similar gear all the time. Ali flights this one in line of the stumps, Dhawan comes down the track to hit it up and over the bowlers head. All he manages to get is an outside edge and the ball lobs in the air towards short third man. Rashid there takes the catch running back. England gets the first. Can they build on this? IND 59/1 in 7.5 overs
21.47 IST: FOUR! Sweeps and sweeps it fine. Dhawan is in the fourth gear already. A faster ball on a shortish side, Dhawan gets down on his knee and gets it behind to the third man fence for a boundary. IND 59/0 in 7.4 overs
21.43 IST: SIX! Rohit Sharma oozes class everytime he plays such shorts. A full ball around off, he gets on the front foot and brings his bat nicely behind the line. The connection is just as sweet as the timing and as a result, the ball sails over the long on fence. IND 53/0 in 6.5 overs
21.39 IST: FOUR! And this one is by Rohit. It's been coming but he has waited to pounce as Moeen Ali concedes a boundary. He gets back and punches it through covers IND 44/0 in 5.5 overs
21.35 IST: FOUR! Another one and Dhawan is in fine form. He has punished Wood so far. Rohit has been awfully silent cause Dhawan has been doing most of the work. Wood errs in line once again. Dhawan clips it fine and gets it to the fine leg fence. Two in two for Dhawan. He is running the show currently. IND 37/0 in 5 overs
21.34 IST: FOUR! Sleek by Dhawan and what a shot he has played. Down the ground and sails away for a boundary. A length ball on middle and leg, Dhawan gets his straight bat to punch the ball. It goes bit uppishly but past the bowler and down the long on fence. IND 32/0 in 4.4 overs
21.32 IST: FOUR! A wrong line by Wood and is duly punished by Dhawan. This is not good from the English bowlers. On a belter of a track, they are bowling too many lose deliveries for their liking. Another short delivery on the hips, Dhawan clips it fine and gets another boundary. IND 28/ 0 in 4.1 overs
21.29 IST: FOUR! Sails away and it is Dhawan who is making the bat talk at the moment. He hasn't missed out on any of the scoring opportunities. Another length ball in line of the stumps, Dhawan clips it through wide long on and earns another boundary. 23/0 in 3.2 overs
21.27 IST: Short and wide, cut away through the backward point region for a single.
21.23 IST: FOUR! Another freebie by Willey and another boundary. Dhawan flicks the delivery and cruises down for a boundary. A length ball on the pads, the batsman flicks it to square leg region. Stokes runs to his left and puts in a desperate dive but couldn't cut it out. Third boundary results off the over. 13 runs off Willey's first over. IND 16/0 in 2 overs
21.21 IST: FOUR! Another one through the covers and an exact replicate. A similar length touch closer ot the off stump this time but it doesn't matter to Dhawan. He comes on to the front foot and punches it through covers for another boundary. IND 12/0 in 1.4 overs
21.20 IST: FOUR! A beauty by Gabbar. Dhawan and cover drives are made for each other. A fullish ball outside off, Dhawan reaches for it and creames it through covers. IND 9/0 in 1.3 overs 
21.18 IST: Three runs of the first over. There is much more bounce than before. IND 3/0 in 1 over
21.19 IST: What a jaffa to start with! A length ball around off, it pitches and holds it line. Rohit without any foot movement goes after the push but misses. 0/0 in 0.1 over
21.15 IST: And we're back with the chase. 269 on the board and Rohit Sharma and Shikhar Dhawan make their way to the turf. Mark Wood begins the attack and a challenging target set. Let's get started..
One would say this is India's game to lose from here after a splendid bowling performance. But you never know, with some early wickets and quick short balls anything is possible. Up next is the Indian run chase.
India were excellent in the field. They bowled perfect lines at the start and didn't allow any of the Englishmen to get under them. The spin twins, known as 'Kulcha' did their work in the middle overs. The visitors got back in the game well after the openers took off, thanks to one man - Kuldeep Yadav. The chinaman got his first 6-wicket haul in ODIs and the home team didn't have an answer to his bowling. Umesh picked up two wickets at the death and ensured that England did not cross the 270-mark. Kaul had a decent debut but no wickets to show for.
20.43 IST: England all out for 268 in 49.5 overs against India in Nottingham. Kuldeep 6/25, Buttler 53, Stokes 50. Umesh Yadav to Liam Plunkett, OUT! It's all over! Full and wide, Liam chops it through point and starts running immediately. Raina at deep backward point gets the ball and throws it back quickly to MSD. Liam comes back for the second but he was always going to be the second best. Dhoni removes the bails and as a result, England is all out for 268.
Innings Break!

And that's that from the England innings, they are all out for 268 with one ball to spare.#TeamIndia need 269 runs to win the 1st ODI.

Follow the game here - https://t.co/iWWklQz7H3 #ENGvIND pic.twitter.com/gDj1C0JAjA

— BCCI (@BCCI) July 12, 2018
20.42 IST: FOUR! Full around off, crashed through long off by big Liam. A boundary results. How many more can the home team get off the last three balls?
20.41 IST: Mark Wood is the next batsman in.
20.40 IST: OUT! Umesh Yadav removes Adil Rashid for 22. Gone! Straight into the hands of Pandya's big bucket hands. Adil will be sad considering he middled the slice of the full toss on off. The ball goes in the air but straight to the fielder at extra covers who don't even have to move to take the catch. England lose their 9th for 261. England 261/9 in 49.2 overs vs India in Nottingham
20.37 IST: FOUR! And another! Adil is toying with Kaul here. He bowls a length ball this time but Rashid cleverly plays the scoop off the bottom edge and manages to get it past MSD behind the stump for a boundary.
20.35 IST: SIX! Scooped and scooped handsomely for a maximum. He tried this a couple of times but this time he gets it nicely.
20.32 IST: Liam Plunkett is the next batsman in.
20.31 IST: OUT! Umesh Yadav removes Moeen Ali for 24. And Yadav has the last laugh! A nice little cameo from Ali comes to an end. A length ball on the pads, he lifts off the middle of the bat to mid-wicket but couldn't clear Virat stationed there. An easy catch from the skipper to end the let-hander's innings. England 245/8 in 47.4 overs vs India in Nottingham
20.30 IST: FOUR! Too full outside off, Ali moves his right leg to make room and he gets under the ball well. He chops it over the third man region and the ball goes goes to the boundary. 10 off 2 for Ali.
20.28 IST: SIX! Short and punished! Take this Umesh. What a hit from Ali. Touch too straight targeting the ribs of the batsman who swivels and connects the pull nicely. The ball sails into the crowd on the square leg region. A welcome maximum this for England. ENG 241/7 in 47.2 overs.
20.25 IST: FOUR! On a length on off, Adil stays on the leg side of the delivery and gets it up and over the bowler's head. A boundary results through the long on region.
20.19 IST: Adil Rashid comes to the crease. Umesh Yadav comes in to bowl over for India.
20.18 IST: OUT! Kuldeep Yadav removes Willey for 1. Would you believe it! A nothing ball and Kuldeep gets his sixth on his very last ball. Way too short from Yadav on middle and leg, Willey rocks back and looks to clear Trent Bridge. He finds KL at cow corner who does not drop those. Another two-wicket over and England losing their way towards the end. England 216/7 in 45 overs vs India in Nottingham.
20.15 IST: David Willey replaces Ben Stokes in the middle.
20.14 IST: OUT! Kuldeep Yadav removes Stokes for 50. Fifer for Kuldeep Yadav! A richly deserved five wickets and Ben Stokes has to take the long walk back. Tossed up ball on off, Stokes looks to up his strike rate by reverse sweeping this one. The ball flies towards short third man where Kaul dives to this right to take a superman catch. Stunning catch to give Kuldeep his first 5-wicket haul. England 214/6 in 44.1 overs vs India in Nottingham.
20.12 IST: FIFTY! Ben Stokes hits his 12th ODI half century off 102 balls. Siddarth Kaul to Ben Stokes, 1 run. Played through mid-wicket by the batsman. They pick up a single. England 214/5 in 44 overs vs India in Nottingham.
20.06 IST: Umesh Yadav to Ben Stokes, no run. Back of a length ball outside off, Stokes punches this to covers and stays on 49. ENG 212/5 in 43 overs.
19.57 IST: Powerplay 3 has been signalled. 5 fielders will be allowed outside the 30-yard circle till the end of the innings.
19.54 IST: 200 up for England. It's been a slow process but are building on. ENG 202/5 in 39.2 overs
19.52 IST: Moeen Ali walks out to the middle. Also, Yuzvendra Chahal is brought back on to bowl.
19.50 IST: OUT! Kuldeep gets his fourth and removes Jos Buttler for 53. A crucial wicket by the Chinman. Had him deceived totally! Floats this down leg, Buttler goes onto his back foot and looks to flick this fine. Ends up getting a feather to it and Dhoni takes a lovely catch after being blind sighted for sometime. A good partnership for England. They now need to carry on from this. ENG 198/5 in 39 overs
19.45 IST: Buttler rocks onto the back foot and punches the ball to the off side. The batsmen have run through for a single. ENG195/4 in 38 overs
19.36 IST: FIFTY! Three fifties in a row for Buttler. His 18th overall. He is in a purple patch of his own. Punches this ball to the off side to get to the landmark.
FIFTY for @josbuttler! He's a run machine this summer! 🔥

Scorecard/Clips: https://t.co/3GJI2wS6Wt#ENGvIND pic.twitter.com/9h46fU1Fbd

— England Cricket (@englandcricket) July 12, 2018
19.33 IST: Back of a length ball on middle, Stokes taps it towards mid on and charges for a run. Is rightly send back by his partner. ENG 183/4 in 35 overs
19.28 IST: FOUR! A well-played shot by Buttler. Through the covers, it sails for a boundary. Half volley from Umesh and Jos drives it with confidence through covers. ENG 179/4 in 34 overs
19.25 IST: Stokes and Buttler are building on for England after the spinners rocked them like a hurricane. However, the two batsmen are playing cautiously after a sudden collapse. India are controlling the momentum and are applying enough pressure. ENG 174/4 in 33.5 overs
19.19 IST: Siddarth Kaul to Ben Stokes, 1 run. Fuller ball outside off, Stokes guides it to third man for an easy run.
19.15 IST: Siddarth Kaul is called back into the attack.
19.10 IST: Umesh Yadav to bowl again.
19.00 IST: FOUR! The googly comes from Chahal but he throws it way outside off, Buttler is easily able to drive this through the covers and beat the dive from the fielder in the deep.
18.58 IST: FOUR! Lovely from Buttler. The moment the ball left Chahal's hand, he knew what he was going to do. Picked his spot, went inside out over covers and found the fence, beating the man in the deep.
18.56 IST: Kuldeep Yadav to Jos Buttler, Stays back and presents a straight blade in defense. After 27 overs, England are 142/4.
18.48 IST: FOUR! Shot. That is amazing. Shot of a man oozing class. Full on the stumps, Buttler makes room, takes his front leg out of the way and drills it through the covers. Boundary.
18.46 IST: FOUR! Edged and away! Length ball around off, Buttler hangs his bat out and gets an edge through the vacant slip cordon. Nobody out there in the deep, it'll run away for a boundary.
18.44 IST: FOUR! A boundary to conclude the over. Landed short and he's been punished for it. Wide outside off, Stokes rocks back and cuts it square through point for a boundary.
18.40 IST: FOUR! Into the gap. That's a really good shot from Ben Stokes! Touch short outside off, the big all-rounder gets on top of the bounce and then cracks it superbly through the covers for a boundary. The man in the deep had no chance.
18.35 IST: Meanwhile, cricket commentator Harsha Bhogle believes that it's a good day for wrist spin.
It is a good day for wrist spin. Again.

— Harsha Bhogle (@bhogleharsha) July 12, 2018
18.28 IST: OUT! Chahal removes Eoin Morgan for 19. GONE! The bowling change works wonders. Chahal dismisses the English skipper who was looking to cut loose now. Slower through the air, Morgan is deceived by the flight as he goes into the flick shot a little too early. Chips it straight towards Raina who gets low and takes a solid catch. Timely wicket for the Men in Blue. England 105/4 in 19.2 overs vs India in Nottingham
18.25 IST: FOUR! What a wonderful way to conclude an over! 12 runs off the over, a much-needed and a good one for the hosts. Pandya bends his back and fires it full outside off, Morgan plants his front foot forward and thumps it down the ground for a boundary. ENG 104/3 in 19 overs.
18.23 IST: SIX! Shot! Latched on to that one in a flash! Banged in short, Morgan rises on his toes and muscles the pull flat over the mid-wicket boundary for a maximum.
18.21 IST: Hardik Pandya into the attack.
18.19 IST: FOUR! That should relieve some pressure. Raina lands it short on the stumps, Morgan picks it up early, goes deep inside the crease and heaves it over mid-wicket. A couple of bounces and that's a boundary.
18.15 IST: Suresh Raina to Eoin Morgan, 1 run. Full and quick outside off, Morgan forces this through to long off for a single. ENG 86/3 in 16 overs.
18.03 IST: Ben Stokes is the new man in.
18.02 IST: OUT! Kuldeep removes Bairstow for 38. India have got the review spot on. Three red lights and England lose their third wicket giving Kuldeep another one. Yadav bowls a googly on leg, it spins sharply and hits the back leg of Bairstow after he misses his shot. Kohli and his men appeal but the umpire probably thinks it was pitching outside leg. The Indian players have a chat and take it up. Replays show us that the ball was pitching on leg and going on to hit the off stump. Rejoice among the Indian payers. England 82/3 in 12.5 overs vs India in Nottingham.
17.59 IST: Eoin Morgan, the ODI skipper comes in place of his Test skipper.
17.58 IST: OUT! Kuldeep removes Root for 3. Plumed! Root has missed the ball completely and gets caught in front of the stump. England have lost two quick wickets now. Yadav gives this air outside off, it spins it sharply. Root shows the full face of the bat and looks to block it but is beaten all ends up. The players appeal and the umpires doesn't take time in raising his finger. Root walks and decides not to review it. He knows what he has done. Kuldeep has two now. This phase of spin will be testing for the English batsmen. England 81/2 in 12.1 overs vs India in Nottingham.
17.52 IST: Change of ends for Yuzvendra Chahal.
17.50 IST: Joe Root, England's Test skipper walks out to bat.
17.49 IST: OUT! Kuldeep Yadav removes Roy for 38. First blow for England. And Kuldeep Yadav strikes on his very second ball. One time too many from Roy and the reverse sweep leads to his downfall. Kuldeep Floats this down the leg side, Roy reaches for it and looks to hit another one like he did in Chahal's over. Doesn't get the desired connection and the ball goes straight in the hands of Umesh Yadav at cover-point. England 73/1 in 10.2 overs vs India in Nottingham.
17.45 IST: FOUR! Short ball from Hardik around off, Roy stays back and pulls this through square leg. A boundary results.
17.44 IST: Hardik Pandya to bowl the last over of the Powerplay.
17.42 IST: FOUR! Improvisation from Roy and will get four for it. Tossed up down leg from Yuzi, Roy reverse sweeps it through point for a boundary.
17.40 IST: Spin time, Yuzvendra Chahal will bowl his first over before the 10th over.
17.36 IST: SIX! Bairstow is stretching some muscles here. Boom! First of many of the day. Kaul bowls the effort ball on off, it sits up nicely for Bairstow who pulls it effortlessly over mid-wicket for a maximum.
17.31 IST: FOUR! And he will get four more! Back of a length ball outside off, Roy waits for it and at the last moment guides it towards third man for back-to-back boundaries.
17.30 IST: FOUR! Length ball around off, Roy cuts this through point for another boundary. England have started well here.
17.28 IST: FOUR! This has been powered to the boundary. Full ball around off, Roy watches the ball carefully and hits it aerially through covers to the fence.
17.26 IST: FOUR! Length ball outside off and Bairstow finds the gap to perfection. Transfers his weight to his back foot and punches it along the turf for a boundary. ENG 31/0 in 5.3 overs.
17.24 IST: FOUR! One ball he misses his line and gets the punishment. Angles this down leg, Bairstow just helps it on it's way and the ball runs to the fine leg region. ENG 26/0 in 5 overs.
17.14 IST: FOUR! Even better! Juicy half volley from Yadav on off, Bairstow stands tall and drives a punch in the gap through covers for a boundary.
17.12 IST: FOUR! Classical! Umesh pitches this right on top in search of swing. The ball doesn't do much and Bairstow plays a lovely straight drive to get four.
17.09 IST: FOUR! Bangs this one short on middle and leg, Bairstow waits for it and pulls it with force to the deep square leg region for a boundary.
17.05 IST: Siddarth Kaul, a debutant, to bowl his first over from the other end.
17.04 IST: Umesh Yadav to Jonny Bairstow, No run. Loud appeal from the players but the umpire stays put. Yadav hurls this around off, it nips back in and strikes the back leg of Bairstow as he looks to turn his bat to the leg side. The Indian players go up in unison but the umpire says no. They think of the review but decide against it. Eventful over comes to an end. ENG 6/0 in 1 over.
17.02 IST: FOUR! Where is the second slip? That would have been an easy take for him. Positive start for the bowler. Steams in from over the wicket and pitches it around off in search of swing. He gets decent movement and the ball shapes away after pitching. Roy goes for it and gets an edge flying past the diving first slip. No third man and the ball races away.
17.00 IST: The Indian players along with the umpires step onto the green surface of Trent Bridge. English openers Jason Roy and Jonny Bairstow stride out to take center stage. Umesh Yadav, in the absence of Bhuvi will open the bowlers for the visitors. A slip in place. 
16.50 IST: Captain's Speak
Virat Kohli: We are gonna bowl first now. It looks like a hard pitch and does seem like changing much and it looks similar to Manchester. We have chased well so far in the T20Is and with our batting line up, it is a good toss to win. Our strengths are different. We are going to focus on our strengths. The two wrist spinners bowling 20 overs in the middle overs are going to play a massive role. We back ourselves to bowl first and let the opposition put a score on the board. Plus knowing that our batting is settled and strong, that forces the opposition to go harder than they should. We will just continue with the patterns that we have followed and back our strengths. I don't think any team are focussing on the rankings at the moment. I am sure England will look to try out new players as well. Look for players who have the character to play in tough situations. We will look to test our bench strength. In India, England gave us a tough time. They are an explosive side and we expect them to come hard at us.
Eoin Morgan: We would have liked to chase. The last two times when we have played here we have lost the toss but would try to do exactly the same. The wicket though still looks good. Great opportunity to post a good total. Unfortunate, Alex has done his side. How long he is out we don't know. He is going for a scan this afternoon which brings Dawid Malan into the squad. With that change Joe Root goes up to 3 and Stokes at 5 which means we are where we were last summer around this time. Ben coming in has given us an extra option with the ball and it looks a balanced side. Joe is hungry for runs. The standards that Joe has set for himself are so high. Although by his standards he has had a quiet period. But his contributions to the team has been excellent but I am sure he will turn a corner and we will see the Joe that we know.
16.38 IST: Playing XIs
India: Rohit Sharma, Shikhar Dhawan, Lokesh Rahul, Virat Kohli(c), Suresh Raina, MS Dhoni(w), Hardik Pandya, Siddarth Kaul, Umesh Yadav, Yuzvendra Chahal, Kuldeep Yadav
England: Jason Roy, Jonny Bairstow, Joe Root, Eoin Morgan(c), Ben Stokes, Jos Buttler(w), Moeen Ali, David Willey, Liam Plunkett, Adil Rashid, Mark Wood
16.30 IST: TOSS! India win toss and opt to bowl.
Captain @imVkohli calls it right at the toss. Elects to bowl first against England.#ENGvIND pic.twitter.com/q0FFnN3eJy

— BCCI (@BCCI) July 12, 2018
16.25 IST: On the other hand, hosts England, would try to leave the T20I series defeat behind and will take some motivation from the ODI series against Australia, where the Eoin Morgan-led side had crushed the visitors 6-0. It was the same ground where England scripted a world record in ODI history after putting 481/6 on board against Australia recently.
16.20 IST: In the bowling department, Kuldeep Yadav and Yuzvendra Chahal will once again be the key. Kuldeep has claimed 20 wickets in his last eight ODIs while Chahal scalped 24 wickets in his last ten outings. Apart from the duo, Umesh Yadav and Bhuvneshwar Kumar will share the new ball.
16.10 IST: The men in blue carry a deep batting line-up with most of their batsman in good touch with the willow. While both Rohit Sharma and KL Rahul slammed a ton each in the T20I series, Kohli missed his half-centuries by whiskers on a couple of occasions.
15.55 IST: Here's a look at the Trent Bridge pitch.
👀👀#ENGvIND pic.twitter.com/bYrkdnCjvs

— BCCI (@BCCI) July 12, 2018
15.50 IST: 
Game Day today! #TeamIndia looks all set for the 1st ODI against England at Trent Bridge. Are You? LIVE Action in a couple of hours #ENGvIND pic.twitter.com/HdmV8WblF8

— BCCI (@BCCI) July 12, 2018
15.40 IST: The Virat Kohli-led side won the recently concluded T20I series 2-1 and the team management hopes for another valuable performance by the team.
With the ODI World Cup scheduled to be held here next year, the three-match series will also give Kohli and his teammates a fair idea of the playing condition in England.
15.30 IST: Fresh from their Twenty20 International (T20I) series win, an upbeat India will be eyeing to continue with the momentum when they take on England in the first of the three-match One-Day International (ODI) rubber at Trent Bridge here on Thursday.
Brief Preview: 
England have been one of the finest 50 over sides in recent times and India will have their task cut out against a batting line-up comprising Jos Buttler, Jason Roy, Alex Hales, Jonny Bairstow and Eoin Morgan. Add Ben Stokes to it and England bear a formidable look.
It is a reputation built on fearless, attacking cricket that has seen England win 46 out of 69 ODIs since a disastrous 2015 World Cup. Their last bilateral series' defeat came in India in January 2017, with only a freak one-off loss to Scotland in the interim.
The series will also enable Indian team management to mix and match the various combinations, keeping the World Cup in mind.
KL Rahul's stupendous form has been a happy headache for the team management and there is a possibility that the captain might come at No 4 in order to give Rahul a chance to make optimum use of his current form. Rahul scored a 70 against Ireland and followed it by an unbeaten 101 against England in the first T20.
He will, in all likelihood, be the missing jigsaw puzzle at the top of the order for skipper Kohli. With both Shikhar Dhawan and Rohit Sharma being automatic selections at the top of the order, Rahul, who is also a specialist opener comes in at No 3. If the same batting order is followed, skipper Kohli, who has been world's best ODI batsman by a distance, will have to drop himself a notch down at No 4.
The seasoned pair of Suresh Raina and Mahendra Singh Dhoni along with all-rounder Hardik Pandya are expected to form the middle-order. (Read Full Preview)