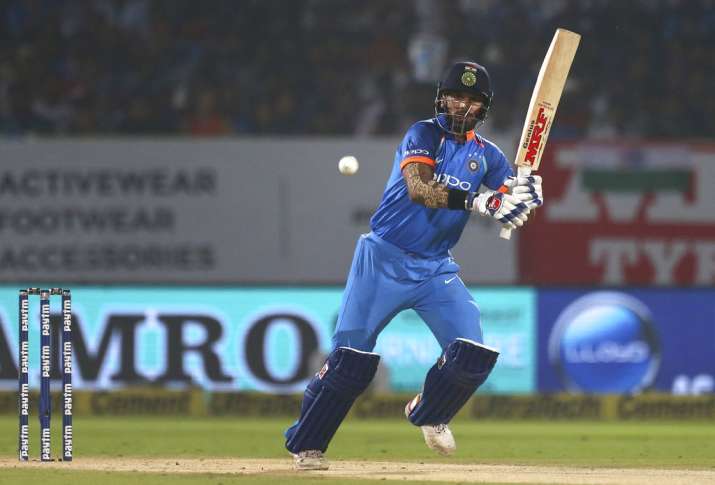 Team India had a swell time at Colombo as they defeated Bangladesh by six wickets. Shikhar Dhawan's fifty was enough to guide the Men in Blue where as Suresh Raina and Manish Pandey's breezy knocks finished the job. The Bangladesh bowlers couldn't do much as the target to chase was an easy one as Jaydev Unadkat and Vijay Shankar's dismissals restricted the Tigers to 140. The Rohit Sharma led side won the match comfortably and seemed to have overcome the loss they suffered to Sri Lanka in the first match.  Team India did the job with the ball by restricting Bangladesh to 139, with Jaydev Unadkat leading the charge with a 3-fer, and now, have cruised through the chase courtesy a superb Shikhar Dhawan fifty. His and Suresh Raina's stand of 68 runs more or less sealed the deal, with Manish Pandey then sealing the deal as he usually does. Plenty to ponder for the Tigers, time to rejoice for the Indians.  (LIVE CRICKET STREAMING) (LIVE SCORECARD)
HIGHLIGHTS | INDIA vs BANGLADESH 2ND T20I MATCH AT COLOMBO
#TeamIndia win the 2nd T20I against Bangladesh by six wickets. #INDvBAN pic.twitter.com/wOTWNSDqMx

— BCCI (@BCCI) March 8, 2018
22.30 IST: And that's a wrap for today. India win the 2nd T20I against Bangladesh by six wickets. Dhawan's fifty and Pandey and Raina's breezy knocks were enough to chase down an easy target set by the Bangladesh batsmen. 
22.27 IST: FOUR! A cut by Pandey as he clears his left foot, enough power to cut Mustafizur's delivery down square-leg. IND 136/4 in 17.5 overs
22.25 IST: FOUR! Manish Pandey edges Mustafizur's delivery as it goes down leg for a boundary. IND 130/4 in 17.1 overs
22.19 IST: OUT! Dhawan is on his way, but the wicket's probably come a little too late. Full and angling in from around off from around the wicket, the opener walks a step across and looks to clear mid-wicket. Lot of height, not enough distance and Liton Das gets under this. Judges it well and takes a safe catch. DK comes on and it seems like he will take the responsibility to finish the job. IND 123/4 in 16.4 overs
22.17 IST: FOUR! Down for a boundary and Nazmul's short delivery is beaten for a boundary by Manish Pandey. He isn't going to miss out on these deliveries. IND 120/3 in 16 overs
22.14 IST: Five runs of Rubel's over which includes a wicket. Pandey has a decent strike rate and Dhawan is quite comfortable right now as they lead India in a slow chase. IND 113/3 in 15 overs
22.09 IST: OUT! Rubel dismisses Raina for 28. Rubel strikes immediately on his return to the attack. It's the short ball which does him in. He awkwardly fends it away on the leg side, scoops it towards Mehidy Hasan at square leg who takes a simple catch. Bangladesh have another wicket, but India are in a really comfortable position. 32 needed off 35. India lose their third wicket which brings Manish Pandey onto bat. IND 108/3 in 14.1 overs
22.06 IST: FOUR! FIFTY! 6th T20I fifty for Shikhar Dhawan! He gets to the milestone with a boundary. Darted down the leg side, Dhawan helps it on its away to the fine leg fence. Another good knock from the southpaw opener, his purple patch continues. IND 105/2 in 13.3 overs
22.05 IST: Hundred up for India. IND 100/2 in 13.1 overs 
22.04 IST: India need 41 from 42 balls. A run short of a hundred and Dhawan needs 3 to make his half-century. 
22.02 IST: SIX! Dhawan finally steps up and hits a big one after the last boundary coming in the 9th over. Steps back and mauls the delivery over to deep mid-wicket. IND 98/2 in 12.4 overs
21.57 IST: Five runs off the over as Mustafizur bowls various lengths to calm the batsman. A lofted shot by Dhawan fell short of a fielder taking the catch. IND 88/2 in 12 overs
21.52 IST: Two appeals come off the over and both falling on Dhawan while he plays the slog sweep shot. Two runs off the over. IND 83/2 in 11 overs
21.46 IST: FOUR! Raina plays the shot that he loves to hit. Deep to extra cover, finds the gap and adds four runs to the board after Soumya's over was going near to perfect. IND 81/2 in 10 overs
21.45 IST: Five runs off Mehidy's over as he controls the pace. Dhawan and Raina run between the wickets at times and few scared came their way. IND 73/2 in 9 overs
21.39 IST: FOUR! Dhawan is in a hurry here! 75 needed now in 74! Short again, Taskin is not learning here. Dhawan though loves it as he camps back and pulls it with authority through backward point for another boundary. 10 from the first two balls. IND 65/2 in 7.2 overs
21.37 IST: SIX! Welcome back Taskin, says Dhawan! A hit me ball by Ahmed. A bouncer down the leg side, Dhawan just has to get bat on it and he does so expertly. He helps it on its way and the ball goes flying over the fine leg fence. IND 61/2 in 7.1 overs
21.33 IST: SIX! Fifty up for India and a big one by Raina. The slog-sweep and its a massive one over mid-wicket. Plays the shot perfectly and goes all the way into the stands.The drop has already cost them 8 runs. Hasan floats it up on middle, Raina goes down on one knee and sends it sailing over the mid-wicket fence for a maximum. IND 53/2 in 6.2 overs
21.31 IST: Dropped! Raina is saved as Rubel's delivery edges the Uttar Pradesh batsman and into the hands of the fielder at slip, only to be dropped. IND 47/2 in 6 overs
21.30 IST: FOUR! A short lengthed delivery by Rubel and Dhawan makes the most of it and hits the ball deep mid wicket. IND 45/2 in 5.3 overs
21.27 IST: OUT! Rishab pant is sent off and Rubel is the man to get the power hitter this time as he departs for 7. Suresh Raina comes on to bat. IND 40/2 in 5.1 overs
21.24 IST: FOUR! Well timed sweep shot by Dhawan as he finds the gap and sails down for a boundary. Hard to play oh Mehidy's spin but the opener manages to add four runs on to the board. Mehidy tosses it up on middle, Dhawan goes down on one knee and sweeps it through backward square leg for a boundary. IND 38/1 in 4.3 overs
21.20 IST: FOUR! Pant steps up and sends Mustafizur's delivery for a boundary. Up and over! Fuller this time by Rahman, Pant flicks him over mid on to get off the mark with a boundary.  IND 33/1 in 4 overs
21.18 IST: OUT! PLAYED ON! The change of ends for Mustafizur Rahman does the trick. Another failure for Rohit Sharma. Rahman comes running in and lands it on a length around off. Sharma tries to run it down to third man but the ball is too close to him to play that shot. He gets an inside edge which disturbs the furniture behind. A much-needed wicket for Bangladesh as these two were taking the game away from them. They would now look to pull things back a little. IND 28/1 in 3.3 overs
21.16 IST: Mustafizur comes into the attack and the Indian openers seem to have found their groove. IND 28/0 in 3.2 overs
21.11 IST: FOUR! Rohit plays defence, edged of the bat and down for a boundary. Unexpected. A good delivery to begin with by Rubel. He lands it on a length around off, it skids off the surface and also straightens. Sharma tries to defend but it takes the outside edge and goes down to the third man fence. IND 23/0 in 2.2 overs
21.09 IST: FOUR! Another one by the skipper. The openers seem to be relaxed. Times the shot as it sails down for square on the off-side for a boundary. Bad ball and dispatched! Short and wide outside off, width on offer and Sharma pounces on it. He cuts it through point and the ball races away. India off to a flier, 123 needed now. BAN 17/0 in 1.5 overs
21.06 IST: FOUR! Classic Rohit Sharma! A little short by Taskin on off, Rohit nonchalantly rocks back and pulls it over mid-wicket for a one bounce boundary. IND 13/0 in 1.3 overs
21.02 IST: FOUR! Starts from where he left off in the last game! Off the mark in style. Short and wide outside off, Dhawan guides it through point and the ball races away. IND 5/0 in 0.3 overs
21.00 IST: We are back for the chase. 140 is the target as the Bangladesh players make their way out to the middle. Rohit Sharma and Shikhar Dhawan will open the batting for India. Mustafizur Rahman will start the bowling for the Bangla Tigers. Here we go...
INDIA NEED 140 RUNS TO WIN
20.47 IST: And that's a wrap for Bangladesh. 6 runs off the last over and the Men in Blue have performed reasonably well to restrict the Bangladesh batsmen for 139. BAN 139/8 in 20 overs
20.43 IST: OUT! The Bangladesh batsmen go for a two and Raina is quick enough to throw the ball right into the hands of Thakur to deflect onto the stumps. Rubel is out for a duck. BAN 135/8 in 19.2 overs
20.42 IST: Shardul Thakur to bowl the last over of the innings.
20.39 IST: OUT! Rahman plays a shot which seems to have been deliberately been bowled wide by Unadkat and edges the bat to fall into the hands of the wicket-keeper. The players started celebrating before the decision was taken and Bangladesh lose their review. BAN 134/7 in 18.5 overs
20.35 IST: SIX! That's gone the distance! What a hit! Rahman maybe, predicted this as he waits on the back foot to a length ball and pummels it over deep square leg for a maximum. BAN 133/6 in 18.3 overs
20.33 IST: FOUR! A boundary after nine balls. Unadkad comes into the attack and gets hammered by a woken Taskin. BAN 125/6 in 18.1 overs
20.32 IST: Brilliant over by Thakur. With just two off the 17th over, the Bangladesh batsmen seem to be under immense pressure. BAN 121/6 in 18 overs
20.25 IST: OUT! Easy take for Pandey! Unadkat with an excellent slower length delivery on middle and off, Mehedi Hasan backs away to have a thwack across the line but all he manages is to sky it up in the air towards long on where Manish Pandey takes it safely. BAN 118/6 in 16.4 overs
20.23 IST: FOUR! A welcome boundary for Bangladesh as Sabbir cuts Unadkat's short-pitched delivery. Much-needed! Short and a bit of width on offer, Sabbir Rahman pounces on it as he flashes it through point for a boundary.  BAN 117/5 in 16.3 overs
20.22 IST: Now the pressure sinks into the batsman as we come down to the last four overs. It's time for the Bangladesh batsmen to step up and hit big. BAN 111/5 in 16 overs
20.17 IST: OUT! Chahal strikes! He comes back into the attack and breaks the stand that was starting to bloom a bit. He gives it a good flight, lands it around middle and off. Liton Das skips down the track to go big but the ball turns away a bit which made him reach out to that one. Mistimes it high in the air towards long off and Raina takes it with ease by coming a couple of steps ahead. BAN 107/5 in 15.1 overs
20.15 IST: FOUR! Seven runs off Shankar's over which includes three wides as Rahman scoops over the full toss which goes all the way down for a boundary. BAN 107/4 in 15 overs
20.11 IST: Dropped! A tough one for Shankar as he dives under Rahman's lofted shot. It was in the air for a while but unfortunately just wasn't placed well enough in his hands. A run taken which brings up 100 for Bangladesh. BAN 101/4 in 14.5 overs
20.08 IST: Das and Sabbir seem to get into the groove as Das doesn't mind running between the wickets on Sundar's over. BAN 96/4 in 14 overs
20.05 IST: FOUR! Sloppy fielding and Das is rewarded with a boundary. Lofts the ball over to mid-wicket and goes between two fielders who couldn't make p their minds. BAN 89/4 in 13.1 overs
20.00 IST: FOUR! An extra ball ruins Thakur's over who had five runs of it. A well-timed shot by Rahman as he plays the drive shot. 10 runs off the over. BAN 85/4 in 13 overs
19.58 IST: Good over by Washington Sundar. Three runs of the over which includes a wide and it seems like the batsmen are under a lot of pressure which the bowlers can make use of. BAN 75/4 in 12 overs
19.51 IST: OUT! Vijay Shankar removes Mahmudullha for 1. The pressure of dot balls gets the better of the Bangladeshi skipper. Back of a length delivery outside off, Mahmudullah makes room to hit it inside out but ends up slicing it towards sweeper cover where Shardul Thakur comes a couple of steps ahead and takes an easy catch. BAN 72/4 in 10.5 overs
19.49 IST: NO BALL! A free hit given to Bangladesh and Shankar's leg is outside the line. Very full, almost a yorker outside off, Liton crouches low and squeezes it out towards cover. The umpire calls it a no ball as Shankar has overstepped big time. BAN 70/3 in 10.1 overs
19.41 IST: OUT! Rahim is caught by Karthik at the back and Shankar has his man. A lot of confusion on the field as the umpire stays still. The DRS was taken by the Men in Blue. A slight edge which sees India collect their thrird wicket of the match. BAN 66/3 in 9 overs
19.39 IST: SIX! A massive one by Rahim and Shankar's delivery has been hammered to go all the way into the stands.Shankar bangs it short on the leg stump, Rahim pulls it over mid-wicket for a maximum. BAN 66/2 in 8.3 overs
19.37 IST: FOUR! Das plays a cut shot on Shankar's short delivery, goes all the way down for a boundary. BAN 59/2 in 8.2 overs
19.32 IST: Dropped! Another catch dropped and this time Sundar misses the second of the game. Butterfingers on Indian hands?. Das cannot believe his luck as he plays the shot towards fine leg. Fifty comes up for Bangladesh. BAN 51.2 in 6.4 overs
19.30 IST: Dropped! A good ball by Shankar and the shot lands in the middle of Das's bat which is lofted in the air, easy to take but Suresh Raina drops an easy wicket. A mistimed shot and which turns out to be lucky for the batsman. BAN 49/2 in 6.3 overs
19.27 IST: FOUR! Chahal has been hammered with two boundaries in his over as Mushfiqur smashes the leg-spinner's deliveries. BAN 47/2 in 7 overs
19.24 IST: OUT! Thakur gets his man after an LBW referral overturned and being hit for two consecutive boundaries. He bangs it short and Tamim goes for the pull. He does not make proper connection with it and top edges it to Unadkat who completes a good catch at short fine leg. BAN 35/2 in 5 overs
19.23 IST: FOUR! Back to back boundaries for Tamim. He comes dancing down the track to a back of a length delivery outside off and lofts it over the mid off fielder. Tamim looks to be in some attacking mood. BAN 35/1 in 4.5 overs
19.22 IST: FOUR! If you bowl deliveries like this with your field up then you'll get punished. A full delivery outside off stump, Iqbal leans into the drive and gets it past covers for another boundary. BAN 31/1  in 4.4 overs
19.19 IST: Close! Thakur bowls a length delivery on the leg stump, Iqbal tries to flick it but misses it and gets hits on the pads. The Indians cry out their appeal and the umpire gives it out. Tamim consults his partner and opts for the review. The review shows no spike on the hotspot but to the dismay of the Indians, the ball lands outside leg stump.
19.18 IST: FOUR! Liton Das sends Sundar's delivery for a boundary. BAN 27/1 in 4 overs
19.12 IST: OUT! Unadkat draws first blood. One shot too many for Soumya. He looks to flick a length ball on the stumps over the short fine leg fielder but instead gives it straight into the hands of Yuzvendra Chahal stationed over there. Good catch by the leggie. Unadkat looks delighted. BAN 20/1 in 2.4 overs
19.09 IST: SIX! Soumya times the delivery by Unadkat perfectly and smacks the ball for a big one. Flicks the shot to square leg. BAN 17/0 in 2.1 overs
19.06 IST: FOUR! Sundar comes on to bowl and is hammered for a boundary on his first delivery. First boundary of the innings. Poor delivery to begin with. He drags it wide and short outside off, Soumya sees it and smacks it past the cover fielder for a boundary. BAN 10/0 in 1.1 overs
19.04 IST: Dropped. The last ball of a brilliant over ends in disappointment as three fielders under the ball and no one was there to take the catch. All eyes go on teenager Washington Sundar. A narrow escape for Soumya. Unadkat bowls a length delivery on the stumps, Soumya goes for the flick but edges it and the ball flies towards the third man region. Pandey runs back from the backward point and Sundar comes in running from the third man region but no one goes for the catch. By then the batsmen complete a run. BAN 6/0 in 1 over
18.59 IST: The Indian players are out and it is Soumay Sarkar and Tamim Iqbal from Bangladesh who will start the match. Jaydev Unadkat will bowl the first over of the 2nd T20I match with a brand new ball. Let's get started.
18.55 IST: The players are out on the field and just a few minutes away before the Bangladesh batsmen come out to bat first.
18.50 IST: Team India skipper Rohit Sharma - He starts by saying that the wicket got better as the game went on, so why not use it to their advantage as they are playing on the same track. On asking about the team news he adds that he believes in backing his players so there are no changes in the side. Backs his players that losses like these will teach them as a group. Ends by saying that he believes in their potential and hopes that by giving them another chance they'll come good.
18.42 IST: The Bangladesh skipper Mahmudullah has a few words ahead of the match- Would have bowled first but will anyway look to put a good show with the bat. We played a practice match over here and all the players had a good time in their respective departments. Reckons that they will look to execute their skills and use it to their potential. Ends that they are playing with 6 batsmen and 5 bowlers.
Bangladesh (Playing XI): Tamim Iqbal, Soumya Sarkar, Mahmudullah(c), Mushfiqur Rahim(w), Liton Das, Sabbir Rahman, Mehidy Hasan, Nazmul Islam, Rubel Hossain, Taskin Ahmed, Mustafizur Rahman
India (Playing XI): Rohit Sharma(c), Shikhar Dhawan, Suresh Raina, Manish Pandey, Rishabh Pant, Dinesh Karthik(w), Washington Sundar, Vijay Shankar, Jaydev Unadkat, Yuzvendra Chahal, Shardul Thakur
18.38 IST: Team India play with same playing XI and it is Rohit Sharma who feels that the players can make the most of the wicket at the R Premadasa Stadium.
18.32 IST: INDIA WIN THE TOSS AND OPT TO FIELD FIRST. INDIA GO UNCHANGED IN THE 2ND T20I. 
18.30 IST: Pitch Report - He reckons that the middle and the leg stump line will be a worrying side for the fast bowlers. Adds that the first six overs will be the best chance for the bowlers to trouble the batsmen as it looks a good batting track. Opines that once you get over the brand new ball then there will be plenty runs on board. Ends by saying that you should strike with the brand new ball and reckons that 165-170 looks like a par score.
18.28 IST: Rohit Sharma and Mahmudullah are out on the field as its nearly time for the toss. 
18.18 IST: The Men in Blue are ready as Suresh Raina and Rishab Pant are seen pulling off a few practise shots while Jaydev Unadkat and Shardul Thakur are seen jogging around.
18.12 IST: The boys gear up before they take on a Mahmudullah led Bangladesh side.
Let's do this 💪 #TeamIndia pic.twitter.com/ZFnhizTD6s

— BCCI (@BCCI) March 8, 2018
18.09 IST: Manish Pandey has a swing ahead of the 2nd T20I match.
Keeping a close watch 👀 on the pitch before the start of the 2nd T20I
In focus @im_manishpandey pic.twitter.com/uLOEygbrob

— BCCI (@BCCI) March 8, 2018
18.06 IST: Shikhar Dhawan looks forward towards today's match. "We just lost one game, so it is a not a big deal, we will learn from it and go with all the positives in the next".
17.57 IST: Bangladesh will head to the fixture without their skipper Shakib Al Hasan and it will be Mahmudullah who will take charge. The all-rounder will sit out the Tri-Nation series due to a finger injury. He was also unavailable for the two-match Test series and T20Is which Sri Lanka won comfortably.
Hello and welcome to our live coverage of the 2nd T20I match which will feature India vs Bangladesh at Colombo, Sri Lanka. You can get all the live updates, live ball by ball commentary of here. You can also get all the information as to where you can watch the match online and an on TV. WHERE TO WATCH INDIA vs BANGLADESH 2nd T20I
Brief Preview - Following a five-wicket loss to Sri Lanka, an under-pressure Indian cricket team will take on Bangladesh in the second match of the  Nidahas Trophy tri-series at the R.Premadasa Stadium, Colombo, on Thursday. Sri Lanka, the host team, pulled an impressive win on Tuesday, thanks  to a 37-ball 66-run knock by Kusal Perera. The home team's surprise victory has also spiced up the tournament, which until on Tuesday, was expected  to be dominated by India.
Defending a decent 174 for five, the inexperienced bowling attack did not have an answer to Perera's relentless aggression. Yuvzendra Chahal, the  only frontline spinner in the eleven, too was not spared. Captain Rohit Sharma, however, backed the young guns to deliver against Bangladesh. (Read Full Match