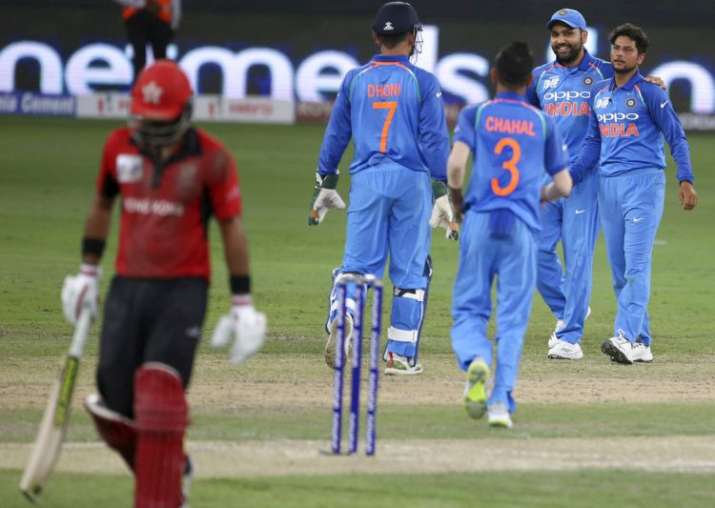 India vs Hong Kong, Highlights, Asia Cup 2018 in Dubai:
India vs Hong Kong, Asia Cup 2018 Match 4:
So, it all ends how everyone though it would with India winning their first game and knocking Hong Kong out of the 2018 Asia Cup. However, credit has to be given to them for the fight they have shown in this game. Especially after their outing against Pakistan, I do not think a lot people would have thought they would have fought this hard, against a team which probably a lot people felt was a tougher test. Chasing an above par total of 286, the Hong Kong openers came out all guns blazing. They took the attack to the Indian pacers and scored freely against them. They also tackled the spin twins really well. Yes, they did not score at the same rate against them as they did against the pacers but they were surely keeping the score board moving. Nizakat Khan mainly, he was the aggressor as he got to his half ton in no time. The skipper played as the perfect foil to him as he also got to his half ton. The two added Hong Kong's highest partnership in ODI cricket and at that time they were well in the game. (
SCORECARD
) (
LIVE STREAMING
)
INDIA VS HONG KONG, ASIA CUP HIGHLIGHTS FROM DUBAI:
01.04 IST: India (285/7) beat Hong Kong (259/8) by 26 runs in Dubai. Chahal 3/46, Khaleel 3/48, Nizakat 92. Khaleel Ahmed to Tanwir Afzal, no run. A beauty to end the game! India can now afford to smile as they have come out victorious. A yorker just around off, Afzal tries to jam it out but is beaten.
00.59 IST: OUT! Khaleel Ahmed removes Ehsan Khan for 22. In the air... taken by the bowler himself! What a debut for this lad. A well-disguised slower ball. Khan is completely foxed as he is way too early into the shot. He only manages to lob it up in the air towards the right of the pitch. Khaleel runs towards it and takes it. His third so far. Ehsan Nawaz is the next man in.  Hong Kong 256/8 in 49.1 overs vs India (285/7) in Dubai.
00.57 IST: FOUR! So 5 maximums is what Hong Kong need in the last over. Do they have a Yuvraj or a Gibbs in them? Kumar dishes out a full toss and the batsman hits it through mid off for a boundary.
00.52 IST: SIX! Not a great end to his spell but he would be happy with his day at the office. He finishes with figures of 10-2-42-2. Yadav flights this ball around middle, Afzal clears his front leg and goes downtown, over the fence.
00.50 IST: Tanwir Afzal comes in next.
00.49 IST: OUT! Kuldeep Yadav removes Scott McKechnie for 7. STUMPED! 50th ODI wicket for Kuldeep Yadav! McKechnie had no other option but to go for it and perishes in an attempt to do so. He steps out and swings wildly. Does not pick the googly and the ball beats the bat by a month. Dhoni behind, collects it and whips the bails off. Hong Kong 240/7 in 46.3 overs vs India (285/7) in Dubai.
00.45 IST: Khaleel Ahmed to Scott McKechnie, no run. A wild swing but only connects with thin air.  HK 235/6 in 46 overs.
00.43 IST: FOUR! This is what they need to play if they are to come close to the target. The reverse sweep and it has been played well. Over point and into the fence.
00.40 IST: Scott McKechnie is the new man in.
00.39 IST: OUT! Chahal removes Aizaz Khan for 0. Chahal gets a 3-fer! India have almost shut the doors on their opposition now. Chahal slips in the googly around off. Aizaz Khan comes forward to defend it but perhaps doesn't pick the wrong one. Ends up missing it and is hit flush in front of the wickets. Chahal rises up in an appeal and up goes the umpire's finger.  Hong Kong 228/6 in 44.4 overs vs India (285/7) in Dubai.
00.38 IST: Aizaz Khan strides out to bat.
00.37 IST: OUT! Chahal removes Shah for 17. The pressure of not being in these kind of tough situations against top teams is taking its toll on Hong Kong! Chahal tossed this one up well outside off. Shah tries to go over extra cover but ends up getting it off the outer half towards point. Dhawan stationed there takes a few steps back and pouches it safely. He does a thigh slap after that. Hong Kong 227/5 in 44.2 overs vs India (285/7) in Dubai.
00.34 IST: Bhuvneshwar Kumar to Ehsan Khan, 2 runs. A couple to end! So only 7 from it. Not enough at the moment. Khan takes a few steps down the track and hits it through covers for a brace.  HK 227/4 in 44 overs.
00.25 IST: SIX! Pressure back on India. BANG! Just what they needed, a boundary of the first ball! What a shot! Shah goes down on one knee and slog sweeps it over the mid-wicket fence.
00.18 IST: Ehsan Khan strides out to the middle.
00.17 IST: OUT! Chahal removes Hayat for 18. Another one bites the dust! Chahal gets his first! He tosses this up outside off, the ball pitches and turns away. Hayat tries to go inside out over covers but the ball kisses the outside edge and Dhoni behind the stumps does the rest. He starts appealing but even before the umpire could raise his finger, Hayat starts walking. Hong Kong 199/4 in 40.2 overs vs India (285/7) in Dubai.
00.13 IST: SIX! WHAT A SHOT! This time he does stand and deliver! Brute of a shot that! On a length around off, Hayat stands tall and slams it over the long off fence for a biggie. Spoils what was a terrific over. 88 more needed in 60 balls.  HK 198/3 in 40 overs.
00.10 IST: Kinchit Shah is the new man in.
00.09 IST: OUT! Khaleel Ahmed removes Christopher Carter for 3. EDGED AND TAKEN! One brings two and that is just the case here for Khaleel. Isn't he a delighted man! Lovely bowling from him, he comes running in and lands it on a length around off. The ball straightens a touch after pitching. Carter tries to guide it down to third man but the ball takes the outside edge and goes into the mitts of the keeper.  Hong Kong 191/3 in 39.1 overs vs India (285/7) in Dubai.
00.04 IST: SIX! BOOM! That is one way to release the pressure. Top shot! Hayat uses his feet and this time gets to the pitch of the ball. Tonks it over the long off fence for a biggie. 97 more needed in 68.  HK 189/2 in 38.4 overs.
00.00 IST: FOUR! Top shot! This should get him going. Gives the bowler the charge. Converts the ball into a half-volley and strokes it through extra cover for a boundary. They need a few more.
23.54 IST: Christopher Carter strides out to the middle.
23.53 IST: Nizakat Khan OUT! No inside edge and Nizakat has to take the long walk back. First ODI wicket for Khaleel and now both the set batsmen are back in the hut. Exactly what India needed, two wickets in quick succession. Khaleel angles this one in from outside off. Nizakat walks across and tries to flick but misses to get hit around the knee roll. The bowler appeals, he falls over while appealing but stands up to see the umpire give it out. Khan reviews it. Time for the replays and they show it is plumb. He walks back in the nervous 90s, for the third time in his career and now probably you can see the match slipping away from Hong Kong.
23.51 IST: Nizakat Khan is a goner! He has been given out LBW, he has reviewed it but it looks plumb. Only an inside edge can save him.
23.47 IST: Babar Hayat is the new man in.
23.46 IST: OUT! Kuldeep Yadav removes Anshuman Rath for 73. The change of bowling has done the trick. India have finally broken through. Exactly what India needed, exactly what Rohit Sharma needed. Kuldeep is the man. He has broken the 174-run stand. He tosses this up on off, Anshuman plays the cover drive but fails to keep it down. It goes into the hands of the skipper, Rohit Sharma who takes it. Rath punches his bat in disgust as he now knows this could probably open the floodgates. 112 more needed.  Hong Kong 174/1 in 34.1 overs vs India (285/7) in Dubai.
23.45 IST: Kuldeep Yadav to bowl his 7th over.
23.44 IST: FOUR! SLAPPED! Highest partnership for Hong Kong and Nizakat is into the 90s with that boundary. Width on offer outside off, Khan slashes at it. It flies over point and into the fence.
23.40 IST: Time for Drinks! 17 overs to go and Hong Kong need another 119. Game on here! They have 10 wickets in hand and one would feel they are favourites. But due to lack of experience in their squad, you can say it is 50-50. It is all about Hong Kong keeping their nerve. Can they do so or do India have different ideas? We will find out after the break.
23.32 IST: Yuzvendra Chahal is brought back on.
23.28 IST: SIX! Ideal start to the over! 13 from the last over and now maximum to begin this one. Short and on middle, Rath has all the time in the world, to go back, pick his spot and send it over the mid-wicket fence for a biggie. HK 163/0 in 31.1 overs.
23.25 IST: FOUR! So intentions are now clear from Khan. He is now going after the bowlers. Takes his front leg out of the way and tries to smack it down the ground. However, the ball takes the outside edge and goes through the vacant slip cordon for a boundary. Hong Kong won't mind how they come as long as they come.
23.23 IST: Shardul Thakur is back into the attack.
23.21 IST: Kedar Jadhav to Nizakat Khan, 2 runs. In the air... but safe! You can see Nizakat now feeling the pressure. He tries to go big by coming down the track but only manages to get an outside edge. The ball balloons towards short third man where Khaleel runs forward but the ball lands just in front of him. He makes a half-stop and the batsmen run two. This is now the second highest partnership for Hong Kong for any wicket. What a time to register this record, in a do-or-die game and this stand has now given them hope of going all the way in this game.
23.15 IST: FIFTY! Anshuman Rath hits 7th ODI half-century off 75 balls. Bhuvneshwar Kumar to Anshy Rath, 2 runs. Good running! The boundaries are hard to come by so running between the wickets is very important. It also brings the half century up of the Hong Kong skipper. His 7th in this format. He has played second fiddle and constructed his innings really well. He needs to continue in the same manner and make this knock count. He uses his wrists and tucks this through backward square leg. Runs the first one hard, goes for the second and completes it with ease. Hong Kong 138/0 in 28.2 overs vs India (285/7) in Dubai.
23.13 IST: Bhunvenshwar Kumar is back on. He needs to continue the good work from the spinners. He was not that impressive in the first spell. Time to bounce back.
23.05 IST: Just one run from the over. Kedar Jadhav to Nizakat Khan, 1 run. Nope! Bowls it on the pads and Nizakat works it through square leg and gets to the other end. Nevertheless, just a run from the over and the pressure is building now as the required run rate is creeping up. HK 131/0 in 26 overs.
22.47 IST: Nizakat Khan is seen limping. Seems to be in some trouble. He has batted so well and his team will want him to carry on. HK 120/0 in 22 overs
22.42 IST: FOUR! Hit hard! Slower through the air on middle, Khan skips down the track and hammers it past Jadhav for a rocketing boundary. HK 108/0 in 19.3 overs
22.40 IST: Kedar Jadhav to try his luck as India in urgent need of a breakthrough
22.35 IST: FOUR! Picks his spot to perfection! Floated delivery around off, Khan comes down the track and tries to go inside out over extra cover. He is eventually able to do so but by slicing it over the same region. There is no one in the deep and a boundary results. This is the highest opening partnership for Hong Kong in ODIs, 99 to be precise. HK 99/0 in 17.4 overs
22.32 IST: Chahal and Kuldeep operating in tandem now. They need to take a wicket as India is in a desperate situation at the moment with HK 92/0 in 17 overs.
22.26 IST: Time for the review! Not out! Yes, it pitched outside leg! India waste their review. Kuldeep slips in the wrong one around leg stump and gets it to spin in from there. Khan tries to clip it across but is hit on the back leg. The Men in Blue go up in unison but the umpire shakes his head. Rohit has a chat with his teammates and finally signals for the 'T.' Time for replays. Well, the ball has pitched outside leg and that's the end of the story. HK 91/0 in 16 overs
22.24 IST: Yuzvendra Chahal to Anshy Rath, Dropped! Not an easy chance but you got to take those when the opposition is going along so well. Tossed up around off, Rath uses his feet but is not quite to the pitch of the ball. Ends up pushing it uppishly towards the bowler. He kneels, gets both his hands to it but the ball doesn't stick. How costly will this prove?
22.20 IST: FOUR! Smart thinking from Rath! He knows that Chahal is bowling slow through the air. He skips down the track, takes it on the full and lifts it over mid-wicket to find the ropes. HK 87/0 in 14.1 overs
22.17 IST: Kuldeep Yadav to roll his arm over now.
22.10 IST: FIFTY! Nizakat Khan hits 3rd ODI half-century off 45 balls. SIX! Reaches his third ODI fifty in style! He has stood tall and has unsettled the Indian bowlers. Great going! Coming back to the ball, it is short and on middle and leg. Nizakat Khan pulls it with aplomb over mid-wicket to clear the fence with ease. He raises his bat towards the dressing room and gets a warm round of applause. Hong Kong 76/0 in 11.3 overs vs India (285/7) in Dubai.
22.07 IST: FOUR! AND A NO BALL! This is poor stuff from Thakur as he once again went over the popping crease. Wrong line and length from him as well. It is full and outside off, Khan throws his bat at it and gets it over the short third man fielder to find the fence. With third man coming up, he was only inviting trouble. Free Hit will take place once more.
22.01 IST: Time for Powerplay 2! Maximum of four fielders are now allowed outside the 30-yard circle. Meanwhile, time for spin. Yuzvendra Chahal comes in for a bowl. Can he break this stand?
21.57 IST: FOUR! Shot! On a length, leaving the southpaw. Rath stands in his crease and hits it nicely through point for a rocketing boundary.
21.55 IST: Anshuman Rath NOT OUT! The dive has saved the Hong Kong skipper! A bullet throw from Khaleel Ahmed though. Almost caught the batsman napping. On a length on the pads, tucked through backward square leg. Rath straightaway calls for two. Ahmed runs in from the deep, attacks the ball and fires an accurate throw to Dhoni who takes the bails off as Anshuman dives to make his ground. It is referred upstairs. The replays find Rath to be safe.
21.54 IST: Going to be a tight, tight call! The man in question is Anshuman Rath and he dived in on the second run. Has he made it to the crease?
21.53 IST: FOUR! Back-to-back boundaries take HK to 47 after 9 overs. Nizakat Khan is flowing at the moment. Short ball down the leg side, Nizakat gets inside the line and pulls it through find leg to pick up another boundary. 11 from this one.
21.52 IST: FOUR! Flashes and flashes hard! Short and a lot of room on offer, Khan rises up on his toes and goes for the upper cut. Doesn't get it off the meat but has enough on it to send it over point to find the fence.
21.46 IST: Shardul Thakur comes into the attack.
21.45 IST: FOUR! Too straight and gets the punishment! On a length, down the leg side, all Nizakat has to do is to tickle it and he does so. Gets it past the keeper and through to the fence.
21.43 IST: FOUR! Just a mere push and away she goes! Overpitched on middle, Nizakat takes a small step forward and punches it on the up past the non-striker. Has timed it really well to pick up another boundary. He is looking in good shape.
21.39 IST: FOUR! Class written all over that stroke! Fullish delivery outside off, Rath gets to the pitch of it and with high elbow creams it through covers to find the desired result. This has been a good start from Hong Kong, they need to keep the scoreboard ticking. HK 26/0 in 6 overs.
21.35 IST: Bhuvneshwar Kumar to Anshy Rath, 2 runs.
21.32 IST: FOUR! Shoddy fielding! India can't afford to take it lightly on the field. This will only hamper Khaleel's confidence. On a length well outside off, Nizakat places it towards cover-point. Karthik stationed there makes a mess of it and concedes a boundary. 8 from the over.  HK 17/0 in 4 overs.
21.29 IST: FOUR! Nicely done! On a length and there is a lot of room on offer. This time Nizakat doesn't go at it with hard hands. He waits for it and drives it with an open bat face through point to find the fence.
21.20 IST: Khaleel Ahmed to bowl with the second new ball from the other end.
21.17 IST: FOUR! Almost a wicket on the first ball! Nizakat Khan would have had his heart in his mouth! Good length ball well outside off, Khan pushes at it away from his body and gets a thick outside edge. Dhawan at first slip stretches out his right hand but the ball goes just past him in a flash and through to the fence.
21.15 IST: We are back for the chase. The men who are concerned are back in the middle. Hong Kong have momentum on their side. Can they put it to good use? If they do, we will have a cracking contest in our hands. It is always good to see minnows put up a fight. Nizakat Khan and Anshuman Rath to open the batting for Hong Kong. Bhuvneshwar Kumar to steam in with the first new ball. Only a sole slip in place. 
20.44 IST: India score 285/7 in 50 overs against Hong Kong in Dubai. Dhawan 127, Rayudu 60, Kinchit 3/39. Aizaz Khan to Kedar Jadhav, 1 run. A single to end things. Kedar Jadhav sweeps it through square leg and gets a single.
20.43 IST: Kuldeep Yadav is the next man in.
20.42 IST: OUT! Aizaz Khan removes Thakur for 0. Thakur perishes in a look out for some quick runs in the end. Khan, again rolling his fingers over the ball beats Thakur in pace. He is early into his shot trying to go over the straight boundary. The ball lobs to the fielder at long off who comes in a couple of steps and takes it easily. 7th one down for India.  India 282/7 in 49.4 overs vs Hong Kong in Dubai.
20.39 IST: Shardul Thakur comes in next.
20.38 IST: OUT! KD Shah removes Bhuvneshwar for 9. India 277/6 in 48.4 overs vs Hong Kong in Dubai.
20.35 IST: Aizaz Khan to Kedar Jadhav, no run. Beaten again. Slower outside off, a bit shorter of good length. Jadhav tries to smash this out of Dubai but misses it because of some intelligent change of pace by Khan. Good ball to end the over.  IND 275/5 in 48 overs.
20.27 IST: SIX! Hit as clean as a whistle! What a hit. Full and in the slot, Jadhav clears his front leg and gets under the ball. Lifts it cleanly over long on as the ball crashes into the sightscreen. Phenomenal hit.
20.22 IST: Kinchit Shah to Bhuvneshwar Kumar, 1 run. A shorter delivery just outside off is pushed into the point region for a single. IND 256/5 in 45 overs.
20.16 IST: Bhuvneshwar is the next batsman in.
20.15 IST: OUT! KD Shah removes Karthik for 33. Holes out in the deep, He had to go for it. Dinesh goes down looking to slog sweep this one over the mid-wicket fence but gets a top edge and the ball flies up in the air towards the deep square leg region, Babar Hayat sprints a long way to his right, dives and holds on to a very well judged catch to send Karthik packing.  India 248/5 in 42.3 overs vs Hong Kong in Dubai.
20.11 IST: FOUR! Spinning in, on a fuller length, Karthik kneels forward and across and sweeps it fine down the leg side for a boundary. Khan has been expensive, but he's finished the spell well with two quick wickets. Ends with returns of 10-0-65-2.
20.10 IST: Kedar Jadhav to bat next.
20.09 IST: MS Dhoni OUT! And Dhoni is gone! Arguably the best finisher in the business walks back without inflicting any sort of damage. Straighter one outside off, Dhoni gets deceived as he comes forward to play for the turn. Gets a faint edge and the keeper takes it sharply. Before the umpire even raises his finger, Dhoni starts walking. Delight on Khan's face. Understandably so too. India lose two wickets in quick succession.
20.04 IST: MS Dhoni walks into the middle next.
20.03 IST: OUT! KD Shah to Dhawan for 127. And his rollercoaster knock finally comes to an end. He would have liked to stay till the end, but he'll still feel content with how he's played. Good bowling this from Kinchit Shah though. Deserves full credit for the breakthrough. Keeps coming from around the wicket and bowls it slower through the air, Dhawan gets low to bang it over the leg side but gets beaten in the flight and a top edge is induced. Tanwir Afzal at backward point settles himself under it and takes a good catch.
20.01 IST: Powerplay 3 signalled. A maximum of 5 fielders will be allowed outside the ring till the end of the innings.
20.00 IST: SIX! That's high in the air and out of here! Tossed up with a lot of air in line of the stumps, Shikhar Dhawan stands his ground and lifts it high over mid-wicket. Into the night sky and that's sent deep into the stands for a maximum.
19.58 IST: FOUR! Well played, DK. The line is a bit too straight, full in length, so Karthik is down as he sweeps it behind square leg for a boundary.
19.56 IST: SIX! Cutting loose now. Has no second thoughts about going after this one. Gives the charge to the floated ball and smokes it over wide long on for half a dozen.
19.54 IST: Shikhar Dhawan Not out! As expected. Landed well outside off, it comes in with the drift and Dhawan tries to get innovative. Attempts to bring out the reverse sweep but is caught on the thigh pad. Loud appeal goes up but the umpire doesn't pay attention to it. A leg bye is taken and in this time, Anshuman Rath decides to review it. Replays show the impact is clearly outside off. Hong Kong lose the review.
19.52 IST: Review time. Hong Kong want to challenge the decision for an lbw against Shikhar Dhawan. Doesn't look out at all. Impact is well outside off.
19.48 IST: SIX! Missed the last time, gets what he wants this time. Similar ball, Dhawan gets low and nails the slog sweep to perfection. Way over the mid-wicket boundary and that's a maximum.  IND 213/2 in 37.2 overs.
19.44 IST: Asia Cup 2018, Match 4: Shikhar Dhawan hits 14th ODI century off 105 balls. Ehsan Khan to Shikhar Dhawan, 1 run. A terrific effort from the opener. Hasn't put a single foot wrong in the entire innings. Chanceless. He just cracks this square on the off side and takes a single. He will look to accelerate from this point on. He's got what he wanted. India 198/2 in 36 overs vs Hong Kong in Dubai.
19.42 IST: FOUR! Nice flow of the bat from Dinesh Karthik. Takes a nice, big stride to this full delivery outside off and crashes it right off the middle through the covers for a boundary.
19.34 IST: FOUR! One bounce and across the rope. Nawaz angles in a bumper on middle and leg, Dhawan picks up the length early and moves inside the line before pulling it aerially towards fine leg. Super shot.
19.28 IST: FOUR! WHAT A WAY TO CONCLUDE THE OVER! IND 176/2 in 32 overs.
19.23 IST: Nadeem Ahmed to Dinesh Karthik, no run. Stays behind the line and defends. Gets an inside edge onto the pads and that's the end of the over. That brings an end to Nadeem's spell. He finishes with figures of 10-0-39-0.
19.14 IST: Dinesh Karthik is the next batsman in.
19.13 IST: OUT! Nawaz removes Rayudu for 60. GONE! The bowling change does the trick for Hong Kong. Ehsan Khan strikes. Good move to have the keeper right up to the stumps. Short ball which rises off the deck surprisingly, Rayudu attempts to play the upper cut but can only manage a feather behind. Scott McKechnie takes a sharp catch and celebrates. The umpire just wants to check for the front foot no ball and replays show all is fine. Rayudu departs after scoring a well-crafted fifty. Timely wicket for Hong Kong. Partnership of 116 comes to an end. India 161/2 in 29.2 overs vs Hong Kong in Dubai.
19.09 IST: SIX! Makes sweet connection on that! It's tossed right up there, in Rayudu's slot, the right-hander gets low on one knee and brings out the big sweep. Clears the mid-wicket boundary with ease as he sends it flying into the stands.
19.05 IST: FIFTY! Ambati Rayudu hits 7th ODI half-century off 63 balls. FOUR! 7th ODI fifty for Ambati Rayudu! It's come in a streaky manner, but he won't mind. Room on offer outside off, a length delivery, Rayudu throws his bat at it and gets a fat edge through the vacant slip cordon to the third man boundary. A solid knock from him so far.  India 151/1 in 27.4 overs vs Hong Kong in Dubai.
18.58 IST: FOUR! Short of a length delivery into the body, Rayudu picks up the length early and rocks back. Swivels and pulls it aerially through backward square leg for a boundary. No stopping that.
18.50 IST: Aizaz Khan to Ambati Rayudu, 1 run. Good shot but Rayudu will not be ecstatic with the final result. Rayudu will believe that he could have hit it to the boundary 9 out of 10 times. Lands this short and wide, in the perfect zone to be cut hard. Ambati does exactly that, times it well as well but straight to the man at sweeper cover.
18.45 IST: Aizaz Khan is brought back into the attack.
18.37 IST: FOUR! Dominating shot! Full of authority. Dhawan stands tall in his creas, waits for the good length ball to arrive near him and swings through the line to get the ball up and over mid-off. Calculated risk this from Shikhar which gives him a boundary. IND 122/1 in 21.3 overs.
18.35 IST: FOUR! Rayudu on the move now as he has nonchalantly lofted this extra cover drive way over the head of the fielder at covers, the timing on it is exquisite as the ball goes past the fence in a jiffy.
18.32 IST: SIX! Another short delivery and it's been punished. Around off, Rayudu goes back and with all his might, heaves it over the cow corner. It sails into the stands for a biggie. 15 off this over, big one for the Men in Blue.
18.30 IST: FOUR! Authoritative! Shikhar Dhawan is into his elements. Short and on the stumps, the southpaw quickly shifts back and muscles the pull through mid-wicket, beating the man in the deep with ease.
18.28 IST: FIFTY! Shikhar Dhawan hits 26th ODI half-century off 57 balls. India 96/1 in 19.1 overs vs Hong Kong in Dubai.
18.26 IST: Nizakat Khan is introduced into the bowling attack.
18.25 IST: Nadeem Ahmed to Ambati Rayudu, 2 runs. Short and flat, pulled hard through mid-wicket. The man from wide long on does well to cover good ground to his right and keeps the batsmen to just two. IND 94/1 in 19 overs.
18.14 IST: Drinks break. A decent start by Hong Kong as they have managed to keep India below the six-run-per-over mark in addition to the big wicket of The Hitman. India will want Dhawan to make this start count and get a big one today, he needs it as well. Rayudu will look to give adequate support and build a big partnership.
18.08 IST: FOUR! The umpteenth time Dhawan. He cut it for a boundary through point. Poor from Khan, seems as if it slipped off his hands. It lands very short and wide of off, Dhawan will cut these in his sleep.
18.01 IST: Ehsan Khan to Ambati Rayudu, 1 run. Fourth consecutive similar shot and the result, again, is a single added to the total.
17.55 IST: Nadeem Ahmed is the new bowler into the attack.
17.50 IST: FOUR! That's pulled with disdain. A short ball again on Shikhar's body. The inexperience of the Hong Kong bowlers is on display here. Shikhar swivels and unleashes a hard pull shot for the ball to race across the outfield like a tracer bullet. IND 63/1 in 10.5 overs
17.45 IST: FOUR! The bowler repeats the mistake and pays the price again. You cannot err against such world-class batsmen. Short and wide of off again, bread and butter for Gabbar as he smashes this cut through point to bring up yet another boundary. Shikhar moves to 30. IND 56/1 in 9.3 overs
17.44 IST: FOUR! Dhawan will not these freebies go by. A shortish ball just outside off is fiercely cut through the cover for the ball to races across the fence Dhawan continuing to deal in boundaries. IND 52/1 in 9.2 overs
17.41 IST: Ambati Rayudu is the next batsman in.
17.40 IST: Here is what regular skipper Kohli has to say to his teammates:-
Here's wishing Team India a super series at the Asia Cup. 👊🏻 #Meninblue #AsiaCup2018 @BCCI

— Virat Kohli (@imVkohli) September 18, 2018
17.37 IST: OUT! Ehsan Khan removes Rohit Sharma for 23. India 45/1 in 7.4 overs vs Hong Kong in Dubai
*Aizaz Khan brought on to plug the onslaught
17.28 IST: FOUR! A bit agricultural this from Dhawan as he tries to heave at this short of a length ball on middle, angling away from him from over the wickets. Dhawan, from within his crease, pulls and gets a good connection. The ball flies over the square leg region to get the second boundary of this expensive over. IND 42/0 in 6 overs
17.26 IST: FOUR! A classic cover drive, can it get any beautiful than this? Dhawan looking in good touch here as he is middling almost everything today. A very full ball wide of off, Shikhar goes down on one knee and stylishly drives this through covers for a smashing boundary. These are the shots which make you say, Wow! IND 38/0 in 5.4 overs
17.25 IST: FOUR! This time it's the mid-on fielder who looks skywards to see the ball flying over his head and into the fence after a couple of bonces. Two in Two and Shikhar is on his way. IND 34/0 in 5 overs
17.24 IST: FOUR! This is like net practice for Rohit. With the speed around 110-115 kmph, Rohit just stands in his crease and swings through the line. The surface is good enough as the ball is lofted well over mid on and it races across the fence. IND 30/0 in 4.4 overs
17.21 IST: FOUR! Dhawan will hit these 10 out of 10 times. Afzal drifts onto Shikhar's pads. The batsman leans across and flicks it nonchalantly through mid-wicket for a cracking boundary.
17.18 IST: FOUR! That shot is a result of the previous four dots. Rohit, premeditates as he wants to score quick runs. A bit shorter of good length this one around off. Rohit swings across the line and swats at it dragging the ball through the square leg region as it crosses the boundary. Good bowling this. Should continue, Hong Kong. IND 21/0 in 3.5 overs.
17.10 IST: FOUR! Gabbar is back! A classic Dhawan this one as he rocks back and across seeing the width on that one and unleashes a fierce cut through the cover-point region. The timing and placement is immaculate. Boundary results.
17.07 IST: Ehsan Nawaz to bowl from the other end with the second new ball.
17.05 IST: FOUR! Rohit hits the first boundary with sheer elegance. Delightful! A full one outside off is creamed through the cover region and the ball races across the ropes and India get their first boundary.
17.00 IST: The national anthems are done and dusted with now. We are ready to get underway as the umpires may their way to the middle along with the Hong Kong players. The Indian opening pair of their skipper, Rohit Sharma and Shikhar Dhawan, make their way out with the former taking strike. Tanwir Afzal to start the proceedings for Hong Kong.
16.55 IST: India captain, Rohit Sharma says that getting used to the conditions as soon as possible is the most important thing for them and informs that his side is ready to go out and give their best. Also states that Asia cup is the continent's biggest tournament with a long history behind it. Reckons that it's a very competitive tournament and believes that they have to give their best all the time in order to succeed on a consistent basis. Informs that many of his players have come here for the first time and it is their first Asia Cup as well. Admits that their batting, especially the middle order, is something that excites him. Also informs that Khaleel Ahmed will make his debut. Ends by saying that even though, historically, their batting has always been strong and the bowling usually was the one which underperformed for them, but the last 2-3 years have seen the Indian bowlers doing a fantastic job and winning matches for their team.
16.50 IST: Hong Kong skipper, Anshuman Rath says they are keen to showcase their skills. Adds further that some hard lessons were learnt in the last game and feels that it is inexcusable how their batting collapsed. Expects a better show from his team today as they try and restrict India as much as possible. States that today his players will look to give their best performance with a smile on their faces, enjoying the game. Ends by saying that there is some grass covering on the surface and expects the pitch to remain good for batting throughout the day.
16.45 IST: India Playing XI: Rohit Sharma (c), Shikhar Dhawan, Ambati Rayudu, Dinesh Karthik, Kedar Jadhav, MS Dhoni (w), Kuldeep Yadav, Shardul Thakur, Bhuvneshwar Kumar, K Khaleel Ahmed, Yuzvendra Chahal
16.40 IST: Hong Kong Playing XI: Nizakat Khan, Anshuman Rath (c), Babar Hayat, Christopher Carter, Kinchit Shah, Ehsan Khan, Aizaz Khan, Scott McKechnie (w), Tanwir Afzal, Ehsan Nawaz, Nadeem Ahmed
16.32 IST: Hong Kong win toss, opt to bowl against India in Dubai.
News from the middle - Hong Kong have won the toss and will bowl first against #TeamIndia pic.twitter.com/AJM5iRb7gQ

— BCCI (@BCCI) September 18, 2018
Brief preview: A formidable India will be aiming to make short work of minnows Hong Kong in their Asia Cup opener on Tuesday before getting battle-ready for their much-anticipated clash against arch-rivals Pakistan on Wednesday. The match against Hong Kong will be an 'appetiser' before cricket junkies are treated to a lavish spread of the main course which will be the Indo-Pak rivalry.
Even without regular skipper Virat Kohli, the Indian side, led by Rohit Sharma, is an intimidating one in the limited-overs format.
Although Rohit and his colleagues won't want to take Hong Kong lightly, in reality, the match will only be a precursor or a glorified dress rehearsal before they take on an in-form Pakistan the very next day. (Read full story)