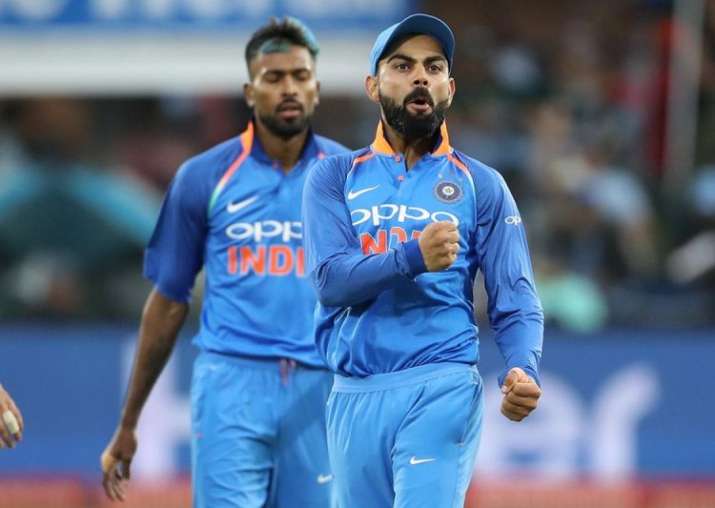 Overjoyed with India's maiden bilateral ODI series win in South Africa, former India opener Virender Sehwag said India captain Virat Kohli can break batting legend Sachin Tendulkar's record of 100 international centuries, provided he continues to enjoy his game.
"Earlier, people used to say that there can't be another player like Sachin. The same can be said for Kohli now. In his career, he'll definitely break some of the records set by Sachin," Sehwag told India TV during the show 'Cricket Ki Baat'.
"He can break Sachin's record of 100 international tons," the 39-year-old added with sheer confidence in his voice.
On Friday, Kohli said in the post-match conference that he has eight-nine years of cricket left in him and thus he wants to make best out of it. Commenting on Kohli's word at the age of 29, Sehwag said: " Watching his current fitness, I believe, he can play until the age of 40. All he needs is to keep enjoying the game of cricket for eight-nine years down the line."
The Nawab of Najafgarh predicted that Kohli, who already has 35 ODI tons under his name, can score 62 centuries in his career. "He can score 62 tons in ODIs. He can play more ODI matches than Sachin and that would definitely bring runs and centuries for him," he said.
Kohli scored 558 runs in six matches, with three century-plus knocks and the highest knock of 160 (not out) in the third ODI in Cape Town.
In the backdrop of India's special series win, the 29-year-old batsman became the maiden batsman to amass 500 runs in a bilateral ODI series, surpassing his teammate Rohit Sharma, who managed to score 170 runs in the six-match rubber. Earlier, Rohit had scored 491 runs in the six-match home series against Australia in 2013-14.
Kohli achieved the stellar feat in the sixth and final ODI in Centurion that India won by eight wickets to seal the series. In all, the India skipper smashed three hundreds in the series, including one in the final ODI, to lead from the front.
Hailing the Indian captain's hunger for runs, Sehwag said, "He (Kohli) is hungry for runs. Sachin, on the other hand, has set a benchmark for every Indian batsman. Kohli must be having this thing in mind that to reach or surpass Sachin's level, he has to continue scoring runs." 
The Delhi-born batsman also became the the highest-scorer in a bilateral ODI series as captain, leaving behind the likes of Australian George Bailey (478 runs versus India in 2013-14), South African AB de Villiers (367 versus Pakistan in 2012-13, 358 versus India in 2015-16) and New Zealand skipper Kane Willamson (346 versus Pakistan in 2014-15).
"100 percent credit goes to Kohli and the team management that inspired the rest of the team to the historic win," the former India opener said, after India's maiden biletral series win in South Africa.
While some other captain would have been demoralized by Test series loss, Kohli came up stronger with his aggression and led India to the victory. That best part about Kohli is that he is concerned for every single inning of his career," Sehwag added.