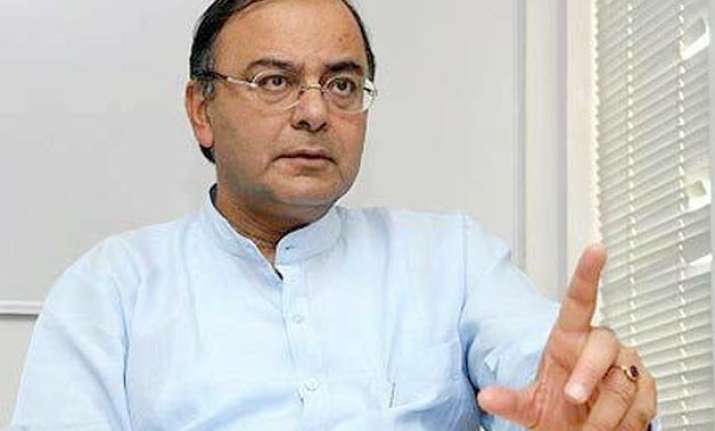 New Delhi: Launching a scathing attack on the Congress, Finance Minister Arun Jaitley said on Thursday that the previous UPA regime's land law has had "disastrous impact" on India's national security as Pakistan could get information on critical defence projects coming up here.
Terming UPA government's land law as "a defective piece of legislation", he said though the Congress-led government had put defence and security as urgent matters, it had "forgotten to put such projects in the exempted list."
This, he said, would have revealed the kind of defence or security projects being put up, where are they being put up and why.
"Signatures of 70 per cent of the villagers (whose land is being acquired) would be needed as their consent, as also the social impact assessment of installing the project. So, the information will be revealed and it will also reach Pakistan," Mr Jaitley said while intervening in Rajya Sabha on the debate on Motion of Thanks on the President's Address.
"It (UPA's Land Law) was a defective piece of legislation and threat to India's security. We corrected it. It had a disastrous impact on security...Our strategic installations had held up," the Finance Minister said.
Hitting out at the erstwhile Congress-led government, he said, "Scams and corruption, which used to be daily words occupying media headlines (during UPA rule), are no longer there. Nine months ago, the economy was in a doom and today we are back on the global radar."
He also castigated the Opposition for projecting the land bill as "anti-farmer", saying "a propaganda has been created that the bill is anti-farmers and pro-corporate sector... I appeal to Congress with folded hands... you had been in power... Don't create environment in the country in which infrastructure and industry become bad words."
At the same time, he said when the act was formulated, 13 areas under Schedule IV were exempted from Land Act, including the social impact assessment and consent clause. The NDA government has only added five more areas like Atomic Energy and National Highways, he said.
Mr Jaitley said that the new Land Acquisition Bill, to replace the ordinance promulgated by the NDA government in December 2014, does not compromise on compensation and rehabilitation, but rather increases the rate of compensation which is "a pro-farmer step".
The latest bill has been framed in such a manner so as to create rural infrastructure and address issues like irrigation, which have been not exempted by the previous government, the minister said.
Responding to this, Congress leader Anand Sharma said the definition of social infrastructure was not clear and therefore had opened the doors for the private sector. "It is not the job of the State to acquire land for private people to set up industries or build hospitals," he said.
Taking a jibe at Mr Sharma, Mr Jaitley quoted from an official communication by him to then Prime Minister Manmohan Singh containing recommendations of the Parliamentary Standing Committee that the bill would not only impact most infrastructure projects and lead to land price escalation, but also delay key projects.
Mr Jaitley said that Mr Sharma had also advocated the need for creation of a robust infrastructure in the country, to which the Congress leader reacted saying it only concerned major projects like Delhi-Mumbai Industrial Corridor but the present government was paving way for the entry of private players in the name of social infrastructure.
Taking a dig at the Opposition for criticising NDA rule, he said, "The first and obvious change in nine months in comparison with five years of UPA-II regime is that the word 'corruption' is no longer used in Indian politics."
Mr Jaitley said scams and corruption which used to catch media headlines during the UPA rule "are not there now and coal blocks allocations which were done in the most arbitrary and discretionary manner by the UPA, where not a rupee was paid by private players, have been brought under auction."
"The Supreme Court has rightly quashed the allocations" as a result of which the ordinance was brought to pave way for auction due to which coal-bearing states like Jharkhand, Odisha, West Bengal and Chhattisgarh stand to benefit hugely, the minister said.
He said the Congress had "condemned the CAG for saying about Rs. 1.86 lakh crore losses due to allotment" and termed it "presumptive" but "the fact is that the Rs. 1.86 lakh crore (loss) is an under-statement."
Mr Jaitley said coal block auctions were designed in such a manner that power tariff would go down contrary to the Opposition's projection that it would shoot up.
Stressing that private players would have to pay for national assets like coal and there would be no allotments on discretion, he also made it clear that "there is no denationalisation plan. We are not planning to touch Coal India."
Referring to the "monumental decision" of the Modi government to implement the 14th Finance Commission recommendations, he said the state revenues would increase.
"Eleven states revenue deficit is to covered by grant. Unlike Congress, we collect and share revenues with states and non-BJP states stand to gain the biggest benefits."
Replying to Leader of Opposition Ghulam Nabi Azad's remarks on Wednesday that BJP was zero when it comes to work, Mr Jaitley said, "For Congress, we are zero in work but you are getting zero when it comes to seats."
"Congress faced a... double duck or royal duck" in recent polls in Andhra Pradesh and Delhi, he said adding that it is time for "self-introspection" for the Congress.
On Azad's remark that the Prime Minister was faced with threat from within, Mr Jaitley said, "Charity begins at home. Our advise is that you please take care of your own house" and quoted a slogan of an independent candidate in the US presidential polls: "Lead me, follow me or get out of the way."
Without referring to Opposition criticism regarding communalism, he said the Prime Minister has been consistent that the "government is committed to protect right of every community irrespective of caste, creed or religion."
To criticisms on the state of the economy, he quoted a major global economic magazine to say "China's economy is slowing. Brazil is mired in stagflation. Russia is in recession, battered by Western sanctions and the slump in the oil price; South Africa is plagued by inefficiency and corruption. Amid the disappointment, one big emerging market stands out: India."
Attacking Mr Azad for his remarks that the NDA was only changing the names of schemes of UPA times, Mr Jaitley said not only the name but the entire substance has been changed.
The Finance Minister cited the example of Jan Dhan scheme, saying it was only "ornamental" during UPA whereas 12.5 crore accounts were opened in 100 days during NDA as it reached to people and houses.
He said Mr Azad showed disrespect to wisdom of people when he termed BJP as red-rag for sweeping Jammu. "Your definition of red rag changes," he told the Congress leader, adding there was no secret as to how in the past Congress party has been winning in Jammu and Kashmir.
"First time fair elections were held there in 1977," he said.
Mr Jaitley said that people's mandate was not with Congress in Jammu and Kashmir as they voted overwhelmingly for BJP in Jammu and for PDP in the Valley.
He said it may be a historical opportunity to bring about reconciliation in Jammu and Kashmir in the larger national interest.
He asked Mr Azad to ponder upon what his party did there in the last five decades.
The Finance Minister said that on the Mahatma Gandhi National Rural Employment Guarantee Act (MNREGA), the allotment was Rs. 34,000 crore out of which Rs. 33,785 was spent including Rs. 23,000 on wages.
On Opposition allegations that cut in oil prices was not in sync with global reduction in prices, Mr Jaitley said though oil prices has been lowered in international market, oil marketing companies have lost about Rs. 30,000 crore on account of inventory losses.
He said the government owns majority stake in such companies and there are shareholders and "some part of reduction in oil prices go to make up inventory losses".
Blaming previous government for leaving a legacy in the highways sector in which neither any builder was willing to bid for any project nor any bank was ready to provide loan, Mr Jaitley said, "Part of the money from reduction in oil prices will go to Highways building."